Football Commentator & Columnist
2018/19 Premier League: Martin Tyler's end-of-season stats special
More goals scored than in any other 38-game campaign
Last Updated: 15/05/19 12:24pm
The 'Undrawables', unchanged lineups, quickfire reds and fastest-ever goals - we have all the best stats after a record-breaking Premier League season.
Martin's Starting Stats
It is only the fifth time the presentation of the Premier League trophy has taken place on an away ground - the previous four being Blackburn at Anfield in 1994/95 and Manchester United at Middlesbrough in 1995/96, at Everton in 2003 and at Wigan in 2008.
It was also the fourth time Man City had lifted the Premier League trophy, but the first time at an away ground, while it was the first time the title had been decided on the final day of the season since 2013/14, when City again pipped Liverpool to the championship.
All eight times in Premier League history the league has gone down to the final day of the season, the side top going into the last day has gone on to win the title. The last time that did not happen was in 1989 when Arsenal snatched the then First Division title from Liverpool.
This was the first time three players - Sadio Mane, Pierre-Emerick Aubameyang and Mohamed Salah - have all shared the Golden Boot with more than 20 goals. In 1997/98, Chris Sutton, Dion Dublin and Michael Owen shared the award having each scored 18 goals, while in 1998/99 Owen, Dwight Yorke and Jimmy Floyd Hasselbaink did the same having netted 18 times as well.
It was a record-breaking season after 1,072 goals (2.821 per game) were scored, the most ever in a 38-game Premier League campaign, beating the previous record of 1,066 set in 2011/12.
City, meanwhile, have beaten all other 19 teams in the Premier League this season, the second successive campaign they have done that. The only other top-flight side to have ever achieved this were Preston North End in consecutive campaigns in the first two seasons of the Football League in 1888-90.
It was the fourth time Vincent Kompany had lifted the Premier League, equalling Roy Keane and one behind John Terry and Sergio Aguero's goal at Brighton took him to 164 in the Premier League, moving him above Robbie Fowler into sixth place in the all-time scorers list. Riyad Mahrez scored his 49th English league goal at the Amex, Ilkay Gundogan netted his sixth Premier League goal - the German's best return in a season for City - and Aymeric Laporte's goal means the defender has scored five times in all competitions for the club, all away, all headers and all from set pieces!
Finally, Glenn Murray scored his fourth goal in five appearances against City, having previously been on target for Crystal Palace and Bournemouth against them in the calendar year of 2015. However, his previous goal against them for Brighton was in a League Cup tie in 2008!
Best stats from the 2018/19 Premier League season
AUGUST
Rapid impact
Daniel Sturridge scored just 24 seconds after coming on as a substitute for Liverpool, is this the quickest goal by a substitute on opening day? Robert
MARTIN SAYS: Only two players have scored inside a minute of coming on as a substitute since the opening day of the 2006/07 season (when Opta started tracking this stat), and one of them is Sturridge.
However, his goal is not the fastest in that time.
SEPTEMBER
Perfect starts
Has there ever been another Premier League season where three teams have won their first four games? Lloyd
MARTIN SAYS: It has only happened once before in the Premier League era.
Back in 2009/10, Chelsea, Tottenham and Manchester City had 100 per cent records after their first four games. Chelsea went on to win the title, so perhaps that will be an omen for them, or Liverpool - or Watford, of course - this season.
Winning your first four games is no mean feat, it has happened 18 times prior to this season and seven of those teams went on to lift the title.
Charlton had a perfect record at this stage in 2005/06, but went on to finish 13th, the lowest finish of any of the teams on the list.
All 17 of the other sides to have started with four straight wins have finished seventh or higher - which is a nice omen for Watford fans!
End of an away-day drought
Georginio Wijnaldum finally scored away from home in the Premier League at Wembley on Saturday, so which current non-defender now holds the record? Phil
MARTIN SAYS: After 57 away games for Newcastle and Liverpool, Wijnaldum did at last score in the Premier League this weekend to end his draught on the road.
So that means of those non-defenders still playing, Matt Ritchie now holds the record for most away matches without netting, which stands at 38 for Bournemouth and Newcastle.
Interestingly, Swansea's Leon Britton holds the record by a non-defender for most home games without scoring, having gone 80 Premier League matches without finding the net at the Liberty Stadium.
Ritchie, however, did finally score away from home in the Premier League at Bournemouth in March
OCTOBER
Same starters
Wolves named the same starting XI for their opening seven games. Who has named the same line-up the most times during a Premier League season? Mary
MARTIN SAYS: Wolves are only the third team in Premier League history to name the same starting XI for their opening seven games of a season.
The two sides to have done so previously are Leeds United (1992/93) and Aston Villa (2008/09), but neither stretched that run to eight matches.
That means if Nuno Espirito Santo chooses the same 11 players at Crystal Palace on Saturday, then Wolves will set a new record.
To answer your question, the record for the same starting XI being named the most often in one season was set by Manchester United boss Sir Alex Ferguson, who selected the same starting XI 17 times in the first season of the Premier League in 1992/93 (not in a row).
That team was: Schmeichel, Parker, Irwin, Bruce, Pallister, Ince, Sharpe, Giggs, Hughes, McClair, Cantona
That consistency helped United to win the Premier League that season though it was a 42-game campaign.
The record for a 38-game season is 13 matches which was achieved by Leicester in 2015/16 and Chelsea in 2016/17 - both of whom won the title.
Leicester 2015/16: Schmeichel, Simpson, Fuchs, Morgan, Huth, Kante, Drinkwater, Albrighton, Okazaki, Mahrez, Vardy
Chelsea 2016/17: Courtois, Azpilicueta, Cahill, Luiz, Alonso, Moses, Kante, Matic, Pedro, Hazard, Costa
However, Birmingham City's starting XI was also the same in 13 matches in the 2009/10 and they only finished ninth!
Birmingham 2009/10: Hart, Carr, Johnson, Ridgewell, Dann, Carsley, Bowyer, Ferguson, McFadden, Larsson, Jerome
Wolves would go on to name the same starting XI for the first nine matches of the season
Fulham's struggles
Fulham haven't kept a clean sheet yet. What's the longest wait for a clean sheet at the start of a season? Martin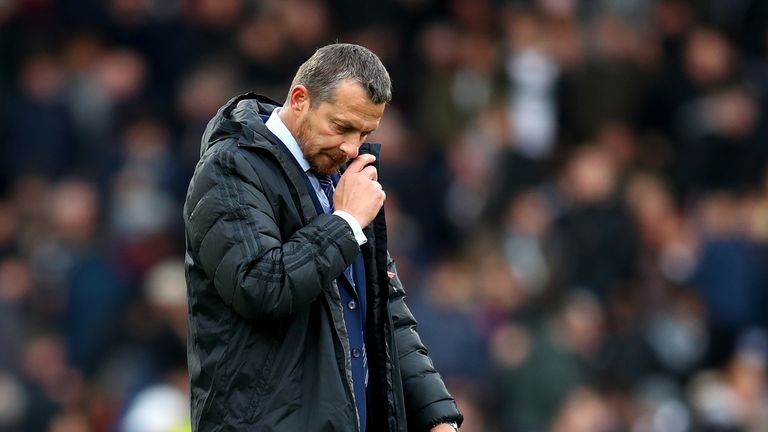 MARTIN SAYS: Fulham may not have got a clean sheet in their first 10 games, but Blackburn did not keep a clean sheet until the 28th game of the 2011/12 season, and it proved costly as they were relegated from the Premier League.
Norwich went 22 matches without a clean sheet in the 2011/12 campaign but avoided relegation, finishing 12th in the table.
Bolton also stayed up in 2009/10 after not keeping a clean sheet in their opening 21 matches.
However, Leicester were relegated in 1994/95 after a 19-game run without a clean sheet.
Worryingly for Fulham they have conceded at least twice in nine of their 10 games this season.
If they continue at this pace they would set the record for most games of conceding two or more goals.
Ipswich conceded two or more goals in 28 games in the 1994/95 season (a 42-game season) while Wolves conceded two or more in 27 games in the 2011/12 campaign.
Fulham did finally manage to keep a clean sheet in their 18th game of the season in a goalless draw at Newcastle in December
NOVEMBER
Scoring runs
Leicester are the only side to score in each of their Premier League games this season. What's the longest streak to start a season? Harry
MARTIN SAYS: That record belongs to Arsenal, who scored in every Premier League game in 2001/02 when finished seven points clear at the top of the table.
Chelsea scored in 21 straight games to start the 2006/07 season, with the run ending with a 0-0 draw at Aston Villa on January 2.
Manchester City started last season with a 20-match scoring run, going on to win the title in record-breaking style despite a 0-0 draw with Crystal Palace on New Year's Eve.
Manchester United started the 2011/12 season by scoring for 19 successive matches, a run that was ended by a 3-0 loss to Newcastle on January 4.
Arsenal (2007/08), Chelsea (2009/10) and Norwich (1992/93) all started seasons by scoring for 18 matches in a row.
Leicester's scoring run from the start of the season lasted for 11 games until coming to an end with a goalless draw at home to Burnley in November
Passing masterclass
How many passes did Manchester City put together before Ilkay Gundogan scored on Sunday? Is it a Premier League record? Harry
MARTIN SAYS: Gundogan's goal, at the end 44 passes, wrapped up the points for Manchester City on Super Sunday.
The goal consisted of the most passes for a goal in the Premier League since Juan Mata scored for United against Southampton in September 2015, where they put together 45 passes.
Mata put the finishing touch on that after Memphis Depay's shot had come back off the post.
However, that passing sequence was not quite enough to go to the top of the list in terms of Premier League goals scored since the 2006/07 season when Opta starting collecting the data. Mata's effort sits second in the list behind Tottenham's 48-pass sequence against QPR in 2014 with Nacer Chadli scoring in a 4-0 win.
DECEMBER
Record-breaking day at Anfield
Liverpool had 36 shots on goal against Man Utd at Anfield on Sunday, but is that a record for both clubs? Joe
MARTIN SAYS: Since Opta began collecting this type of data in 2003/04, United have never faced as many shots as they did in their 3-1 loss at Liverpool.
Prior to that Super-Sunday contest, the highest number of efforts on goal United had had to deal with was the 33 Arsenal managed at the Emirates in February, although the difference being the visitors recorded a 3-1 win on that occasion.
As for Liverpool, Sunday's 36 shots was not quite the most they have ever had in the last 15 years - but it was not far away, with that record coming against Everton of all teams when Jurgen Klopp's side had 37 efforts in a 4-0 win at Anfield in April 2016.
In fact, before the game with United, that Merseyside derby was also the last time all 12 outfield Liverpool players had at least one shot on goal.
JANUARY
Marathon Men
I read that Bernardo Silva covered an amazing 13.7km in Manchester City's win over Liverpool. Is that the most by a player this season? Freddy
MARTIN SAYS: His industrious showing in the 2-1 win was the joint-highest distance covered by a single player, matching his own record of 13.7km set against Tottenham in City's win at Wembley earlier this season. The energy he showed was also backed up by his interception count, which was the most completed by any player in that classic encounter at the Etihad. Plus, he assisted the opening goal for Sergio Aguero as well!
When looking at the top 10 for distance covered, Chelsea midfielder Jorginho appears twice having clocked up distances of 13.6km and 13.1km against Liverpool and City respectively. Christian Eriksen covered a fourth-highest 13.2km in Tottenham's win over Manchester United at Old Trafford, while Liverpool's Jordan Henderson ran 13.2km in that clash at the Etihad Stadium.
Perhaps not surprisingly, all 10 of those players are midfielders, who are expected to cover every blade of grass in the modern game.
Incidentally, no other player this season beat the 13.7km Silva ran in those two games
De Gea's Golden Boot
After Martin said on commentary during Man Utd's 1-0 win over Spurs at Wembley on January 13: "They get Golden Gloves goalkeepers, so David de Gea should get a Golden Boot," in reference to the numerous stops the Spaniard made with his feet that day, the United No 1 has been in contact with his own question for Mr Tyler!
I see I made four saves with my feet against Tottenham the week before last, but is that the most in a Premier League game this season? David de Gea
MARTIN SAYS: Can I first say how absolutely delighted I am to hear from David and he has maybe now opened the door for other players to ask questions about their own careers!
Now, as for the question itself, the four stops David made with his feet to help United beat Spurs 1-0 is indeed a record in the Premier League this season, beating the three that Bournemouth's Asmir Begovic made in a 2-1 loss at Newcastle in November.
In fact, you and Asmir are the only 'keepers to have made more than two saves with their feet in a Premier League match this campaign.
FEBRUARY
'Pen-sational'
Burnley finally were awarded a penalty on Saturday - how many games had it been? Stuart, Woking
Jack Stephens handball in the box in the final stages of Burnley's clash with Southampton ended Burnley's 67-game run without a spot-kick, which was by far the longest current run of any side in the Premier League this season.
Huddersfield now top the table for the amount of games without a penalty being awarded as their defeat at Chelsea was their 36th league game in a row without a spot kick. At 2-0, new Huddersfield boss Jan Siewert was out of his seat and protesting after Elias Kachunga tumbled inside the box after a challenge from Andreas Christensen but nothing was given.
However, when it comes to the overall Premier League record, the Terriers still have some way to go before matching Wimbledon's record of 91 games without being given a penalty between 1997 and 2000.
No place like home
I see Aguero has also scored nine Premier League hat-tricks at the Etihad - is that a record for a single ground? Kelly
MARTIN SAYS: Aguero's ninth Premier League hat-trick at the Etihad is indeed a record for one stadium, beating the previous record he had jointly held with Thierry Henry.
The Arsenal forward had managed eight trebles at Highbury, Blackburn striker Alan Shearer got seven at Ewood Park, Liverpool frontman Robbie Fowler recorded six at Anfield and Manchester United forwards Ruud van Nistelrooy and Dimitar Berbatov both registered four at Old Trafford.
Incidentally, Aguero has also now moved level with Shearer on 11 Premier League hat-tricks in total, although the latter also scored a First Division hat-trick for Southampton against Arsenal in April 1988.
Age is just a number
Is Roy Hodgson now the oldest coach to manage in the Premier League? Jake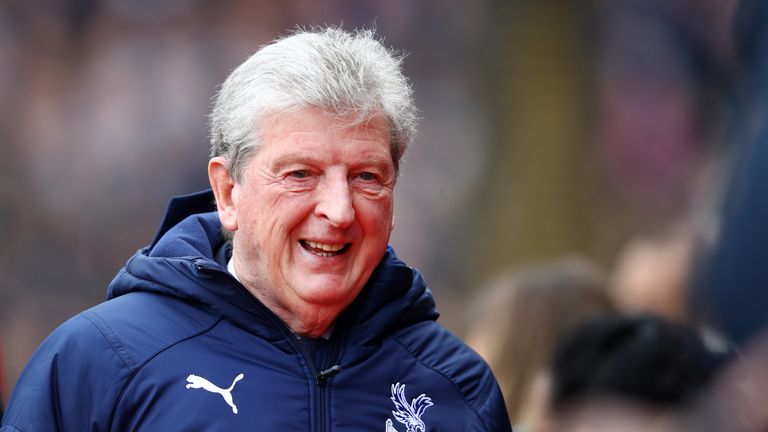 MARTIN SAYS: Not quite, but almost! The Crystal Palace manager was 71 years and 184 days on the date of his most recent Premier League game, at home to West Ham on February 9.
However, Bobby Robson was 71 years and 192 days old when he took charge of Newcastle United for the final time at Aston Villa in August 2004.
That does mean, though, that when Hodgson takes Palace to Leicester on Saturday, Feb 23, he will become the oldest-ever Premier League manager.
Interestingly, Attilio Lombardo - another Palace boss - is the youngest-ever Premier League manager after he coached the Eagles for the first time aged just 32 years and 67 days against Villa in March 1998.
MARCH
Tottenham lose their title
With Tottenham's "Undrawables" campaign over, who has gone longer than 28 games at the start of a top-flight season without taking just a point? Danny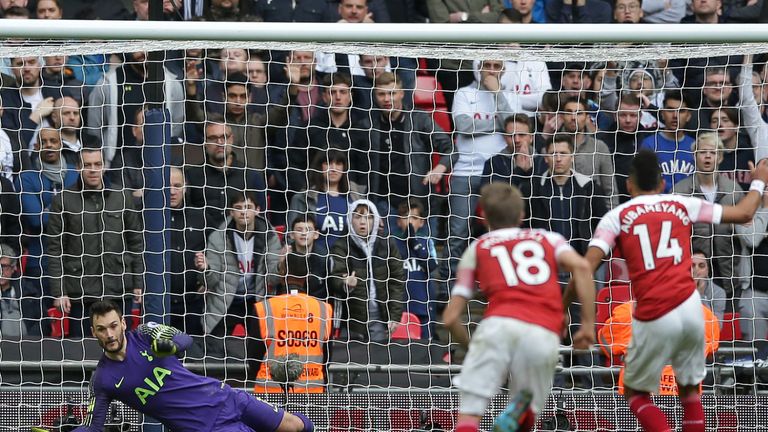 It was bound to come to an end one day, but Spurs have Hugo Lloris to thank for their run of games without a league stalemate coming to an end against Arsenal!
Only two other top-flight clubs have gone on a longer run at the start of a season than Mauricio Pochettino's side.
In 1896, Stoke played 30 league games in the top division without drawing, winning and losing 15 each, while in 1920, West Brom went 29 league games without a draw (21 wins, eight defeats).
Of course, stretching back to last season, Spurs had gone 32 matches in total without being held prior to Saturday's stalemate.
First fouls
Anthony Knockaert was booked after 28 seconds against Crystal Palace. Is that a record? (Jamie, via email)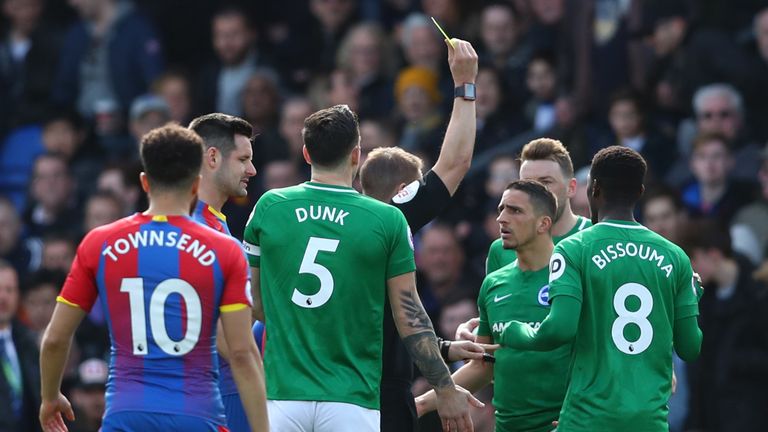 MARTIN SAYS: I recall Vinnie Jones being booked after three seconds for Chelsea against Sheffield United in March 1992 in the old First Division and also after five seconds for Sheffield United against Manchester City in 1991.
As for the Premier League era, we asked our friends at Opta and Anthony Knockaert's booking has been registered as the second fastest since their records began in 2006/07.
The Brighton winger was just two seconds slower than Stephen Warnock, who was playing for Blackburn when he was shown a yellow card after just 26 seconds in a game against Hull in March 2009.
Ki Sung-Yueng's booking for Swansea against Bournemouth on New Year's Eve 2016 came after 30 seconds, while Vincent Kompany was shown a yellow card after 31 seconds in a game for Manchester City against Burnley earlier this season.
APRIL
Record-equalling Terriers
Is Huddersfield's relegation the fastest we've seen in the Premier League? Ali
MARTIN SAYS: Huddersfield are just the second team to be relegated from the Premier League in March - March 30 to be precise. Derby also went down with six games remaining on March 29 in the 2007/08 season.
Huddersfield's relegation was sealed with them on 14 points after 32 games played, while Derby and Sunderland (2005/06) were both on 11 points at the same stage of their relegation seasons.
Meanwhile, the Terriers have won three games, compared to Derby's one, and scored two more goals (18) than that Rams team had managed after 32 matches of the 2007/08 season (16).
Salah's half century
Mo Salah finally ended his wait for his 50th Premier League goal at Southampton on Friday Night Football - even though he had to wait a while he must be one of the quickest to do it for the Reds? Have any players reached 50 Premier League goals quicker? (Jeff, Bootle)
MARTIN SAYS: Mohamed Salah's 50th Premier League goal for Liverpool in his 69th game for the Reds means he is the quickest Liverpool player to reach that landmark - Fernando Torres previously held the record with 72 games.
Salah notched his 49th in his 62nd match for the club and had to wait a while to reach 50, but is still substantially quicker to his half century than Luis Suarez (86), Robbie Fowler (88) and Michael Owen (98) took to reach the same total.
Alan Shearer's 50 goals in his first 66 games for Blackburn is the Premier League record, while Ruud van Nistelrooy took 68 games to reach his half-century for Manchester United, meaning Salah is the third fastest in the league's history for one club.
No foul play
Wolves didn't concede a foul against Brighton on Saturday, which I don't remember seeing before. Has this ever happened in the Premier League? Jeff
MARTIN SAYS: Good spot! Our friends at Opta can help with this one, but their records only go back to the 2003/04 season. In that period, no other team has gone through a Premier League game without conceding at least one foul.
There have been five teams who have conceded only one foul in a game.
At the other end of the scale, West Ham conceded 34 fouls in one game against Spurs in 2007, including a last-minute penalty which Jermain Defoe missed. That's more than one every three minutes! No side has conceded more in a Premier League game since the 2003/04 season.
Liverpool get to the point
Liverpool could get to 97 points this season and might not win the Premier League. Has that ever happened before in the English top division? Claude
MARTIN SAYS: If Liverpool win their final three matches, their tally of 97 points would be their best ever in the era of three points for a win.
If their previous records are adjusted to three points for a win then they would fall one short of their best ever top-flight season. They would have got 98 points in 1979, when they won Division One. However, that was a 42-game season and they had four more games!
The highest points tally (again adjusted) to fail to win the top flight came from Leeds' haul of 91 back in 1971 (Arsenal would have won the league on 94).
The next best runner-up was Manchester United, who - as you may remember - lost out on goal difference to neighbours Manchester City in 2012 with 89 points.
So if Liverpool do reach 97 points and lose out to a City side on 98 points, it will be a remarkable statistical achievement.
Every second counts
Shane Long scored the quickest Premier League goal of all time last week, but by how many seconds did it beat the previous best? (David, Hereford)
MARTIN SAYS: It took Shane Long 7.69 seconds to score at Vicarage Road last week during Southampton's 1-1 draw with Watford, beating the previous record - set by Ledley King for Tottenham at Bradford in the 2000/01 season - by 2.13 seconds.
Talking of quick Premier League goals, Naby Keita got on the scoresheet after just 15 seconds during Liverpool's 5-0 win over Huddersfield on Friday night, the club's fastest-ever Premier League goal.
Now, because our friends at Opta only have exact times of all Premier League goals since 2006-07, we cannot tell you whose record the midfielder has beaten.
But these Liverpool players have all scored in the first minute of a Premier League match: Stan Collymore (v Wimbledon, Nov 1996), Robbie Fowler (v Middlesbrough, Dec 1996 and Bolton, Nov 1997), Maxi Rodriguez (v Fulham, May 2011) and Martin Skrtel (v Arsenal, Feb 2014).
MAY
Home discomforts
Huddersfield ended the season with just 10 home goals in the Premier League. Has anyone ever scored fewer? (Barry)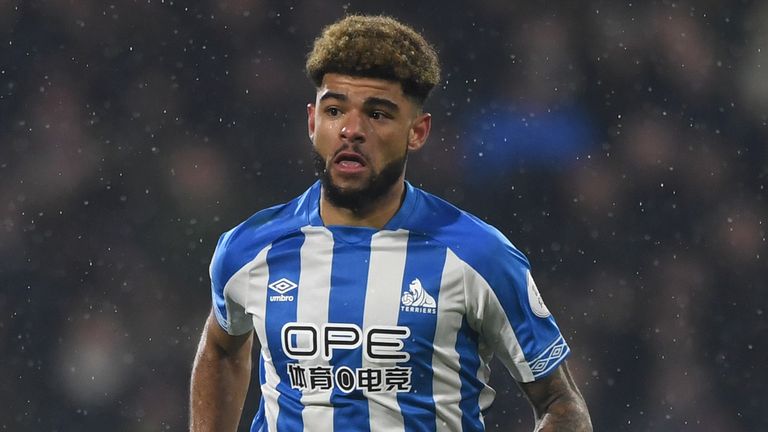 MARTIN SAYS: In short, no. Huddersfield's tally of 10 in the fewest of any team in Premier League history. In fact, no team in the top four divisions have scored fewer home goals this season.
Huddersfield share the record for fewest home goals with Manchester City. Stuart Pearce's side did not score a home goal after New Year's Day in the 2006-07 season.
They are also the first club in top-flight history to fail to score twice in any home game across the season. Given their lack of goals, it is no surprise Huddersfield have won only two league matches at the John Smith's Stadium in 2018/19. That is one more than Derby, in 2007-08, and Sunderland, in 2005-06, managed though.