Chesterfield manager Paul Cook could be the next big thing in football, says Johnny Phillips
Johnny Phillips says manager Paul Cook is making impressive progress at Chesterfield.
By Johnny Phillips (Football Commentator & Columnist)
Last Updated: 14/10/13 4:18pm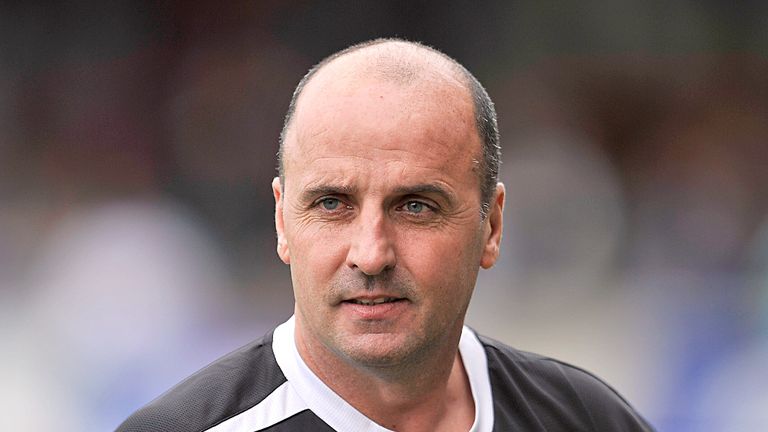 Northampton are 23rd in the bottom division. Only one league team of the 92 lies below them in the country. Boothroyd was the next big thing once, when he guided Watford to an unlikely promotion in the 2005/06 season. I believe he has been a victim of his own early success. They reached the FA Cup semi-final the following season and bounced back from relegation from the Premier League by making the play-offs in 2007/08.
Yet at the first sign of trouble he was out of a job at Vicarage Road and, after being sacked after less than a season at Coventry, has never been given the opportunity to work at Championship level again. Another manager in League Two can look at his hand similarly. Phil Brown is trying to mount a promotion charge with Southend, but he too can feel hard done by. When he took the reins at Hull in December 2006 they were 22nd in the Championship. By May 2008 they had reached the Premier League for the first time in history.
Now, at the top of the division that both Boothroyd and Brown currently work in, are Chesterfield, managed by Paul Cook. The 46-year-old Scouser has had to bide his time for the right opportunity in management. It all began towards the end of his playing career in 2003 when he dropped out of league football and signed for Accrington Stanley.
By the end of his stay at the Crown Ground he was coaching for John Coleman's side as they won promotion to the Football League in May 2006. From there a brief stint at Southport followed before he moved to the west coast of Ireland and took over at Sligo Rovers where his achievements were substantial. Cook guided the club to UEFA Cup football, a League Cup triumph and two FAI Cup successes, despite severe financial restrictions which saw players such as Seamus Coleman leave for next to nothing.
Impressive
Cook returned to England in 2012 to take over at his former club Accrington but in October last season a vacancy arose at Chesterfield and he moved to north Derbyshire.
Last week I visited Chesterfield for a Soccer Saturday feature and was immensely impressed by the work Cook is doing. Sat in the coaches office, he took me through a DVD of several of their games explaining the style of football they are trying to play - some of the more senior fans told me it's as good as anything they've seen at the club.
Style
But it's more than just a style of play. Cook makes everyone feel involved, from the players on the very fringes of the team to the backroom staff at every level; his assistant Leam Richardson through to Kay Adkins in the Community Trust Department who has helped oversee the instalment of a hydrotherapy pool at the Proact Stadium that would have been unimaginable in the old days of the crumbling Saltergate.
Cook persuaded his chairman to push the boat out for one signing in particular, winger Gary Roberts from Swindon and formerly of Accrington, who has already proved his worth. The manager was a central midfielder in his playing days, with a left foot that cliché requires we call cultured. His game wasn't always suited to the English way. Paul Jewell, who played alongside Cook for a time at Wigan Athletic in the 1980s, made a really good observation about him as a player. "He was brave," said Jewell, on Saturday. "In as much as wherever he was on the park he always wanted the ball."
I remember one game vividly during Cook's time as a player at Wolves. It was a blood and guts Midlands affair against Leicester at Filbert Street back in November 1993 when both teams were vying for promotion to the Premier League. Amidst the frenetic, ankle-snapping tackling in midfield, Cook picked up possession well inside his own half and in a flash sent a perfectly weighted outside of the foot curling pass behind the Leicester defence for Steve Bull to run onto and score without breaking stride. It may not have been the greatest stage in the world but it was the best pass I've ever seen. He moved on to Coventry for a brief spell in the Premier League soon after, but played far less top flight games than his talents merited.
As a manager, Cook encourages bravery in his own players. He wants them looking to get on the ball, wherever they are on the field. It doesn't always work and there have been times when they've been undone this season, but Cook is insistent they remain true to these values. As he was keen to point out last week during our filming, no-one is promoted or relegated in October and he doesn't want anybody getting carried away with the start they have had. But it's been refreshing to see Chesterfield begin the season in this manner.
Cook comes from the school of coaching where playing football is the priority. He hates seeing youngsters that have lost sight of why they are in this profession - those more interested in the lifestyle than the game. He's made a point of getting characters in his squad who just want to play football. Roberts is one of those and so too is Ritchie Humphries, the 35 year old PFA committee member whose love of the game now as a left-back is as strong as it was as a young striker at Sheffield Wednesday.
Management is such a fickle business, but Cook's progress is worth keeping an eye on. If Chesterfield do win promotion next May, it will be the best achievement yet in a coaching career that is heading in the right direction.