Ray Wilkins
Football Expert
Man United's Ashley Young is giving himself bad name, says Ray Wilkins
Ray Wilkins criticises Ashley Young - and says Man United may struggle to make the last 16 in Europe.
Last Updated: 06/11/13 9:41am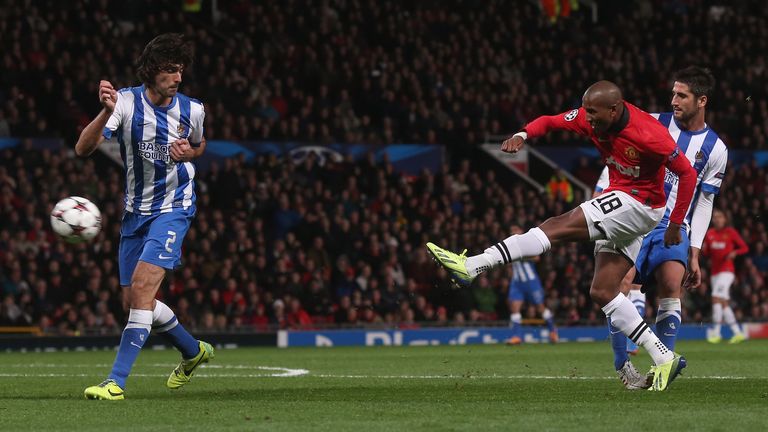 The winger feigned that he had been fouled in United's 0-0 draw with Real Sociedad in the Champions League on Tuesday night, receiving a penalty which was subsequently missed by Robin van Persie.
Replays showed minimal contact from Sociedad star Markel Bergara - who was booked for his apparent indiscretion - and Young was castigated by Sky Sports pundit Wilkins.
"I'm absolutely convinced it was a dive by Young," said the former United midfielder. "I think Bergara gets a nick on his arm but Ashley makes the most of it by throwing himself to the floor.
"I thought we'd seen the last of this from Ashley because he's been hauled across the coals on numerous occasion but this is pathetic.
"This is as bad for me as all these over-the-top tackles we're getting at the moment because that is a conning of the referee.
"I just wish Ashley would cut this out because he's a good player but he's getting a bad name."
Tough
United's goalless draw has thrown Group A wide open, with Moyes's men now in a three-way tussle with Bayer Leverkusen and Shakhtar Donetsk to secure a place in the knockout stages.
Wilkins believes that United could struggle to qualify and reckons lot depends on getting a result in Leverkusen in their next match.
"It's going to be tough for them to qualify for the last 16, he added.
"The next game in Germany is going to be really tough against Leverkusen and it's going to be very interesting if they don't come out of that with something.
"Shakhtar have got a slightly easier game with Sociedad going to them, so it's going to be difficult if they don't win the next game."
Do you think Manchester United will qualify for the last 16? Leave your comments in the form below.