Get Involved in Futsal
If small-sided, technically-minded football is right up your street, then look no further than futsal.
Last Updated: 04/07/12 2:35pm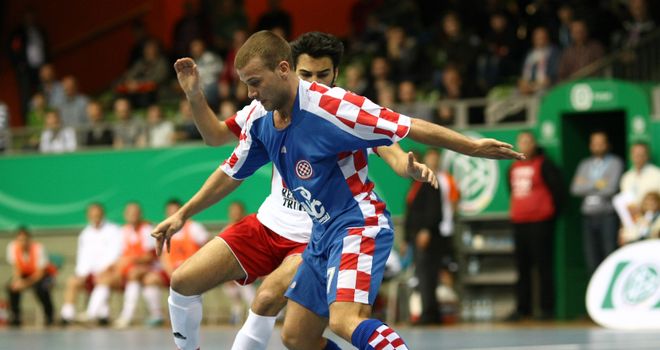 Football will be on everyone's mind this weekend as Chelsea and Bayern Munich lock horns in the Champions League Final.
But its entertaining little brother; futsal, is gaining momentum with the Football Association encouraging more youngster to get involved in what is a unique brand of football.
The sport - which was first played in South America in the 1930s - is a five-a-side game, usually played on an indoor pitch, with hockey-sized goals and a smaller ball with a reduced bounce, with the emphasis on skill on the ball, quick movement, passing, technical ability and teamwork.
Futsal, whose name derives from combining the Spanish words for hall - 'sala' - and football - 'futbol' - is the only five-a-side football code that FIFA endorses and FIFA coaching instructor, Graeme Dell, believes it's imperative that England doesn't get left too far behind, with the rest of the world already embracing the sport.
"It's part of the bigger picture," he told Get Involved.
"From an England point of view we have to make sure we get the gig with it because around the world many other countries are picking up on it and moving forward much much quicker than we are.
"The most important thing is that we learn about the game, we invest in the game and we make sure that it gets played by a wider population."
There are World and European Championships for national teams, as well as a plethora of tournaments for club outfits, and next weekend England will play Denmark in an international in Barking, East London.
The likes of Ronaldinho and Pele played futsal as youngsters, as did a host of Spain's World Cup-winning side, and Oxfordshire FA's Football Development Officer, Owain Prosser, credited the game with improving player's technical abilities and fitness.
"There are international examples like Lionel Messi, Cristiano Ronaldo who have played Futsal at an early age, so not only is it a game in its own right it can also be a really good tool at developing players for the 11-a-side game," he said.
"It's really starting to hit off in terms of participation figures within in the country.
There's lots of county tournaments now, tournaments in schools, clubs are starting to bring it in as part of their coaching sessions for the winter and it's becoming more known throughout the country."
For more information on a sport growing rapidly in popularity, you can visit the following:
Fifa's Futsal World Cup site - www.fifa.com/futsalworldcup
Uefa's Futsal page - www.uefa.com.futsal
The FA's Futsal site - www.thefa.com/my-football/player/5-a-side-and-futsal