Alex Scott, the second-most capped England player in history, has retired from international football.
The Arsenal defender, who has played 140 times for the Lionesses since making her debut in 2004, played in three World Cups and four European Championships.
Scott, 32, won silver at the 2009 UEFA Women's Euros and bronze at the 2015 FIFA Women's World Cup, and was described by manager Mark Sampson as "one of the greatest players to ever wear the England shirt".
"Today is the end of a chapter as I turn the lights out on my England career," said Scott, when announcing her retirement. "This decision has not come lightly, but sometimes the right choice is the one that involves some sacrifice.
"My dream as a little girl playing in that football cage in the east end of London was to one day pull on the Three Lions shirt and represent my country. I am so proud and humbled that I managed to do just that.
"To every single one of my England coaches and all the backroom staff, the team behind the team, who never get the credit they deserve, you have all played a part in helping me grow into the person I am today. Thank you.
"To my team-mates, every single one of you... where do I even begin? I have been so fortunate to be surrounded by dreamers, believers, thinkers, and doers. I feel blessed to have shared my journey with you, and you are all inspirational women who kept a smile on my face during the past 13 years. I cannot thank you enough.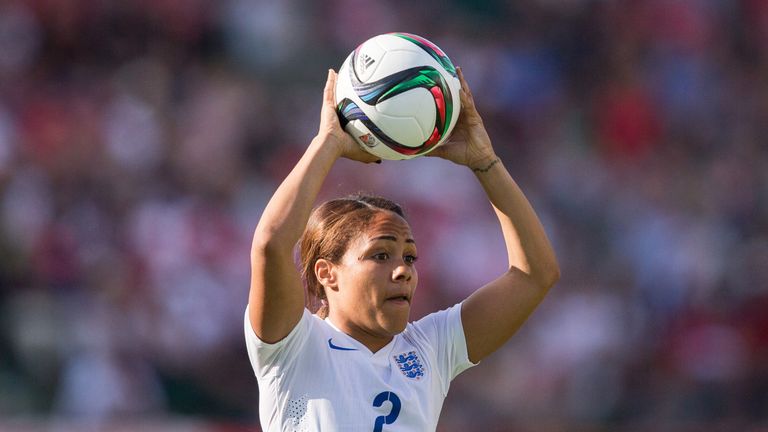 Alex has established herself as one of the greatest players to ever wear the England shirt.
Mark Sampson, England manager
"To all the fans who have been so loyal to me over the years, I only hope I've done you proud. It's been amazing being able to share my journey with you."
Sampson added: "Alex has given women's football fans all over the world so many great memories with her performances for England.
"Her talent and work ethic are the qualities anyone who has had the pleasure to watch her play will remember."