How women's football has grown: Alex Scott, Rachel Yankey and Emma Hayes
Last Updated: 08/03/18 1:48pm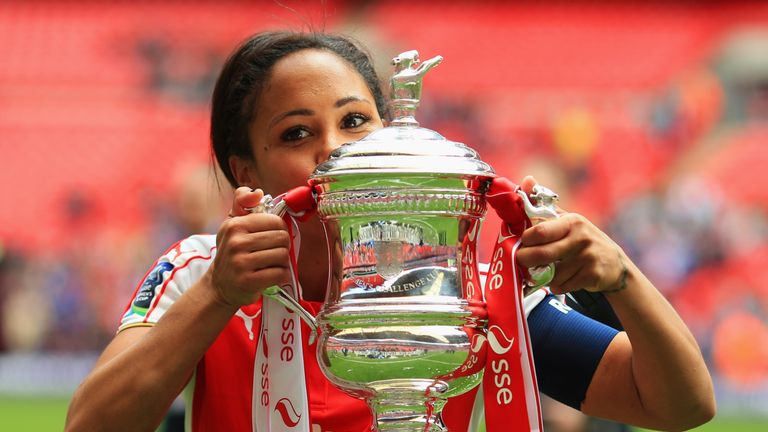 As we mark International Women's Day, Alex Scott, Rachel Yankey and Emma Hayes discuss the growth of women's football over recent years.
Despite much change and controversy at the top in recent years, the future looks bright for the women's game.
Three of the biggest names in the business have had their say on Sky Sports, including some fascinating anecdotes from times gone by...
Alex Scott - Arsenal defender, 140 caps for England
"At the moment women's football is in a great place. If you look back 10, 15 years ago, when I first started, the fact we only used to train twice a week, we used to get hand-me-down kit. You never had a centre of excellence or much in your local community, there was just no pathway.
"If you actually wanted to be a footballer as a girl, you wouldn't know that there were clubs out there. I was lucky to get spotted, whereas now, it's everywhere. The pathway is there, and if people aspire to be a footballer you just have to get on a website, join a team, and at elite level you can become a professional footballer as a day job! When I started, that was only a dream.
"With the hand-me-down kit, I was actually lucky at Arsenal. We didn't have boot sponsors or anything back then. Vic [Akers], who is still the Arsenal kitman, used to get me Marc Overmars' boots, because we were both a size five! We were always so thankful to get that sort of stuff, whereas now, every player has kit sponsors, boot sponsors, they don't have to worry!
"At the moment, women's football is in a great place, but what we can't do is stand still. We have to keep pushing, keep asking questions, keep asking for more, because I still think there is so much more we can do in terms of the publicity, media side of it. That would increase the profile of every female footballer out there, and that will encourage the new generations to come through."
Rachel Yankey - former Arsenal winger, 129 caps for England
"The game's far more established than when I started playing. It's far more professional but more still needs to be done. The next big challenge is to boost crowds. Television attendances have shot up but we need to be getting those bums on seats and get people coming back week in, week out.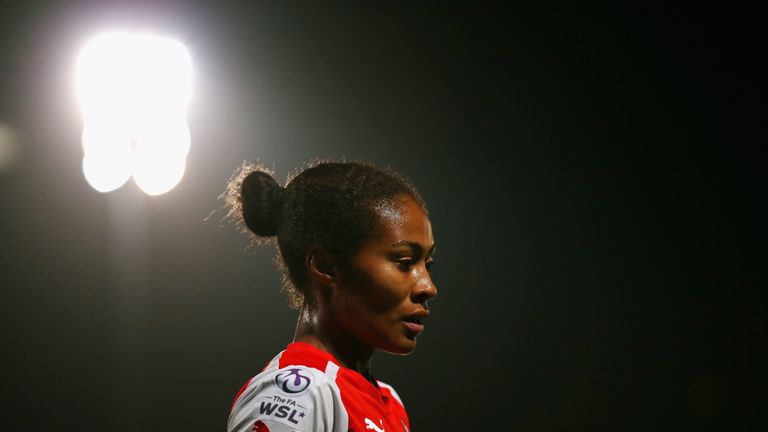 "It's a vicious circle though because the players need to be professional, be training well and playing well; we need to make the game a greater, higher-quality spectacle so people spend their money and time on it.
"Phil Neville's appointment as England manager is, for me, a good thing - he'll help raise the profile of the game - but getting more women coaching - at grassroots and elite level - is key. We need to make it the norm that women are coaching girls and boys.
"It's crucial that girls see from the youngest age and lowest level that playing football is a normal thing to do but also that boys see the same thing. We live in a culture where boys see men playing football. We need to break down that stereotype, change the norm - make it a fairer game.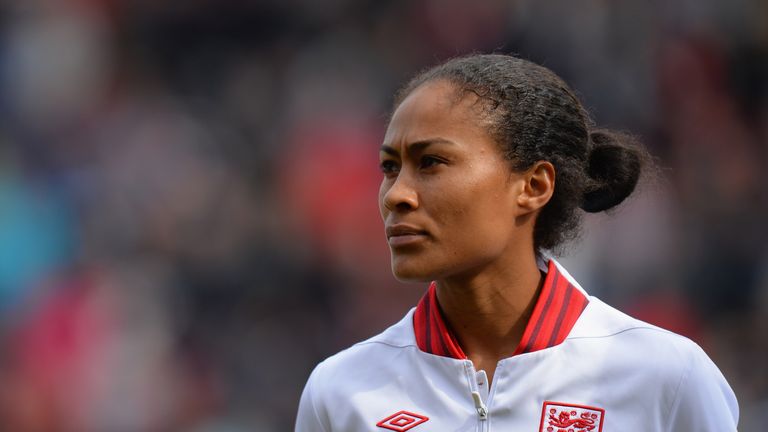 "There are so many different strands, whether you want to play, coach, be a physio or a journalist… we need to highlight the many ways people can show their passion for the game, whoever they are. The business side of the game is still ripe to be tapped into as well; this is a marketable sport with players who care and are driven by the love of the game."
Emma Hayes - Chelsea Ladies manager
"I think England winning a major tournament would push it to another level. It's also about getting the investment right in the domestic leagues, and supporting the other parts of the pyramid. We still have a long way to go, and hopefully that will happen in the coming years.
"I think if the Premier League were to take control of the domestic leagues in England, I would love to see that. It's not just about money, it's for marketing, commercial reasons, being able to take an experienced body with the know-how globally of growing product.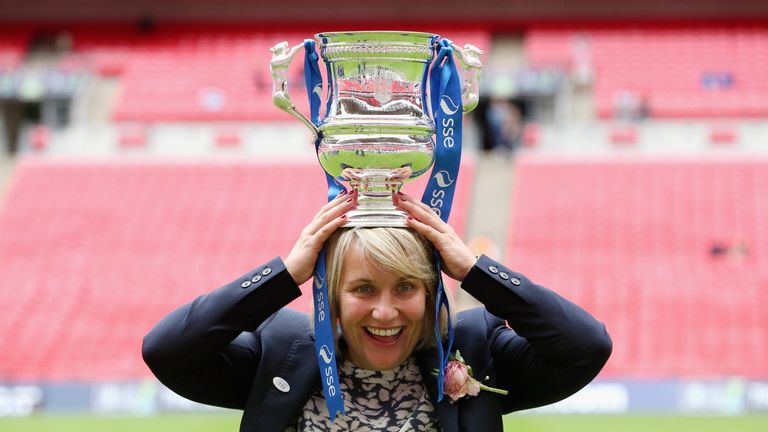 "If they get that part right, the success of the women's game won't just be reliant on England's success, it will be side-by-side with the league. It will be interesting to see if England become the very first country to take women's football to a whole new level. It's there, it's a product waiting to burst, it just needs a risk taken by somebody.
"How far are we from appointing women head coaches to men senior sides? I still think we're a little bit away from that at the moment, we still have to produce more coaches at the top end first.
"We then need boards brave enough to interview, and for that you need fans to take to that. The players are probably the easiest thing to manage in that whole conundrum."