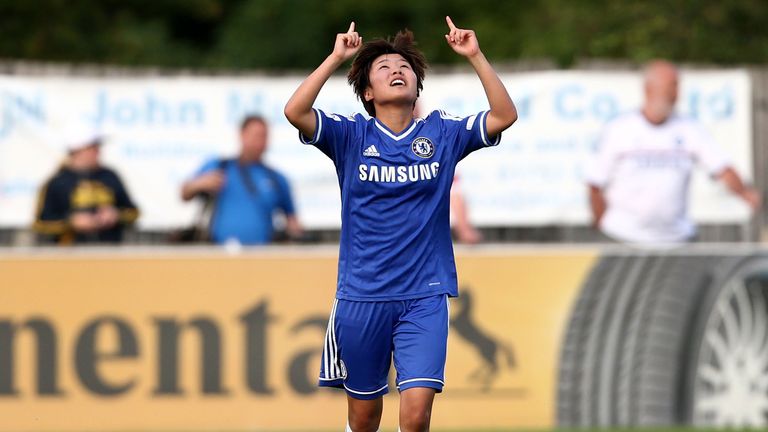 Chelsea's Ji So Yun has been named FA Women's Super League 1 players' player of the year at the FA Women's Awards.
The South Korean international was chosen by her fellow players, ahead of Karen Carney (Birmingham City) and Jess Clarke (Notts County) after an impressive season for Chelsea, the league runners-up.
Reading's Fran Kirby scooped the FA WSL 2 award, after enjoying a breakthrough season where she scored 29 goals and earned regular call-ups to Mark Sampson's England squad.
Toni Duggan won goal of the season, in a fan-voted award, for her spectacular strike against Chelsea on the dramatic final day of the FA WSL 1 season.  Birmingham City's David Parker, who saw his team finish a close third, won manager of the year.
In the FA Women's Premier League (WPL), Helen Mitchell was named manager of the year after leading her Sheffield FC team to a league and FA WPL Cup double.
 
Title-winning Liverpool were named FA WSL 1 club of the year and Yeovil Town won the FA WSL 2 award.  Sheffield FC scooped the FA WPL award.
The Love Football Play Football award, which celebrates work around grassroots participation, was won by Merseyrail.  In the final award of the night, Sheila Rollinson was recognised for her outstanding contribution to women's football.
Kelly Simmons, FA director of national game and women's football, said: "This has been another fantastic season of women's football and an evening like this really showcases how much quality there is across the leagues, from players to managers and the staff working behind-the-scenes.
"Introducing FA WSL 2, along with promotion and relegation between FA WSL 1, has really driven the competition forward as we saw on those particularly dramatic last days in both divisions.
"The formation new FA WPL is another important development for the women's game and there are now clear pathways for girls and women anywhere across the country to play at the highest level.
"There's a real excitement in the room ahead of next week's big England game against Germany, which is set to be a landmark occasion, and hopefully we'll see the impact of this across next season's football in terms of crowds and awareness."
FULL LIST OF WINNERS
FA WSL 1 Top Goal Scorer 2014 - Karen Carney, Birmingham City LFC
FA WSL 2 Top Goal Scorer 2014 - Fran Kirby, Reading FC Women
FA WSL Development League Top Goal Scorer 2013/14 - Natasha Baptiste, Aston Villa LFC
FA WPL Northern Division Top Goal Scorer 2013/14 - Jodie Michalska, Sheffield FC Ladies
FA WPL Southern Division Top Goal Scorer 2013/14 - Charlotte Gurr, Gillingham LFC 
FA WSL Manager of the Year 2014 - David Parker, Birmingham City LFC
FA WPL Manager of the Year 2013/14 - Helen Mitchell, Sheffield FC Ladies
Goal of the Season 2014 - Toni Duggan, Manchester City Women FC
FA WSL 1 Players' Player of the Year 2014 - Ji So Yun, Chelsea LFC
FA WSL 2 Players' Player of the Year 2014 - Fran Kirby, Reading FC Women
FA WSL Development League Players' Player of the Year 2013/14 - Natasha Baptiste, Aston Villa LFC and Carla Humphrey, Arsenal LFC
FA WPL Northern Division Players' Player of the Year 2013/14 - Jodie Michalska, Sheffield FC Ladies
FA WPL Southern Division Players' Player of the Year 2013/14 - Sam Pittuck, Charlton Athletic
FA WSL 1 Club of the Year 2014 - Liverpool Ladies Football Club
FA WSL 2 Club of the Year 2014 - Yeovil Town Ladies Football Club
FA WPL Club of the Year 2013/14 - Sheffield Football Club Ladies
Love Football Play Football Participation Award 2014 - Merseyrail