Gary Neville's verdict on Anthony Martial's potential at Man Utd
Last Updated: 14/02/17 12:19pm
Gary Neville has heaped praise on Anthony Martial, insisting he can still become a star for Manchester United.
The 21-year-old Frenchman, who signed for £36m from Monaco in 2015, was handed a rare Premier League start against Watford on Saturday and rewarded Jose Mourinho with the second goal in a 2-0 win.
Sky Sports expert Neville was at Old Trafford and was impressed by his display on the left-hand side, telling Monday Night Football that he has the potential to become a United hero.
"He did really well," he said. "It's a good start for him in terms of the rest of the season.
"United have got a lot of games, he is going to get football and the fans love him.
"The manager has given him a chance. Go for it. It can be the best club in the world for you to play at and make you into a star.
"I think he has just got to recognise that."
Mourinho has kept several big-name players, including Henrikh Mkhitaryan and Luke Shaw, out of the United team at times this season.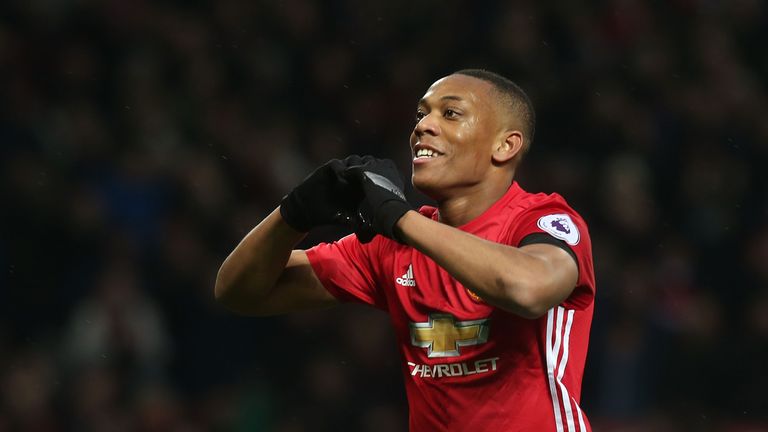 Neville says several of them, including Martial, must now step up and prove their worth to their manager.
He said: "With Mkhitaryan earlier in the season there was something wrong between him and the manager and he wasn't quite in favour, but he has come in and has looked outstanding.
"Martial has got to decide which way he wants to take it, as have a couple of others.
"Chris Smalling has come back into the team having been criticised and done well. Luke Shaw has got to determine how he wants to take it.
"What Jose Mourinho has decided to do is challenge these players and say 'are you good enough to play for this club? Have you got what it takes to go out there and deliver week in and week out?'
"Martial is a huge signing in terms of money and is still very young. However, he is a massive, massive potential talent. He could be anything he wants to be.
"On Saturday there were so many things that he did well."
Watch the video at the top of the page to see the skill that Neville believes Martial must learn from Thierry Henry to help him become a superstar.