Gary Neville: Manchester City were 'rumbled' by Manchester United
Last Updated: 07/04/18 9:34pm
Gary Neville believes Manchester City have been "rumbled" by Manchester United - and Saturday's 3-2 defeat at the Etihad will damage their Champions League hopes.
City looked on course to seal the Premier League title when goals from Vincent Kompany and Ilkay Gindogan had them 2-0 up at half-time but a double from Paul Pogba and a winner by Chris Samlling saw United sensationally turn the game on its head and spoil the hosts' party.
City remain 13 points clear at the top of the Premier League, but Sky Sports expert Neville believes the events of the second half will hurt Pep Guardiola's team as they attempt to overturn a 3-0 deficit to Liverpool in the second leg of their Champions League quarter-final on Tuesday.
He told the Gary Neville Podcast: "In the big picture it doesn't do too much, but at half-time Manchester United looked spent, they looked finished and they looked like they'd given in.
"What we saw in the second half was not a capitulation by Manchester City, but it was certainly them being rumbled. They were rumbled at Anfield on Wednesday night and they've been rumbled in the second half here today.
"My biggest thought after this game is 'how do Manchester City recover for Tuesday night to even given them a chance against Liverpool?'
"I think it does damage Manchester City."
Neville believes City did not look as comfortable as they usually do when their opponents are in possession and he feels there has been a noticeable drop in their performances in the last two matches.
"This has been an unbelievable season for Manchester City," he added.
"Whatever happens, they are going to win the league and they have been absolutely amazing, but in the last five days they have been rumbled defensively and they haven't quite looked the same.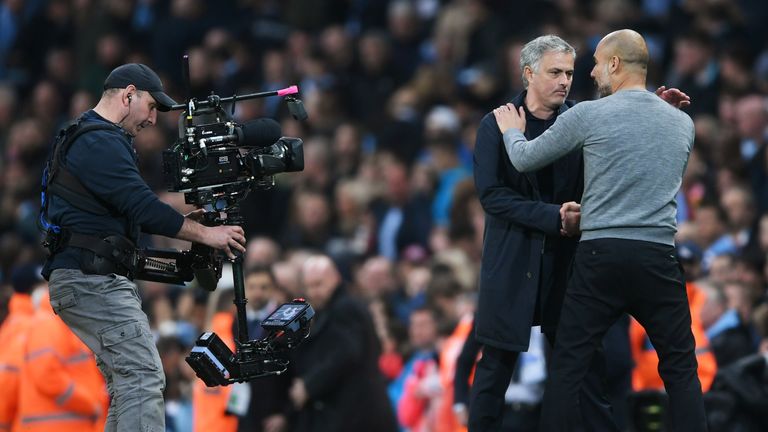 "I didn't think they looked the same in the first 20 minutes and it wasn't the passing, which made me feel that. It was their out-of-possession work.
"They allowed Manchester United to settle in the game a little bit and they've not allowed any team to settle here that I've seen. They're usually all over you.
"There was maybe just a little bit of a drop. I don't know if they are lacking in energy or lacking in confidence after what happened at Anfield.
"There was certainly a drop in the last few days because they weren't at it at Anfield the other night when they got swarmed.
"Today, in the second half, they did get rumbled."
Guardiola made four changes to the team that faced Liverpool on Wednesday with Kevin De Bruyne, Gabriel Jesus and Sergio Aguero all left on the bench until the final 18 minutes.
However, Neville refused to criticise the City manager for rotating his squad during the biggest week of their season so far.
He said: "I played for a manager, who absolutely would have managed these three games by using the squad, so I can't sit here and say Pep Guardiola was wrong.
"Plus the performance in the last 25 minutes of the first half was breathtaking. They should have been 3-0 or 4-0 up and they should have had a penalty in the second half. Things didn't go for them today.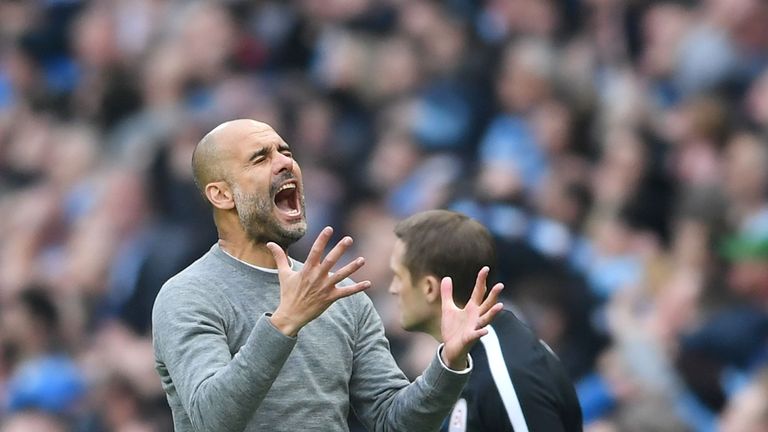 "The one thing for me was, unless he is going to play Aguero and Jesus on Tuesday, he could have played one of them.
"Pep Guardiola will feel his team did enough to win this match today, so I think to rotate, look ahead and manage your squad and trust in your squad… you have to do that.
"I don't buy into the theory he shouldn't have looked beyond this game. What he did was right. He looked over three matches and thought about how he could win all three and best select a team for each.
"Today the game has gone against him."