Jamie Carragher thinks there's a chance Antonio Conte could leave Chelsea before they face West Brom on next week's Monday Night Football after their "shambles" of a performance against Watford.
Watford piled the pressure on Conte, whose side were beaten 3-0 at home by Bournemouth in their last game, as a late flurry of goals secured a thumping 4-1 victory.
The Blues had Tiemoue Bakayoko sent off inside half an hour before Troy Deeney scored a penalty in the closing stages of the first half, but Chelsea stayed in the contest and equalised through a magnificent Eden Hazard goal in the 82nd minute.
The visitors were not level for long, however, as Watford scored three times in seven minutes through Daryl Janmaat, Gerard Deulofeu and Roberto Pereyra to secure victory for new head coach Javi Gracia.
If reports are to believed, the result could leave Conte potentially fighting for his job and Carragher thinks history shows the Italian could be in danger.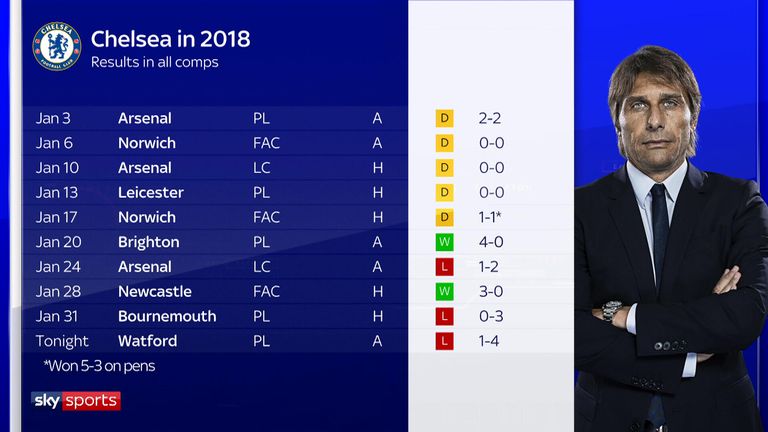 When asked if Conte could leave before the West Brom game next Monday, Carragher said: "There's a good chance he could go before then.
"Not just because of how Chelsea are playing of late but because of Chelsea's history of changing managers when the club fear they are not going to make the Champions League.
"They did it with [Andre] Villas-Boas, [Roberto] Di Matteo, [Jose] Mourinho as well."
Conte has clearly been frustrated this season and he has appeared to question the club's transfer dealings following the January transfer window.
He was once again in a fractious mood in his post-match interview with Sky Sports' Patrick Davison at Watford and Carragher feels the Conte is playing a dangerous game.
"It looks to me when I hear him speak in press conferences I wouldn't say he wants to be sacked but it doesn't look like it'd be the worst thing in the world if it happened," the former Liverpool defender said.
"It's almost like he's testing the board at Chelsea.
"He's prodding and poking them in press conferences and interviews and that will not go down well with Roman Abramovich."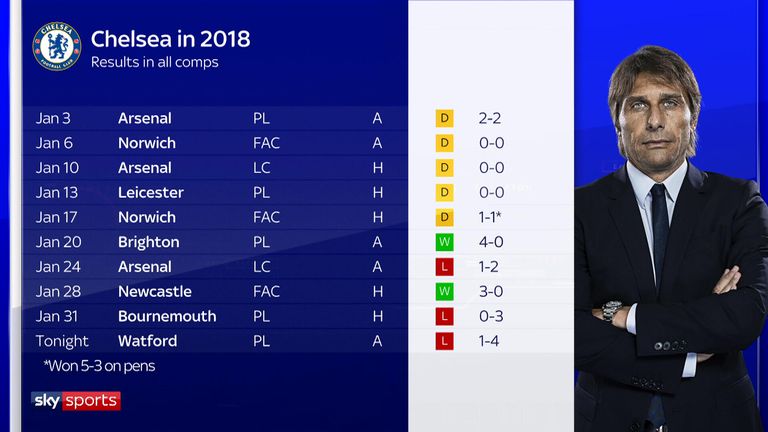 Ahead of the game, Conte called for public backing from Chelsea in order to silence speculation about his future as head coach.
Conte - who last week denied reports linking him to the Italy job - has expressed his desire to honour the remaining 18 months of his contract, but Carragher insists performances will have to improve drastically if he is to keep his job at Stamford Bridge.
"I think when you call it on with your owners and your board as he has done over the last few weeks with the January transfer window, you've got to back it up," he added.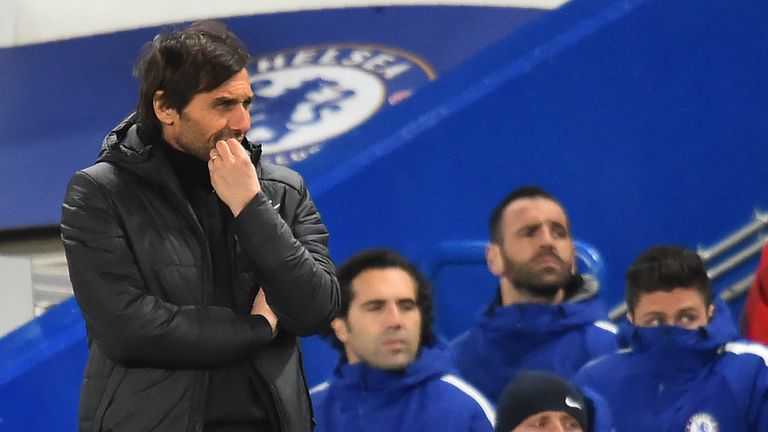 "Unfortunately, they've been found wanting. The players may have let him down and that may be his feeling but to lose to Bournemouth 3-0 and to go to Watford and lose 4-1, for Chelsea that's not good.
"It was a shambles really. Watford, even 11 against 11, were by far the better team and should have been a goal or two up. Second half Chelsea had a bit of possession but never looked like scoring apart from a piece of brilliance from Eden Hazard.
"However, as soon as Watford stepped they just fell apart at the back and that is nothing that you associate with Conte teams. You have to look at again, as we saw with Mourinho, is there now a discord between the players and the manager?"