Kevin Phillips
Football Expert & Columnist
Kevin Phillips may leave Crystal Palace in January if he doesn't get game time
Kevin Phillips blogs on his lack of game time at Crystal Palace and says he could leave in January.
Last Updated: 20/11/13 3:49pm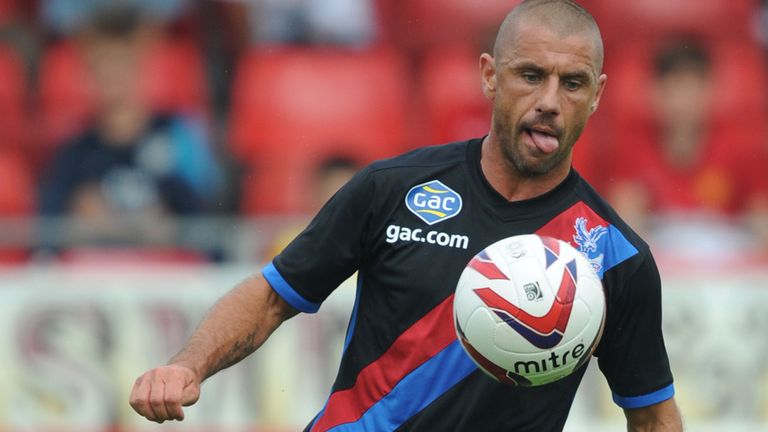 Obviously from my point of view it's frustrating to be sitting and watching from the bench when we're not scoring goals on the pitch.
One of the main reasons I re-signed with the club in the summer was because I believe I can still offer something at this level.
I'm not naïve; I knew at the start of the season I wasn't going to start games straight away or come on in every game but I thought I would have played a bit more of a role than I have done so far.
I've kept myself fit and ticking over and I've not caused one bit of problem off the pitch by moaning or getting in the manager's ear. But I may need to assess the situation in January.
In my contract it says, if both parties agree, we can part company in January, whether that's because the club want to release me or if I want to walk away.
Of course, by then a new manager will have come in and, who knows, things may have changed and I might be getting some more minutes on the pitch. But if the situation remains the same and I can get some minutes somewhere else I'll do that.
I don't think I'd go any lower than the Championship. Never say never because something might come along that's local to my home and appeals to me for the last three or four months of the season, but I don't envisage that. I hope to play at least in the Championship and I believe I have something to offer.
With it being my last season I'd like to go out having played some more games - or certainly a lot more minutes than I have - and I'd like to try to make an impact and finish the season on a high.
It's a situation I've been in before in my career. In the 2011/12 season I was Blackpool's top scorer but at the start of last season I thought I may have started a lot more than I did.
For a couple of months I spent a lot of time on the bench and when Palace came in for me in January, with my old manager Ian Holloway in charge, who wasn't afraid to give me game time, it was a no-brainer to move to Selhurst Park.
Don't get me wrong, I can fully accept sitting on the bench and not getting any game time when your team is scoring goals left, right and centre. You think you don't deserve to be on there when the boys on the pitch are finding the net.
But, although I'm not saying I'm going to score every time I come on, while we're not scoring goals very regularly, I believe if I got half a chance I'd take it.
That's the frustrating thing on my side.
Lift
The managerial situation at Palace is perhaps dragging on longer than we anticipated and it would be nice to have a permanent manager to give us a bit of clarity and stability at the club ahead of a very important run of fixtures coming up for us.
But the mood in the camp has been fine and caretaker boss Keith Millen is doing a good job of keeping spirits high and reminding us that the managerial side of things will take care of themselves and we have to focus on Hull this Saturday.
The next four or five fixtures are so crucial and will determine the fate of our season.
If we get good results, we'll be in the mix - but if we don't, well history suggests if you're bottom at Christmas you're pretty much doomed to relegation.
Let's hope a manager gets installed in the next 24-48 hours and it gives everyone a huge lift.
We've seen many times at different clubs what a positive impact a new manager can have. Just look at what Gus Poyet has done at Sunderland. His first game against Swansea wasn't great but then wins over Newcastle and Man City gave the club a huge lift.
If we could get someone installed - even if they just sat in the stands for the Hull game - it would give everyone a new lease of life and might get that extra 10% out of everyone, which is crucial in this league.