Leicester City captain Wes Morgan's fairytale rise
By Gregor Robertson
Last Updated: 22/12/15 1:10pm
Wes Morgan's former Nottingham Forest team-mate, Gregor Robertson, reflects on his friend's remarkable rise from overweight youth-team player to captain of Premier League leaders Leicester City...
What makes Leicester City's fairytale rise to the summit of the Premier league so enchanting is just how much their players are clearly relishing the experience.
Like many in Leicester's ranks, Wes Morgan's journey to this point has not been a straightforward one, and the spirit with which he and his band of brothers are tackling the giants of the Premier League highlights why they have captivated the very heart of English football this season.
Born two days apart, 'Big Wes' and I played together in his early days at Nottingham Forest and it can be said with certainty that anyone who knows him will be genuinely delighted to see the success he is currently enjoying.
We met in Nottingham recently to speak about a remarkable season so far, discuss how far he thinks his Leicester team can go, and to reflect on how he made it here. 
An imposing presence, but easy-going and good-humoured, Morgan is hugely popular in Leicester's changing room and is one of those people you would be hard-pressed to hear a bad word spoken about.
But back in 2002, when 17-year-old Morgan first walked into the youth-team changing room at the City Ground, there were more than a few eyebrows raised at the lumbering, giant of a boy who had apparently been invited to join us for a trial.
Released by neighbouring Notts County 18 months earlier when the all-important full-time contracts were being handed out, he had all but given up on football.
He signed for Dunkirk in the Central Midland League and enrolled on a business studies course at South Notts College, harbouring thoughts of becoming an accountant because he "knew the money was pretty good" and he "wasn't too bad at maths".
It was the coach of his college football team, Chris Dowling, who recommended Morgan to Forest and, after a week that turned into a month on trial, he was given a short-term contract that came with one clear caveat, even if it was an unwritten one.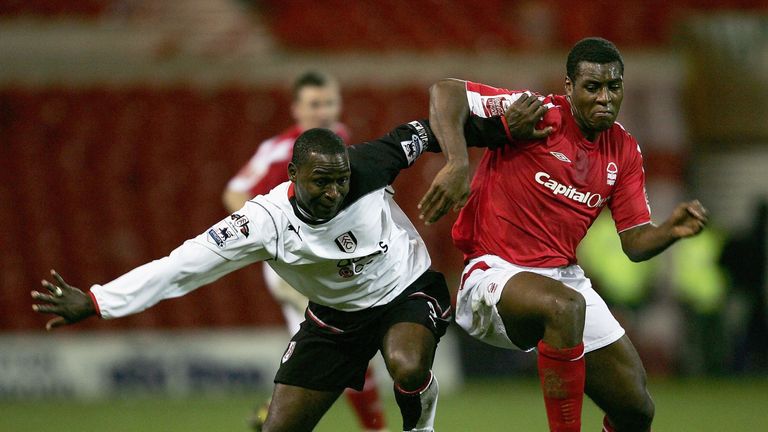 I basically got told I had to lose weight. Let's just say I was quite a big kid!
Wes Morgan
"I basically got told I had to lose weight," said the Leicester captain. "Let's just say I was quite a big kid! Obviously they must have seen something in me, but they knew I was nowhere near the fitness levels required. So for the rest of the season I just had to run and train hard to get my weight down."
When the rest of the youth-team players retired to their digs adjacent to the stadium after training each afternoon, no more than a hundred yards away Morgan could be found running laps of the City Ground pitch with extra layers of clothing on like a boxer trying to cut weight for a fight.
"I remember Paul Hart was [first-team] manager at that time," he said. "[Youth-team coach] John Pemberton more or less kept me hidden from him because of the shape I was in! I never played a game. On Saturdays I had to do a running session and then just watch the lads play their match. That went on for the rest of the season."
By the end of that season however, 'Big Wes' had shed almost two and a half stone, and although he "learned the hard way" about the importance of keeping his body conditioned, the boy from the Meadows - one of Nottingham's poorest council estates - would go on to play over 400 times for his local club and establish himself as one of the best defenders in the Championship.
He always felt comfortable in the knowledge that he could match anyone physically, but the experience he gained in those years is what brought his game to the next level.
"I think it's taken me quite a few years to learn exactly what I need to do in my position," said the Jamaica international. "Instead of relying on my physicality as my main tool, I've learned how to read the game more and position myself where I need to be".
Despite a hat-trick of team-of-the-year awards and a place in the Football League team-of-the-decade, as he approached his 30s, three play-off defeats and no Premier League suitors forthcoming meant he was seriously doubting whether the chance to test himself in the top flight was ever going to come.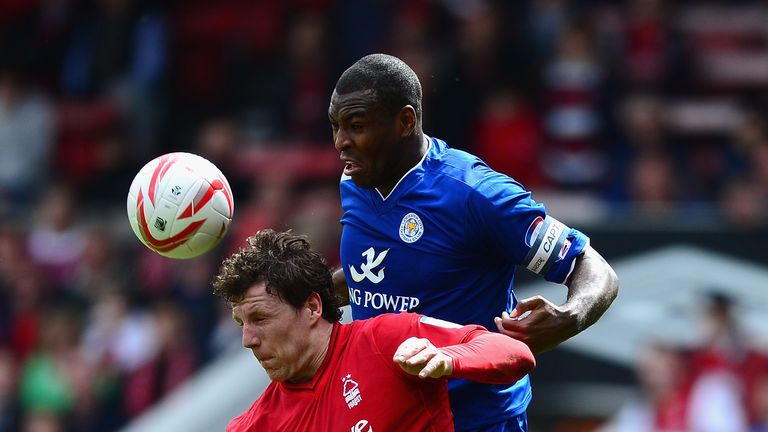 His move to Leicester in 2012 proved to be the catalyst for him to do just that. In the past 18 months he has enjoyed promotion to and survival in the Premier League and a trip to the Copa America with Jamaica where he faced the likes of Lionel Messi and Edinson Cavani. His fairytale journey with Leicester this season means that at the age of 31 his career has suddenly taken on a whole new dimension.
Watching him dominate, out-manoeuvre and even dummy Diego Costa with a drop of the shoulder in a controlled and imperious display against Chelsea recently highlighted his progression in striking fashion.
And that victory - which proved to be the final game of Jose Mourinho's tenure - has started to get people seriously questioning how far this Leicester City side can go in the Premier League this season.
"It's like a ride you don't want to stop," said Morgan. "It's an amazing feeling. I can't believe we are where we are, but I must say that on the balance of play we deserve to be here. It's gone from people saying 'it's just a good spell', to asking if we're title contenders.
"But internally at Leicester, we're just trying to keep grounded and focus on one game at a time. Our goal at the start of the season was survival and getting to that magic 40 points mark. We've not done that yet but once we do, we're just going to see how far we can go."
His words echo those of his manager Claudio Ranieri, but Morgan insists that despite all the fanfare and attention, no one is getting too carried away. "I don't know what's going on inside his [Ranieri's] head, but to us he is just telling us to stay grounded.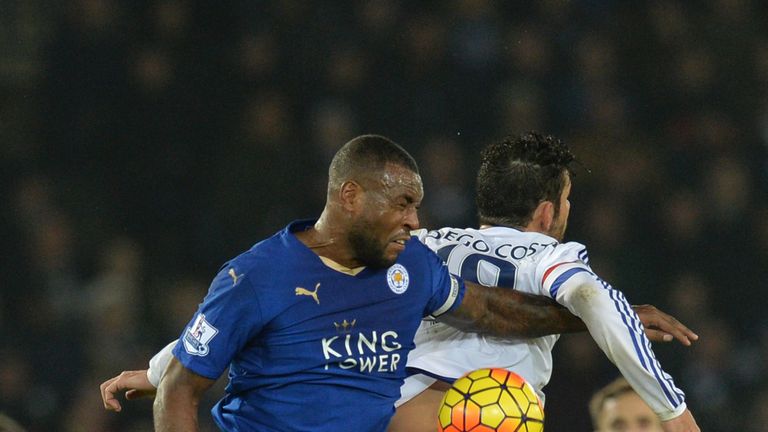 "He always tells us what a good team we are, with a good spirit, with a lot of pace and strengths that mean we can beat some of the better teams out there. He just wants us to take it one step at a time and only sets us short-term goals so we're not looking too far ahead, which has been fantastic for us so far."
Even during Leicester's struggles last season there was always the sense that they were a good team who were somehow struggling to fully flourish on the big stage. But after that experience he feels their belief is now evident for all to see.
"We don't feel out of place. We've played every team now and we're creating chances, scoring goals and displaying exactly what we're capable of. We've obviously got a couple of individuals in Riyad Mahrez and Jamie Vardy who have been absolutely outstanding, which definitely helps too!"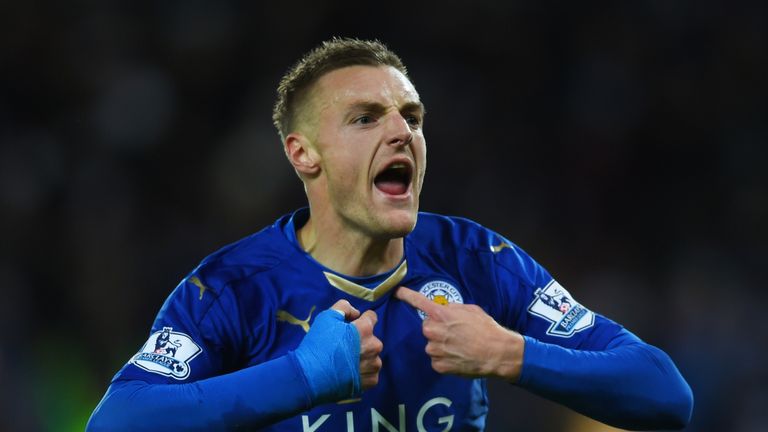 And on Vardy's incredible goal-scoring record, Morgan said: "It was ridiculous, each game it was like: 'the priority is to get Vards the chances to keep his run going!' Obviously winning the game, too, but the lads wanted to make sure Vardy got his goal. All the attention was on him, but all the boys and staff supported him and credit to Vards, he is the type of guy who wouldn't let it get to him.
"Once he steps over that white line he is so focused and determined to do his job, nothing would deter him from that. It takes someone with that kind of character to achieve what he did and get the record."
Like Vardy, Morgan and Leicester City have proved to be the perfect fit. The hunger and desire he has to succeed, after waiting so long to make it to the Premier League, suggests that he and Leicester won't give anything away without a fight.
"We've strived all our careers to get to where we are," he said. "When we got here we just wanted to survive, but we've gone from that, to fighting at the top end of the league. It's just incredible. But we are here on merit."