The Boy in Brazil
"An Englishman coming to my country to play football? This is a good story." The words of former Arsenal midfielder Denilson that feature on the front cover of The Boy in Brazil by Seth Burkett don't even begin to tell the half of it. Adam Bate caught up with the author to hear his story..
By Adam Bate
Last Updated: 04/06/14 5:14pm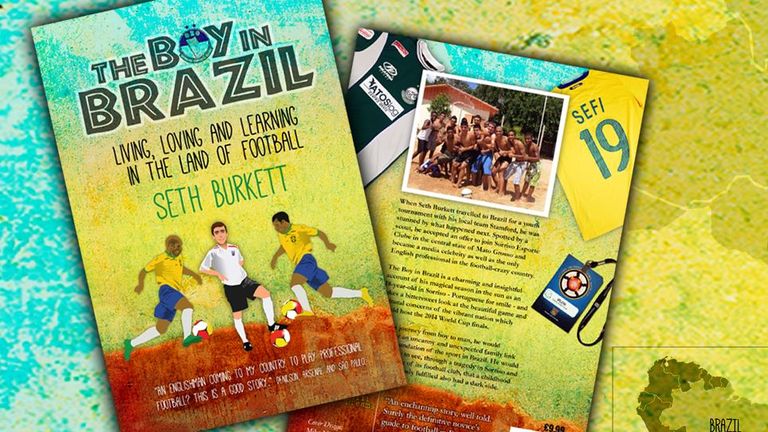 How did this all come about?
I was playing for Stamford, my local youth team. There was a Brazilian guy who started coming to our games. Around February he said 'I've got this thing you can get involved with. It's a tournament in Brazil'. So we all said yes, obviously.
It was heavily subsidised by the Brazilians out there so it only cost us £500, which was literally just the air fare.
Then about four or five months later it emerged that me and four or five of the other lads would be too old for the tournament. We still wanted to go over there because it was a fairly cheap way of going to Brazil for two-and-a-half weeks.
The first game was against Brazil Under-17s. They had a lad called Coutinho playing for them (now of Liverpool fame) who scored a hat-trick and they beat us 8-1.
To compensate for the lads who were too old for the tournament they arranged for us to train with a team called Vitoria, who were in the top division in Brazil and based in Salvador where we were staying for the tournament.
About a week into the training, their manager came up to me after a session and told me I was quite a good player and that his left-back had just been called up to the Brazil Under-19s. He needed a left-back and asked me if I'd be able to come in and do a job.
Were you pinching yourself?
Obviously I was thrilled and couldn't wait. The next day I played. The game kicked off at midday which was horrible because that's the hottest time of the day. I'd not played in heat like that before. It was a like a sauna.
But I got through the game and I must have done alright because the guy who'd helped arrange the tournament came up to me and said he like the looked of me and he was running a team next season called Sorriso and he wanted me to stay and play in the Copa Sao Paulo for them.
Was that a big decision?
I'd caught the Brazilian bug. I just thought it was amazing - the training, the way of life. I really loved it. My parents were really supportive and told me to just go for it.
So when did it become apparent that this was a huge deal in Brazil?
I didn't have a clue but it was the same as our whole youth team didn't have a clue. We were happy to just get a paragraph in the Stamford Mercury saying we'd been to South America. Instead we'd arrived at the airport and been mobbed by a TV crew. We didn't know why.
There were interviews, pictures and everything. So we kind of knew then that they found English people quite interesting. But I still didn't have a clue that I would receive the amount of attention I did in Brazil once I was there by myself.
Our first game in the Copa Sao Paulo was live on ESPN and in front of a crowd of 15,000. That was when the media interest hit a crescendo. I'd wake up to hear myself being talked about on TV. I was doing four interviews a day and there were people coming in filming me eating and filming me sleeping. It was just crazy.
You found out how important football is in Brazil...
Football is like a religion. If you're out there when a team wins a trophy it's just mental. There are people in their cars beeping horns; there are parties in the streets. I've not seen anything like it before. Football truly is a religion out there. It's great to see how passionate they are about it but at the same time there's a huge amount of pressure on Brazil to win the World Cup.
So was it a case of growing up fast out there?
Yes it was. The whole team lived together in the same house, which was a converted garage and pretty filthy. In my room I had to share with five other Brazilians. It was very cramped, very tight and obviously you have to be very independent so it's certainly a case of growing up fast.
I guess you got to see another side to Brazil?
From my geography lessons I'd expected it to be really violent with lots of poverty. I'd watched City of God just before I went out to Brazil which didn't really help so I was quite scared. I thought I might die and my mum thought I was going to marry a Brazilian and never come back.
Then I got out there and even though our converted garage was located right on the edge of a favela, I had no problems whatsoever. I didn't die and I didn't quite marry a Brazilian but my team-mates were great to me. I still speak to five of them quite regularly even four or five years on.
How about the football side of it? How did you find the training?
The training was really strong. In the youth team, literally everything was done with the ball. Even when we went running we had to do it with the ball, which was great. The coach had a saying: Would a musician practice without his instrument? Would an artist practice without his paint brush? No. So why would you practice without a ball.
We would have two sessions a day. Usually it would be a technical session and a fitness session with the ball. But when I moved up to the senior team it was completely different. There were hardly any sessions with the ball. Considering there were 13 sessions a week in pre-season, I think I went four of those without seeing a ball at one point. There was lots of running. So the youth team training was fantastic but the first-team training wasn't much different to non-league over here.
So you came back in the end...
Well, I didn't really want to come back. It was taken out of my hands. If you read the book you'll find out that Brazilians are just so laid back and disorganised. As they're not too used to overseas players coming over to pay football, they're not very experienced with the paperwork. Unfortunately, the Brazilian way is if they don't know how to do something they can't be bothered.
For my whole time at Sorriso I was assured that I had a two-year professional contract which was quite nice. I thought I'd go to university some time but my plan was to do the full two years. Then a week after my visa ran out, my chairman said 'Sorry Seth, your visa has run out so you're going to have to fly to Paraguay and then fly back to Brazil'.
By this point there were only three games left in the season. I'd been told I had a two-year contract but I'd been told all sorts of things. When I first joined I was told I had to fly back to England and then come back. In the end I just lost all faith and returned to England.
So what happened next?
Well, initially I wanted to go back to Brazil. There was a club playing in Sao Paulo that wanted to sign me and I wanted to sign for them but they went bankrupt just before the season started. There has been quite a lot of interest from Brazil but it's always fallen down over the work permit.
How did the book come about?
As nobody could really speak English out there and I wanted to keep my brain going, I started writing a diary. It was also a good thing to do because with two training sessions a day there was a lot of down time. Sometimes I'd go off to the internet café and other times I'd just sleep but I also started to keep a diary.
When I got back from Brazil, I wrote my diary up and sent it off to lots of publishers but just got loads of rejections. Then in my second year of university a few years ago, I wrote an article for a blogging site called Les Rosbifs and that was quite successful. It got retweeted by Gabriele Marcotti and I got loads of requests on my Twitter account saying it was a great story and they wanted to hear more about it. They were asking if I'd ever thought of writing a book about it.
That must have been ironic!
Yeah! But to be honest, when I'd first written my diary up I was only 19 so my writing wasn't great and the diary format wasn't great either. So when I finished my degree I felt I was that bit older and had enough free time to do this. So I decided to try it. I sat down in May of last year and started work on a manuscript. I finished it in November, sent it off to a load of publishers and this time I got a few offers.
I decided to go with Ian Ridley. I knew him from the Mark Halsey book that was massive and I knew he'd done the Tony Adams book Addicted. I was also aware of him as a writer. When I met him I was impressed and I've been really impressed with him over the book because he didn't get it until December but he's managed to turn it around really quickly and done a good job on it as well.
And it's a unique story...
It is a unique story and I try not to talk about the football too much. I tend to talk about the people in my house, which I found to be the most interesting thing. There was a real mix of people in complete poverty and people who were really affluent within my team.
Fernando, for example, came from the favelas into the youth team and all he brought for his four-month stay was a pair of football boots, shorts, a vest, some flip flops and a toothbrush. At the end of each month we'd get paid about £120. Fernando used to take out £20 for himself and send the rest back home.
Seeing stuff like that was the real story for me. Seeing how happy he was despite having so little was a really important life lesson. It's stories like that that take centre-stage in the book.
The Boy in Brazil: Living, Loving and Learning in the Land of Football, by Seth Burkett, is available to buy on Amazon