Women's football: Chelsea goalkeeper Marie Hourihan feels FAWSL is in their grasp
By Dev Trehan
Last Updated: 05/10/14 8:37am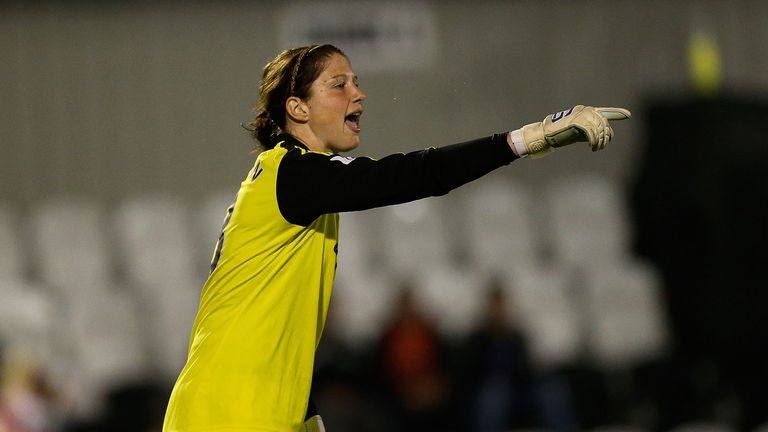 Goalkeeper Marie Hourihan admits Chelsea Ladies will only have themselves to blame if they let the FA Women's Super League title slip from their grasp.
Chelsea are a point ahead of defending champions Liverpool and two clear of Birmingham and play already-relegated Everton at home on Sunday.
The league leaders boast an unbeaten record at home this season and Hourihan insists they have the players at their disposal to maintain that record.
"It's in our hands and that is all that anybody wants, so at the end of the day if we don't win this league we've only got ourselves to blame," Hourihan told Sky Sports.
"From that point of view we know what we've got to do. We know if we win both of our games then we win the league. It's as simple as that really,
"What's been so refreshing about this season is that you cannot predict the results in this league. We're unbeaten at home and we've just got to use that to our advantage going into this game.
"It's a bit of a cliché but we're just taking it one game at a time because every game in this league is so tight. Everybody will be expecting us to win against Everton but we only beat them 2-1 at their place so we know, like every other game, it's going to be a battle.
"Equally we know we have the players. If we put a performance in we should get the result that we need and it's up to us to put that performance in."
Hourihan was part Birmingham's squad that finished runners-up to Arsenal in 2011 and 2012, but the 27-year-old admits she has never experienced a title race as close as this one.
"I've been involved in title run-ins before when I was at Birmingham but there are three teams involved in this one whereas it was just Arsenal that we were up against last time," she said.
"I've never been in the scenario where going into the last two games it's so tight. We're unbeaten at home all season and we want to finish that off with a good win and a good result and hopefully pile the pressure on everyone else and see what they can do.
"Hopefully we can finish it off at home or else it will go into the final game."
Hourihan added: "When I look round the dressing room I see seasoned internationals. If you are in a difficult moment you know there are enough characters in our team to pull us round.
"Equally looking at Liverpool they won the league last year and they know what it takes. Having been at Birmingham I know the character that they have got in their team and they have got that tenacity, that fight and that spirit."