Man City manager Pep Guardiola did not hold back as he gave a forthright interview with Sky Sports' Thierry Henry ahead of Super Sunday, covering everything from his philosophy, to his respect for Tony Pulis.
Guardiola, who arrived in the Premier League in the summer following hugely successful stints at Barcelona and Bayern Munich, sees his City side seven points behind leaders Chelsea after 16 games.
Two defeats on the trot - at home to leaders Chelsea and away at champions Leicester - sparked criticism upon Guardiola's tactics after a successful opening two months in the English top flight, before a 2-0 win over Watford in midweek.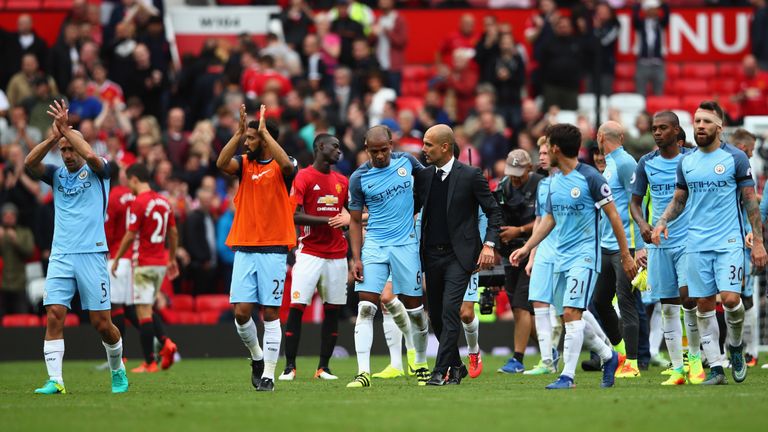 They host Arsenal, live on Sky Sports 1 on Super Sunday at 4pm, and Guardiola's frank chat with the striker he formerly managed at Barcelona revealed what the 45-year-old really thinks about criticism that has been directed at him in recent weeks.
Will he ever abandon the style that made him so successful at Barcelona and Bayern Munich? What does he really think of English football? And what happens if the message doesn't get through to these City players?
Pep reveals all, and you can read every word here...


THIERRY: What is the hardest thing you've encountered since you've been here this year?
PEP: To adapt to the specific quality of this league. I try to play in one way all my career and here, for example with high pressing, when they have the ball we go to pick them up, it is not allowed, because it is not allowed. Many times the ball is more in the air than the grass, and I have to adapt. I was in Munich and spoke with Xabi Alonso, and he said: 'You have to adapt, it's the second ball, the second ball!'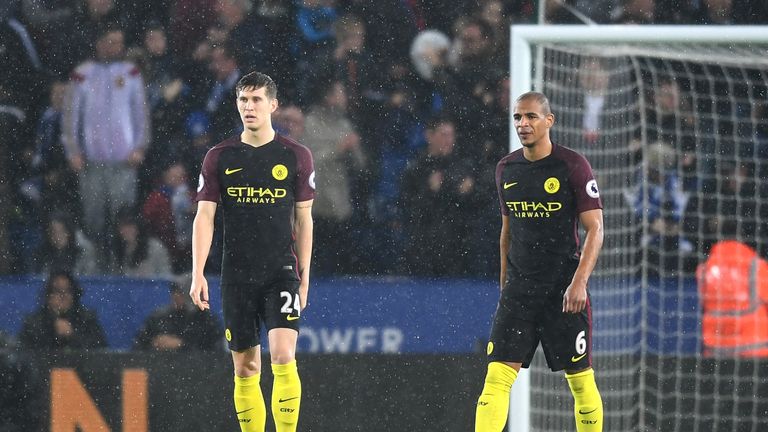 But really, you have to adapt to the second ball, and the third ball, and the fourth! I never before was focused on that, because in Barcelona or in Spain, more or less the players try to play for the culture. That's why they won World Cups, and they won the Euros, won the Champions Leagues, the Europa Leagues, all the time, all of the years, Spanish teams are in the latter stages, all of the teams.
In Germany it was more physical, but not like here. Here it is all the teams, except maybe Chelsea because Antonio is playing really well and having them build up, but the other teams are taller, stronger, physical, and you have to adapt and build from that.
THIERRY: That's the thing. I played in both leagues, you will encounter different problems in different leagues. Sometimes people say it is easy to win the league in Spain, we know it isn't. In Spain the problem is teams can outplay you. In here it is different, because you can play against teams who go 'boom', straight away to the striker, and if you want to put pressure on, it is hard.
I know you've encountered problems before, but this time you are not top of the league. At Barcelona you were most of the time at the top. And Bayern too, although it was difficult when you first arrived. You managed early to get to the top of the league, and improve even more after. For the first time you are not there, how difficult is it to deal with that.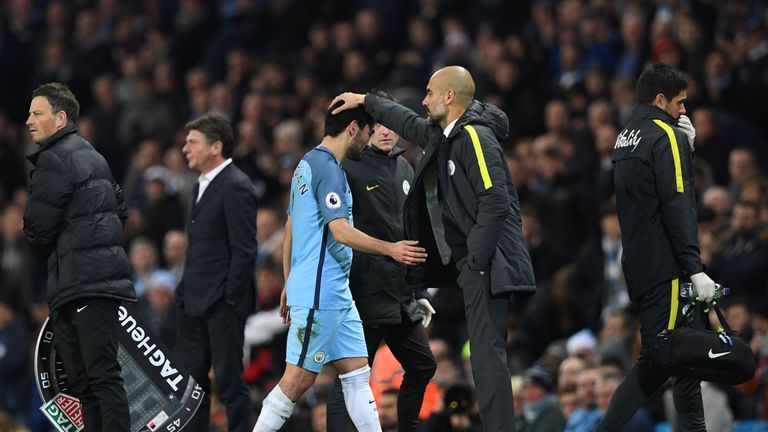 PEP: What I am living now is what all of the managers in the world are living. It is a challenge. Now I live that situation, but it's a normal situation for all the managers around the world, and I know at this club you have to build something.
But the most important thing is not that I am not top of the league right now, but I am focused more on understanding the league. Not just the long balls, but many circumstances. And I am focused on all my players, what they can do, and how we can play with all that quality.
THIERRY: People always talk about how entertaining your teams are, what you give to football and how you see the game, but I know how important it is for you not to concede, and people don't give you a lot of credit for that. Often your team were one of the best, if not the best, and not conceding. I want to know how you're coping with that, because I know that must hurt you as much as your team not scoring goals.
PEP: Always we were the best in those terms, and now we are conceding a lot of goals. And I think that is because the football is more unpredictable here. It spends more time in the air than the floor, and in the air the ball is not controlled, always I tried to control the game through the ball, away from your goal, and here it is more difficult to do that. I have to adapt that. In some times of the game you have to be more simple.
That unpredictable game here in England, that makes it so fascinating for the fans, because you never know what will happen. It's always there's a last chance for one team, which makes it so beautiful, but to try to control it is a bit more difficult and we will need more time.
THIERRY: You know yourself, when you arrived at Barcelona, I struggled to understand what you wanted, and I think the team did in the beginning. You'll remember we played Numancia away, we struggled to understand what you wanted. I can see a bit of that with this team sometimes. I remember you getting up from the bench and trying to tell me stuff and I was confused. The way you are, you see everything, and sometimes that can be the problem, you see everything! Do you think sometimes the players don't understand the message, is it them and you having the same understanding, or is it simply sometimes down to quality? Is it down to how you deliver the message or down to quality?
PEP: When they don't get the message, don't understand the message, it's the coach's problem, my problem. All the managers in the world, it doesn't matter how good you are, if your players don't understand what you are looking for or what you want, it makes no sense. I think, in the end, all that information is going to come up, get out, and is going to [clicks fingers] happen.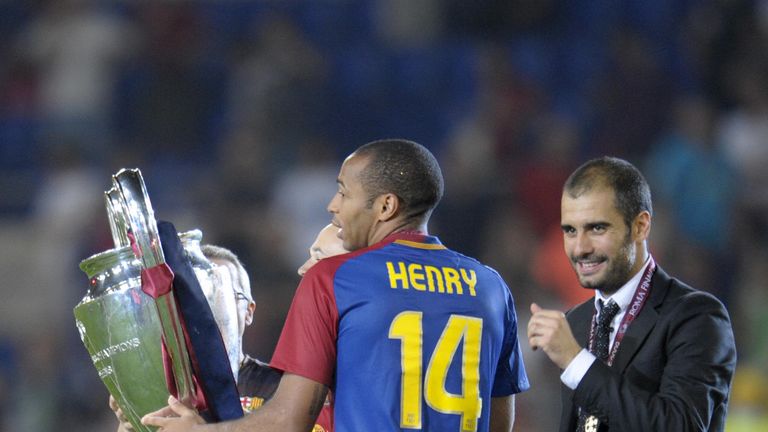 THIERRY: You think at some point everybody is going to understand what you want and what is good for the team. For me, looking from the outside, I think that for the first time it is taking a bit longer than how it happened before.
PEP: Yes. Definitely.
THIERRY: I love managers that want to play out of the back, but every time you have been asked that question, basically they are asking you to go against what you believe in, what made you, what is you. How annoyed and frustrated do you get when people always ask you?
PEP: I don't get frustrated, I understand. But what should I do to change? The people say I have to change? Well the people have to tell me what I should do to change. Of course I understand, they are England, they play in England, their lives are lived here, and looking at that game. I understand completely, they win and lose in that way. But I was born in a little town in Catalonia, I grew up there and was really inspired in the way they play, and then I moved on to Germany, and I adapt to Germany, for example the counter attacks which in Spain happened a few times. But I never lost what I believe. And now I come here, to Old Trafford, to the Emirates, and show my way. And of course, sometimes we win and sometimes lose.
I will adapt a little bit, of course, to that, but for the rest I don't know what I have to do? People say you must be pragmatic, more clinical. More pragmatic than me? I'm sorry. When we're talking about pragmatic, we're talking about numbers. When we're talking pragmatic we're not talking about the way [football is played], it's numbers. And in numbers I am good! People say Pep won in Barca but it was boring, or Pep won in Bayern but it was boring. I understand that. But games won, goals scored, goals conceded, titles... sorry guys, it was good!
Here, we did it in the beginning. When we didn't win a few games, especially at home, we were able to win at Burnley, Crystal Palace, West Brom, and I thought wow, we would have problems in those places, but we won, and we were quite solid. And at home, when we are playing much, much better than at Crystal Palace, Burnley, or Swansea for example, we played much better but didn't win. But that is the sport we play, it is football. In English football of course I have to adapt, but the principles? I am not going to change. I am not going to change.
THIERRY: I know, and I keep saying to everyone that is not going to happen. I always remember after the Champions League final in 2009, the win over Man Utd, before we stepped on the field you said: "Guys, don't ever lose your way, and all I want is for people to say is that my team can play good football. Have a good game." And when I tell people that, they say: "Wow, he didn't talk about the outcome of the game?" 
PEP: It doesn't mean my footballing ideas are special, different, better than the others. I am not saying it's my football, my ideas, and the other coaches are nothing. It's the way I believe. Like Tony Pulis, who I appreciate a lot, he took care of me like no other manager has taken care of me before. He plays football that he believes, and I'm not judging on that. It's simple like that. I'm here to win the games, but the way I want to win is in that way. I am not judging the other ones, I respect them, never in my life have I said it's not good.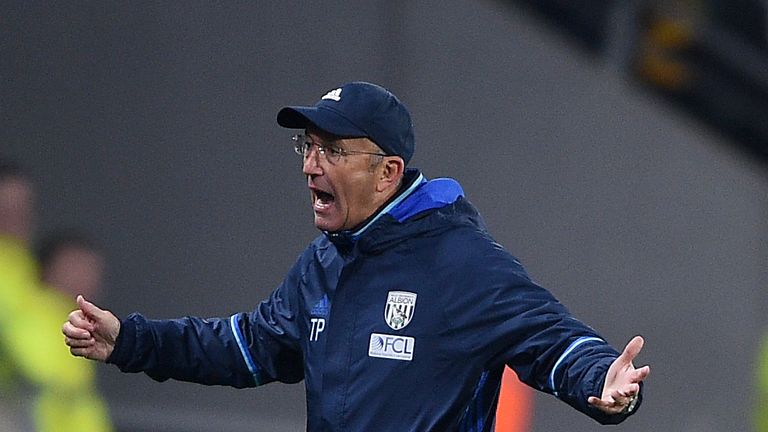 Will I be a success? I don't know. After six months we have made some good things, some not so good things. And sometimes in the moment, the precise moment, wow, we've missed our chance. For instance if Kevin De Bruyne scores the second against Chelsea, we don't lose the game. It's okay. But I cannot go to the players after the game and say something bad to them. We tried. What I want is to be honest with myself, honest with my players.
THIERRY: That brings us to the game, you guys against Arsenal. I know there is a mutual respect between you and Arsene and the way he likes to play. How do you see the game on Sunday?
PEP: They will make high pressing. When they are not be able to pick up the ball they will be back, wait at the back, and then use the amazingly huge counter attack with Walcott, Oxlade-Chamberlain. With Giroud it will be tough to win the second ball, if we are lazy they are going to play, play, play in the right moment and they could punish us.
THIERRY: What do you think will be a successful season for you?
PEP: It will be tough, it will be really difficult. Of course we are going to see in February how our position is, and we'll see after that if we can challenge or not. Jurgen Klopp, who I admire a lot for his passion and idea, I read some time that he said I don't just want my team to win, I want to enjoy seeing the team play how I want to play. It's simple.
I would like to finish the season with the team playing how I want. Always I am there, on the bench, and we are spectators. When I am sitting there, I want to stand up, looking at my team, and what I see is what I want. The biggest frustration would be finishing a period here at City and the team didn't play the way you wanted.
Watch more of Thierry Henry's exclusive interview with Pep Guardiola in the build-up to Manchester City v Arsenal, from 3.30pm on Sky Sports 1 HD.