Danny Higginbotham
Football Expert & Columnist
Manchester United should build team around Paul Pogba, says Danny Higginbotham
Last Updated: 16/08/18 12:19pm
Manchester United should build the team around Paul Pogba and give him a more attacking role, according to Danny Higginbotham.
Jose Mourinho said the Frenchman had put in a 'monster performance' when he captained the side in the opening-day win against Leicester.
Since then there have been reports of discontent between Pogba and the Manchester United boss with Pogba saying he would "get fined" if he said everything.
United have dismissed claims of a bust-up between the pair and Higginbotham believes Mourinho can now get even more out of the 25-year-old on the pitch.
Speaking on Match Centre on Sky Sports News, he said: "It's about Paul Pogba again. Everyone is talking about him. I think he is a phenomenal player.
"It's about giving him a licence to get forward, to go and create, to go and join in as well because he is such an important player for them.
"One hundred per cent I would be building the team around him. I think it was a very good idea to give him the captaincy last week against Leicester and I really think he took that in his stride.
"He is a player that has everything. I would like to see him more in the attacking sense and having that insurance behind him.
"I think sometimes people want to have a little bit of a go at him because of the way he may act off the pitch.
"Personally, as an individual, I don't care. When he's performing on the football pitch you go and do whatever you want to do, to a certain extent.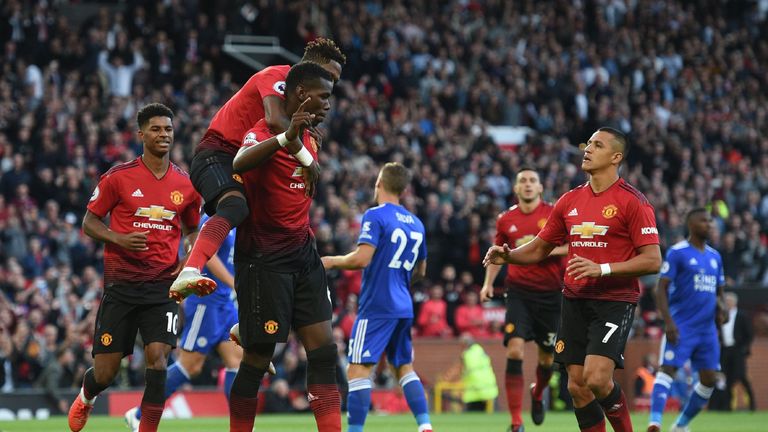 "Pogba creates problems for the opposition's defence. He makes sure an opposition back four or back three gets disjointed by his runs from midfield.
"The more that he can do that this season the more joy he will have personally and I think the more joy Manchester United will have on the goal scoring front."