Football Expert & Columnist
Luis Suarez could stay at Liverpool as a result of the ban that will still hurt the club so much
Last Updated: 28/06/14 8:51am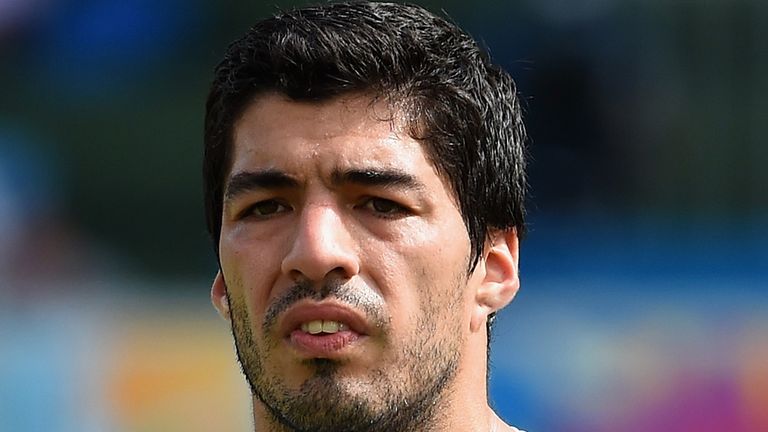 Luis Suarez's four-month ban from football will hurt Liverpool in the short-run but could ensure the Premier League side retain their prized asset, according to Sky Sports' Jamie Redknapp.
Liverpool will lose the services of their star striker until October 26 after the Uruguayan was suspended for biting Italy defender Giorgio Chiellini during the World Cup Group D clash.
Liverpool's Premier League and Champions League campaigns could suffer in the absence of Suarez but Redknapp believes the ban could help them keep the player at Anfield.
Prior to the biting incident, Barcelona and Real Madrid were eager to sign the striker after his stellar season with Liverpool. And reports from Spain suggest they may still be hunting the 27-year-old.
However, Redknapp believes the ban could perturb the potential suitors in Spain.
"It might actually make him stay at Liverpool now because other clubs will think, 'how can we sign him after he has been banned until late October." Redknapp told Sky Sports News. "Maybe he will leave it until the following year."
Redknapp, though, insisted Liverpool remain in a difficult situation and he has huge sympathy for his former club, as well as the player himself.
Double whammy
"I feel ever so sorry for Liverpool in this situation," Redknapp said. "The last time he was banned for Liverpool, he was allowed to play for Uruguay. This time it is a double whammy – he can't play for Uruguay and he can't play for Liverpool.
"So you have to feel sorry for Liverpool fans and for Brendan Rodgers. To a certain extent he was rehabilitated last year, when he won player of the year and everyone was saying what a good job Liverpool had done with him."
Redknapp admitted that he sympathised with the football-fanatic Suarez to some extent. But he believes that the game, with its "different rules and different agendas" would, rightly or wrongly, ultimately "forgive and forget".
"I have seen players do strange things and lash out with elbows and over-the-top tackles but I have never seen anybody do what Luis Suarez does," Redknapp said. "He is obviously not well and has a real problem. He seems to always go back to this.
"The shame is that he is such a talented footballer, everyone wants to see him on the pitch and the World Cup needs him. But you can't condone this and you have to ban him.
Sympathy for Suarez
"I actually feel sorry for Luis Suarez. People might say, 'Well how can you? He bites people'. But everyone I speak to – including Jamie Carragher and Stevie Gerrard – say that off the field he is the nicest guy in the world. But there is just something that happens on the football field that he just decides to lash out and bite people."
He added: "They would have been doing their upmost to keep him before this happened. It doesn't hold him in a good light or Liverpool or Uruguay. Liverpool fans will forgive and forget because of the job he has done for them.
"Football, whether we like it or not, has its different rules and different agendas and people forget. For example Eric Cantona went back and did things at Manchester United (after his Kung Fu kick at Crystal Palace). It happens in football that people forgive and forget."