Racing Santander v Athletic Bilbao preview
Alvaro Cervera returns to the Racing Santander dugout following a heart scare for Sunday's clash with Athletic Bilbao - and insists his team have not given up hope of retaining their Primera Division status despite the fact they could go down this
Last Updated: 21/04/12 11:54am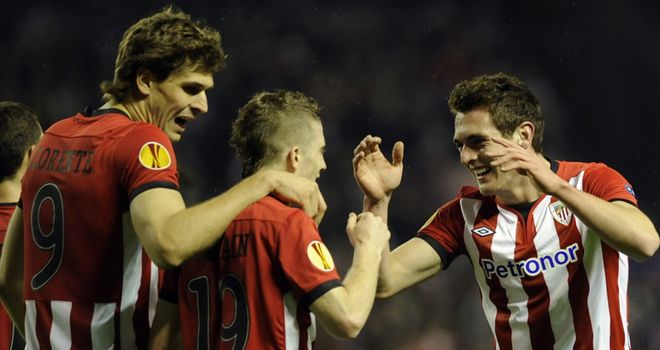 Alvaro Cervera returns to the Racing Santander dugout following a heart scare for Sunday's clash with Athletic Bilbao - and insists his team have not given up hope of retaining their Primera Division status despite the fact they could go down this weekend.
The 46-year-old was admitted to hospital eight days ago as a precaution after feeling unwell during a training session, and he missed last Sunday's 1-1 draw at Villarreal.
His team head into tomorrow's home game against high-flying Athletic bottom of the table, 10 points behind 17th-placed Granada and 16th-spotted Villarreal and knowing they could be relegated if they lose and other results go against them.
But Cervera, still looking for his first win since becoming Racing's third coach this season last month, has promised the players will fight until the end.
"I'm fine and the players are committed," he said.
"Apart from La Liga, there is a personal aspect to this as we want to prove that we are not so bad.
"Until the last, we want to win, for our pride. No-one will throw in the towel until the end."
Cervera knows it will not be easy against seventh-placed Athletic, though, with Marcelo Bielsa's side proving one of the most improved teams in the league this term.
"Athletic this year is the team that has caught my attention and taught me most for a long time," he added. "It is wonderful to see them play.
"I think they are a fine example as a team."
The Cantabrians head to El Sardinero on the back of a 2-1 defeat to Sporting Lisbon in the first leg of their Europa League semi-final on Thursday night in Portugal.
Bielsa acknowledged the Portuguese team deserved their victory - and also admitted that he was not blameless.
"It was a fair result," the Argentinian said.
"It is true that we must work hard to advance, but the tie is not settled. Winning 1-0 at home is not impossible."
He added: "It's my fault. I should not have taken Ander Herrera off for Mikel San Jose - this decision eventually hurt us. In the absence of Herrera, I think the team suffered. I thought that with greater recovery of the ball, the team would have managed to stop their attack."