Burton Albion boss Nigel Clough insisted it "just wasn't our day" after the Brewers missed the chance to extend their lead at the top of the Sky Bet League 1 table following a 2-1 defeat at Rochdale.
Callum Camps' eighth-minute strike and a 24th-minute penalty from Ian Henderson put the home side in the driving seat.
Lucas Akins' 78th-minute effort offered the Brewers hope, but it was a below-par performance from Clough's men.
"This goes to show once again that there are no 'gimmes' in this division," said Clough, whose side suffered a second defeat in three games.
"Rochdale probably deserved to win the game overall. We pushed on for the final 10 or 15 minutes, but whether the ball just wouldn't drop for us I'm not sure. It just wasn't our day.
"We certainly didn't see the same team out there that had played so well against Peterborough in midweek.
"It's difficult to explain really.
"In the first half, we just didn't see the movement that our players usually produce.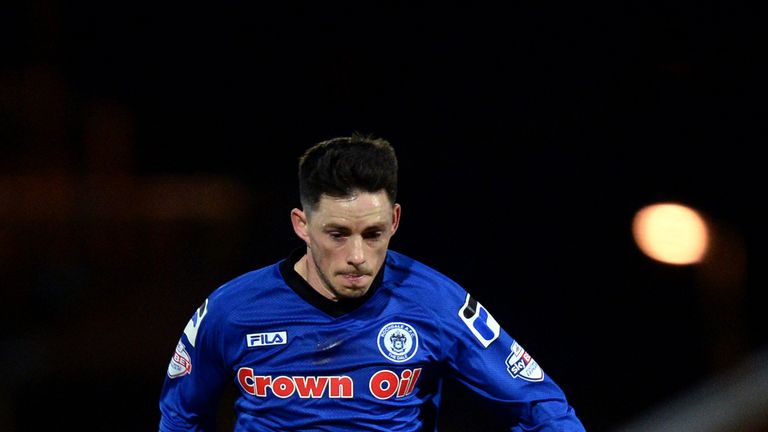 "Having said that, we couldn't have done anything about the first goal. The lads struck that one superbly, and then we're chasing the game.
"I thought the penalty decision was a bit soft, but they do go against you more often than not in that situation."
After Camps fired the home side ahead early on with a fine 25-yard effort, Akins had an empty goal to aim at with Dale goalkeeper Josh Lillis caught out of position but Olly Lancashire recovered to head his goalbound effort clear.
Henderson doubled Dale's lead with a spot kick after being shoved to the floor by John Mousinho.
Anthony O'Connor had the ball in the net for Burton when he met Mark Duffy's cross in the 38th minute, only for his effort to be ruled offside.
It took a blunder by keeper Lillis to give Burton a way back into the game, Akins punishing the stopper's rash decision to race from his goalline into no man's land. But in truth the visitors never looked like scoring a second.
For Rochdale boss Keith Hill, it was a fine reaction to last week's 6-1 defeat at Barnsley.
"I think there was a real over-reaction after last week's result. I had to reassure the players that there was no crisis at the club, it was just one result, one horrendour result. But in the grand scheme of things we play 46 games and I had to reassess my time at the club.
"I felt there was a bit of encouragement to try and get the players to get involved in speculation over my future, speculation about there being a crisis at the club.
"But when I look at it in the cold light of day, the League One status that we've got and our history and potential future of what I am trying to build at the club, I thought it was bit naughty trying to create that drama and that crisis when there wasn't one."