Kildare 0-21 Mayo 0-19: Lilywhites stun Mayo in Newbridge
Last Updated: 01/07/18 2:03pm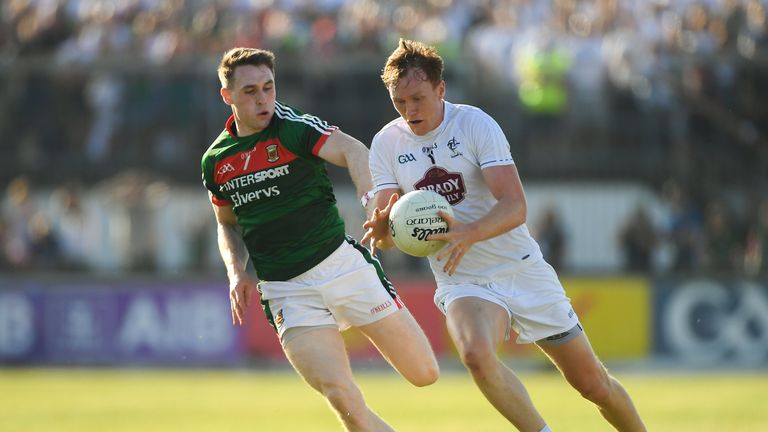 Kildare secured a famous win over Mayo in Newbridge, winning out 0-21 to 0-19.
After all the fun and games throughout the week, it would have been easy to forget there was a game of football taking place in Newbridge on Saturday evening. After the scramble to get their hands on the golden tickets, fans in St Conleth's Park, Newbridge were treated to a cracker.
The Lilywhites came flying out of the traps, and it was no surprise given the siege mentality created throughout the week. Kevin Feely went straight in at full-forward, as Cian O'Neill's side looked to the air to get an early edge.
It paid huge dividends, as they rushed into a 0-07 to 0-03 lead. Buoyed by the home support, it looked like the Leinster outfit were on the crest of a wave, as Neil Flynn landed some huge frees over the bar straight from the ground, and Paul Cribbin chipped in with two well-taken points.
However, Stephen Rochford soon cut out Kildare's channels in the middle third, and Mayo grew into the ascendency.
They scored five on the bounce, with Cillian O'Connor clinical from placed balls. Reigning Footballer of the Year Andy Moran contributed positively as he gave the Kildare rearguard plenty to think about.
As the sides went in level at the break, it was anyone's game.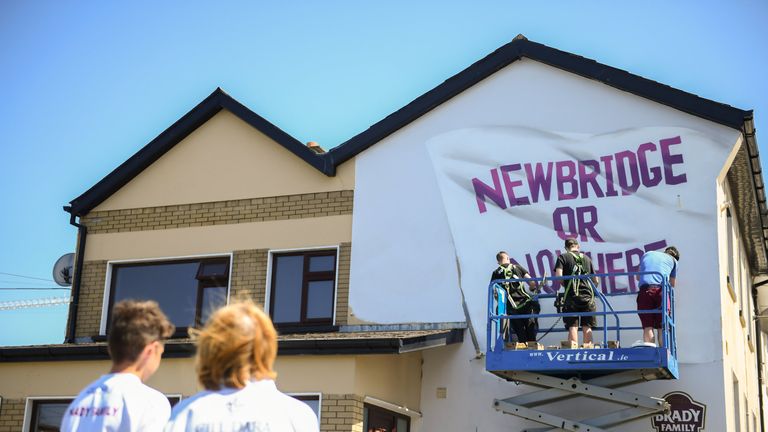 As the second half opened up, neither could gain a significant lead as the game ebbed and flowed. On the 58th minute, it was the home side who looked like they were getting their noses in front as Johnny Byrne burst forward and landed a superb score wide from the right to give them a two-point lead - the Lilywhites' third point on the bounce.
Cian O'Neill's substitutions were beginning to pay off, but Mayo should never be written off so easily. The Connacht outfit hit back with points from Cillian O'Connor and substitute Eoin O'Donoghue to level it at 0-17 apiece.
The Lilywhites had a chance to go back into the lead, but Neil Flynn missed a free, having been so clinical all day. It appeared that perhaps it was a golden opportunity gone begging.
Two more points from Kildare, fisted points from Peter Kelly and Niall Kelly pushed them into the lead, and when Neil Flynn tapped over a free, a three-point lead looked insurmountable.
However, there was life left in last year's All-Ireland finalists, and when they were awarded a 14-yard free at the death, Andy Moran stood over the ball needing a goal. The entire population of Co Kildare seemed to be on the line, and Moran wasn't able to avoid blasting it over the bar, as the Lilywhites secured a famous victory.
_____
Referee: David Gough (Meath)
Attendance: 8,200 (approx)
Scorers for Kildare
Neill Flynn 0-08 (0-06 frees, 0-01 45), Paul Cribbin 0-04, Kevin Feely 0-02, Daniel Flynn 0-02, Fergal Conway 0-01, Johnny Byrne 0-01, Peter Kelly 0-01, Éamonn Callaghan 0-01, Niall Kelly 0-01.
Scorers for Mayo
Cillian O'Connor 0-06 (0-05 frees, 0-01 45), Paddy Durcan 0-04, Jason Doherty 0-03, Andy Moran 0-03 (0-01 free), Diarmuid O'Connor 0-01, Eoin O'Donoghue 0-01, Kevin McLoughlin 0-01.
Kildare
1 Mark Donnellan
2 Peter Kelly
3 David Hyland
4 Mick O'Grady
5 Johnny Byrne
6 Eoin Doyle
7 Kevin Flynn
8 Kevin Feely
9 Tommy Moolick
10 Fergal Conway
11 Paul Cribbin
12 Keith Cribbin
13 Neill Flynn
14 Daniel Flynn
15 Paddy Brophy
Subs:
David Slattery for Keith Cribbin (48th minute)
Chris Healy for Paddy Brophy (52nd minute)
Niall Kelly for Tommy Moolick (55th minute)
James Murray for Johnny Byrne (68th minute)
Éamonn Callaghan for Eoin Doyle (71st minute)
Mayo
1 David Clarke
2 Chris Barrett
3 Ger Cafferkey
4 Keith Higgins
5 Lee Keegan
6 Colm Boyle
7 Paddy Durcan
8 Diarmuid O'Connor
9 Stephen Coen
10 Kevin McLoughlin
11 Aidan O'Shea
12 James Durcan
13 Jason Doherty
14 Cillian O'Connor
15 Andy Moran
Subs:
Eoin O'Donoghue for Colm Boyle (57th minute)
Donal Vaughan for James Durcan (59th minute)
Conor Loftus for Jason Doherty (68th minute)
Cian Hanly for Kevin McLoughlin (black card)