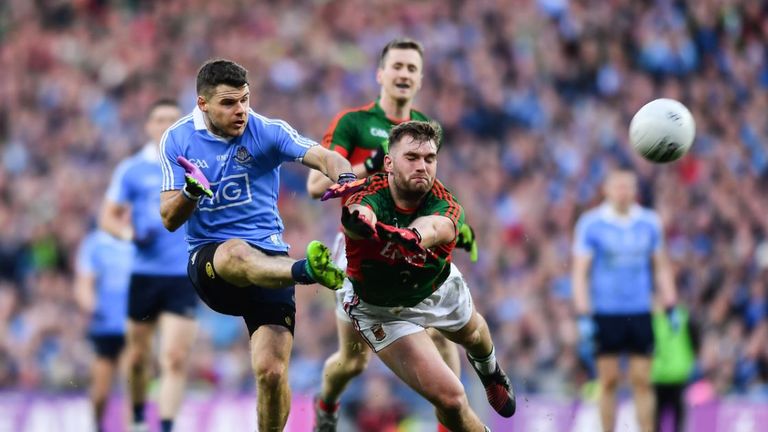 Defending champions Dublin held out a strong Mayo side to claim their 26th All-Ireland title by a single point, winning 1-15 to 1-14.
Manager Jim Gavin, celebrating his fourth anniversary of becoming manager, expertly used the strength in depth of his panel with some great substitutions to withstand a brave Mayo fight under the floodlights of Croke Park.
The victory earned Dublin back-to-back All-Ireland titles and confirmed their status as one of the best sides of the last 20 years but for Mayo, it's the third time in five years they have lost a final by a single point and their quest for Sam Maguire will go into a 66th year.
Both teams made changes to their named side, with Mayo surprisingly replacing goalkeeper David Clarke with Robert Hennelly.
It was a cruel blow for Clarke, who made a number of fine saves in the first game. 
However, Hennelly was shown a black card after failing to catch a short ball in and giving away a penalty in the 40th minute when he pulled down Paddy Andrews who looked certain to score.
Clarke came on and his first bit of action was to pick out Diarmuid Connolly's penalty from the back of his net.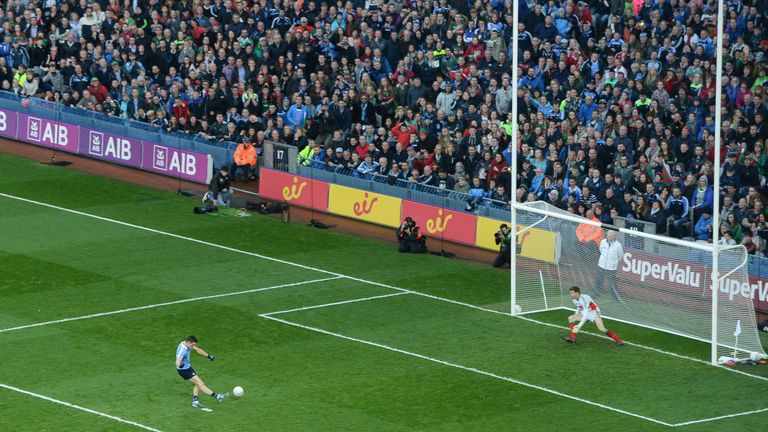 For Dublin, Jim Gavin dropped Bernard Brogan, Michael Darragh Macauley and David Byrne, starting with Michael Fitzsimons, Paul Mannion and Paddy Andrews instead.
With the defending champions going in at the break 0-10 to 1-9 up, referee Maurice Deegan was the one who needed the break more than anyone as the game threatened to boil over on a number of occasions. In first-half injury time, there was an occasion where three different on-field arguments were going on at the same time.
Deegan could have handed out numerous black cards but otherwise allowed the game to flow as best he could.
One man who did get a black card from the Laois official was Keegan. The goalscorer was carded for needlessly pulling back Connolly just before half-time. This was a massive loss to the Connacht side, especially as Keegan scored the opening goal in the 18th minute. 
The Westport player raced away from Connolly and collected a good pass by O'Shea before drilling the ball by Cluxton into the bottom left hand corner.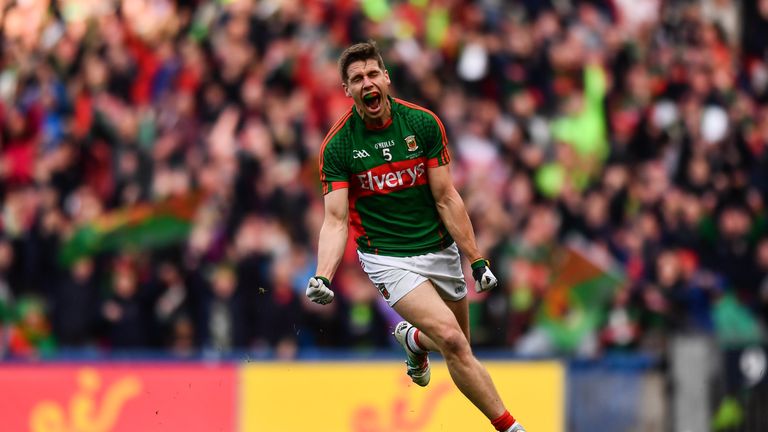 That goal put them into the lead for the first time in the game as Dublin started brightly and were 0-4 to no-score up after five minutes.
Dean Rock had a day to forget two weeks ago but he was back to his best and scored three quick scores to add to Kevin McMamamon's point but Mayo responded well through Patrick Durcan, Cillian O'Connor (2) and Andy Moran to level the game. 
Dublin's John Small was lucky to not get a black card for pulling back Moran and Mayo supporters will query the consistency in which black cards were handed out.
Rock had scored five of Dublin's six scores by the time Keegan got his goal and things got worse for the champions when Jonny Cooper was black carded. This was just after Mayo scored their goal and the Connacht side were attacking Dublin's defence with pace and great frequency.
However, they overplayed the ball once or twice in this period and Dublin clawed their way back into it with a magnificent point from Connolly to make it 0-9 to 1-5 in the 33rd minute.
The game turned when Keegan brought down Connolly and was black carded. This allowed Connolly more freedom but injury time in the first half was mainly taken up with outbreaks of fighting. Connolly, Donal Vaughan and John Small all got yellow cards and as the players ran in at half-time, most in Croke Park expected to see some tussles heading down the tunnel. Much to Deegan's relief that didn't take place.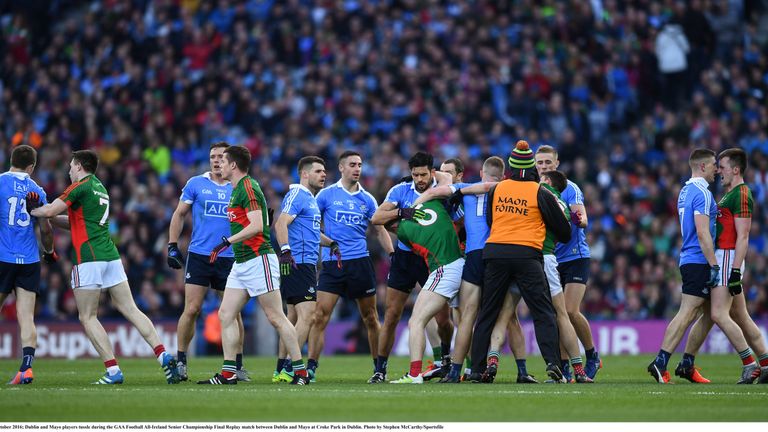 Mayo scored two quick frees to put themselves into the lead but then Hennelly had his moment to forget and with five minutes played in the second half, Dublin were winning 1-11 to 1-8. 
The Mayo players looked exhausted going into the final 15 minutes but they were still only two points behind.
Dublin substitute Cormac Costello came on and scored three great points, as well as Brogan who pointed within 10 minutes of coming on.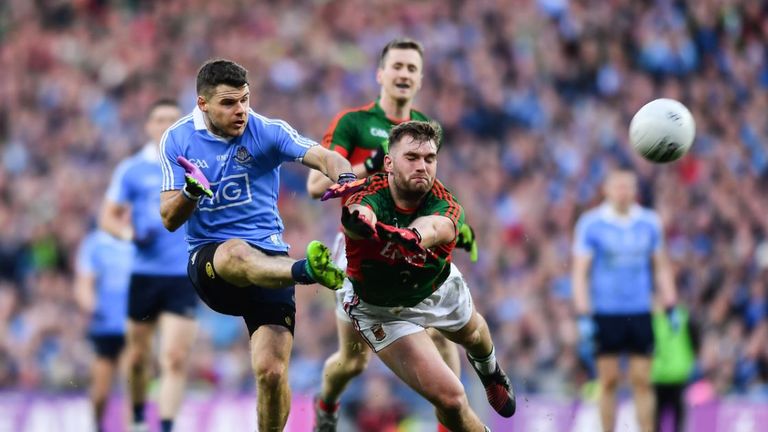 Mayo got the deficit back to a point on two occasions in the last 10 minutes as Dublin went 12 minutes without scoring but Costello got his third point in the 71st minute. However, six minutes of injury time had to be played and in the 74th minute, O'Connor slotted over a free to make it a one-point game again. 
The Ballintubber forward then had a great opportunity to force the game into extra-time but his free, about 40 yards out on the left hand side, agonisingly sailed to the left and wide, much to the delight of the Dubs on Hill 16. 
It will haunt O'Connor for a long time but his 0-9 from frees were one of the main reasons Mayo still had hope in this game right up to the death.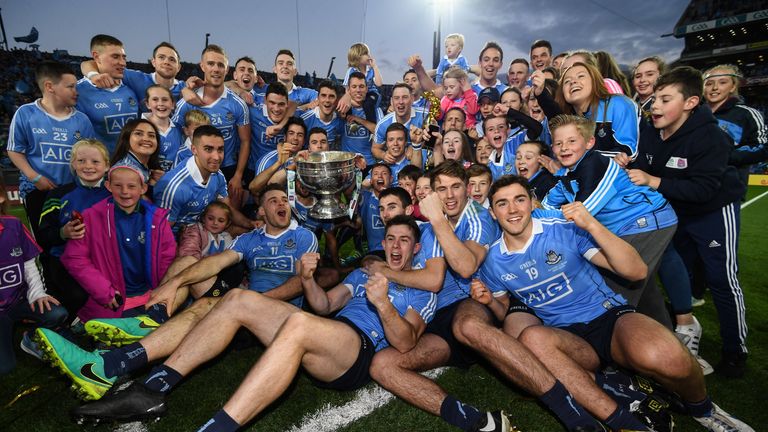 For Dublin, they claim back-to-back All-Ireland's for the first time since 1977 and they are the first team to achieve this since Kerry in 2006 and 2007. They are now 11 All-Ireland titles behind their Munster rivals and will hope that number continues to shrink in the next few years.
Dublin: Stephen Cluxton; Michael Fitzsimons, Philly McMahon, Jonny Cooper, James McCarthy, Cian O'Sullivan, John Small, Brian Fenton, Paul Flynn, Ciaran Kilkenny, Kevin McManamon 0-1, Diarmuid Connolly 1-1, Paul Mannion, Dean Rock 0-9 (7 frees), Paddy Andrews.
Subs: David Byrne for Jonny Cooper (21, black card), Bernard Brogan(0-1) for Paddy Andrews (47), Michael Darragh Macauley for Paul Mannion (52), Cormac Costello (0-3) for kevin McManamon (56), Eric Lowndes for John Small (60), Darren Daly for Cian O'Sullivan (72).
Mayo: Robert Hennelly, Brendan Harrison, Donal Vaughan, Keith Higgins, Lee Keegan (1-0), Colm Boyle, Patrick Durcan (0-2), Seamus O'Shea, Tom Parsons, Kevin McLoughlin (0-1), Aidan O'Shea, Diarmuid O'Connor (0-1), Jason Doherty; Andy Moran (0-1), Cillian O'Connor 0-9 (9 frees).
Subs: Stephen Coen for Lee Keegan (35, black card), Barry Moran for Tom Parsons (35+8 -blood sub), Conor O'Shea for Donal Vaughan (HT), David Clarke for Robert Hennelly (41, black card), Barry Moran for Andy Moran (55), Alan Dillon for Jason Doherty (60), Chris Barrett for Colm Boyle (71).
Referee: Maurice Deegan (Laois).