Galway squeeze by 14-man Mayo
Last Updated: 14/05/18 7:47am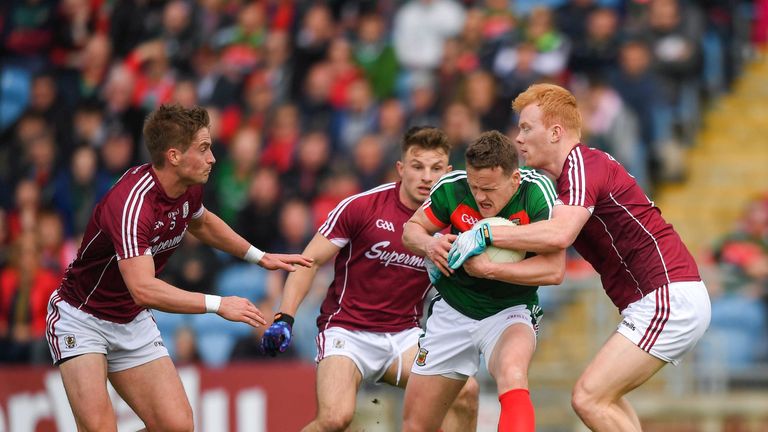 Galway 1-12 Mayo 0-12.
For those who opined that the race for Sam Maguire started off with a whimper, the decibel levels sky-rocketed on Sunday afternoon, as Mayo and Galway clashed in front of a packed house at Castlebar.
All-Ireland finalists vs League finalists. Neighbours. Rivals. This was always going to be a tense affair.
Mayo started the brighter, playing into a stiff breeze, but were unable to make it count on the scoreboard, with Galway bursting into a three-point lead.
Chris Barrett was struggling to deal with the threat of Damien Comer in full-forward, as the Annaghdown man kept up his red hot League form to cause serious problems for the defence.
With Ciarán Duggan dominating the aerial exchanges in the middle of the park, the Tribesmen were beginning to gain a foothold. However, the hosts did fight back, and when Kevin McLoughlin levelled it at 0-05 apiece approaching the half-hour mark, there was a huge roar from the sizeable home support.
Minutes later, the game flipped on its head. Diarmuid O'Connor, carrying the ball out of defence, collided with Paul Conroy. The Ballintubber man raised his elbow, connecting with Conroy. Conor Lane had little option but to give O'Connor his marching orders.
Andy Moran did send over an impressive point at the end of the first half to reduce the gap to one.
The Cork referee wasn't the most popular man in Castlebar as he left the field for half-time, walking off to a chorus of boos, as it was very much advantage Galway at the break.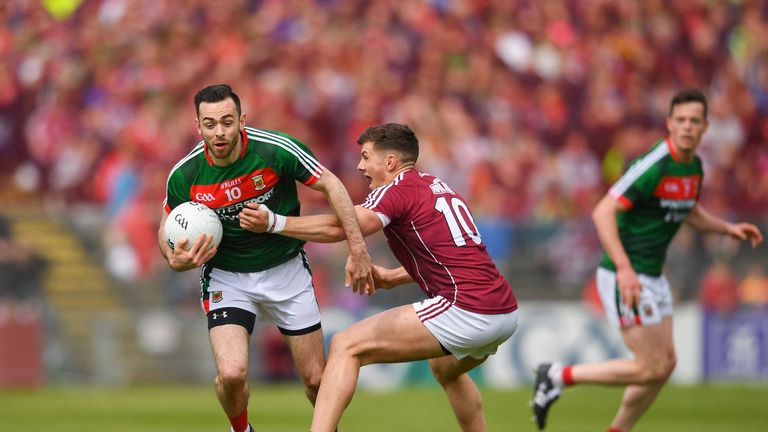 After the break, Mayo started the brighter, as points from Keith Higgins and Tom Parsons gave them a one-point lead.
Parsons then suffered a serious-looking injury, which forced the game to be paused for a number of minutes.
The 14 men of Mayo fought valiantly and didn't seem to be affected by the numerical disadvantage. Heading into the eight minutes of injury-time, the sides were locked at 0-11 apiece.
However, Johnny Heaney stole forward to bury it past David Clarke and give Galway an unassailable three-point lead, as they won out 1-12 to 0-12.
Mayo head for the qualifiers once again, while Galway progress to the semi-final.
_____
Referee: Conor Lane (Cork)
Attendance: 29,449
Scorers:
Galway: Johnny Heaney 1-00, Shane Walsh 0-03 (0-01 free), Barry McHugh 0-02 (0-02 frees), Damien Comer 0-02, Ciarán Duggan 0-02, Seán Kelly 0-01, Seán Armstrong 0-01, Thomas Flynn 0-01.
Mayo: Conor Loftus 0-03 (0-03 frees), Andy Moran 0-02, Kevin McLoughlin 0-02, Cillian O'Connor 0-02 (0-01 free), Diarmuid O'Connor 0-01, Keith Higgins 0-01, Tom Parsons 0-01.
TEAMS:
Mayo:
1. David Clarke
5. Paddy Durcan
2. Eoin O'Donoghue
18. Chris Barrett
6. Colm Boyle
4. Keith Higgins
7. Stephen Coen
8. Seamus O'Shea
9, Tom Parsons
10. Kevin McLoughlin
11. Aidan O'Shea (captain)
12. Diarmuid O'Connor
15. Andy Moran
23. Jason Doherty
13. Conor Loftus
Subs:
Cillian O'Connor for Tom Parsons (47th minute)
David Drake for Conor Loftus (59th minute)
James Durcan for Jason Doherty (61st minute)
Cian Hanley for Seamus O'Shea (67th minute)
Donal Vaughan for Andy Moran (71st minute)
Brendan Harrison for Eoin O'Donoghue (72nd minute)
Galway:
1. Ruairí Lavelle
2. Declan Kyne
3. Seán Andy Ó Ceallaigh
4. Eoghan Kerin
5. Gary O'Donnell
6. Gareth Bradshaw
7. Cathal Sweeney
11. Paul Conroy
9, Ciarán Duggan
12. Johnny Heaney
15. Barry McHugh
8. Thomas Flynn
10. Shane Walsh
14. Damien Comer (captain)
13. Seán Armstrong
Subs:
Peter Cooke for Paul Conroy (32nd minute)
Eamonn Brannigan for Declan Kyne (48th minute)
Ian Burke for Seán Armstrong (57th minute)
Seán Kelly for Thomas Flynn (62nd minute)
Johnny Duane for Gareth Bradshaw (67th minute)
Adrian Varley for Barry McHugh (72nd minute)
Thomas Flynn for Peter Cooke (black card - 75th minute)