Leitrim secured their third ever win in the qualifiers as Emlyn Mulligan gave an inspirational display and they advanced to Round 3 at the expense of visitors Louth at Pairc Sean Mac Diarmada in Carrick-on-Shannon, winning out 0-25 to 1-12.
Mulligan and Damien Moran scored six points each as Leitrim recovered from a 1-07 to 0-09 half-time deficit to take control. Louth had James Craven sent off for a straight red card in the first half, and finished with 12 men. But Leitrim were far too good.
Seven of the eight teams who played away from home in Round 1 were victorious, including Louth, who defeated London 2-26 to 1-19 at McGovern Park in Ruislip.
And they made a fast start against a Leitrim outfit who were knocked out the Connacht semi-finals by Roscommon.
Their goal arrived in the third minute when Conor Grimes took advantage of Diarmuid McKiernan's error from the Leitrim kick-out. Grimes found Woods and he finished to the top corner of the net.
Ciaran Downey quickly tagged on another point and Ryan O'Rourke finally put Leitrim on the scoreboard in the fourth minute.
But they look overawed in the early stages and they received a massive blow when full-back Alan Armstrong got a black card for a trip on Tommy Durnin in the eighth minute.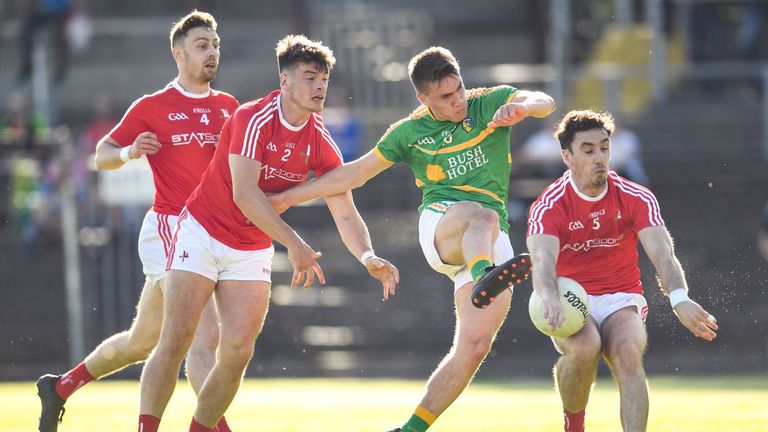 Louth should have put the game beyond doubt, and points from Woods (free) and Declan Byrne gave them a comfortable 1-4 to 0-2 lead. But they began to kick wides and after 20 minutes Louth had registered six of those.
Leitrim took heart from that and it needed the heroics of Derek Maguire to deny Darragh Rooney in the 19th minute before Grimes almost tapped a Downey long delivery to the net up the other end.
Brendan Gallagher scored to reduce the arrears to 1-5 to 0-4 with 11 minutes remaining in the opening half. Then Ronan Holcroft was black carded after Woods had hit the post with another goal chance.
Leitrim had lived on the edge but when Craven got red for an alleged head-butt on Damien Moran, the home side rallied. Two massive points from Emlyn Mulligan before half-time meant Leitrim trailed by 1-7 to 0-9 at the interval.
Leitrim were awesome at the start of the second half and they kept Louth scoreless until the 50th minute. In the meantime Leitrim six points, with Mulligan influential throughout.
Woods finally scored a free but it was a brief reprieve with two points from Moran, and a Heslin effort giving Leitrim a 0-18 to 1-8 lead.
Mulligan got a black card with 11 minutes remaining but Leitrim pushed on, with Bevan Duffy and Emmet Carolan got black late on for Louth. James Rooney also got black deep in injury-time.
_____
Attendance: 2,400
Referee: Noel Mooney (Cavan)
Scorers for Leitrim: E Mulligan 0-06 (0-03f), D Moran 0-06, J Heslin 0-03, D Rooney 0-03, R O'Rourke 0-03 (0-01f), D Wrynn 0-01, B Gallagher 0-01, D McGovern 0-01, D Flynn 0-01.
Scorers for Louth: W Woods 1-07 (0-05f, 0-01 45), D Byrne 0-03, T Durnin 0-01, C Downey 0-01.
Leitrim:
1. Diarmuid McKiernan
2. Paddy Maguire
3. Alan Armstrong
4. Michael McWeeney
5. James Rooney
6. Shane Quinn
7. Noel Plunkett
8. Aidan Flynn
9. Jack Heslin
10. Darragh Rooney
11. Ryan O'Rourke
12. Brendan Gallagher
13. Emlyn Mulligan
14. Donal Wrynn (c)
15. Damien Moran
Subs:
19. J Mitchell for Armstrong (9th minute - black card);
23. D McGovern 0-01 for A Flynn (45th minute);
21. C McGloin for Gallagher (46th minute);
18. E Ward for Rooney (57th minute);
17. D Flynn 0-01 for Mulligan (61st minute - black card);
20. N McWeeney for Wrynn (67th minute).
Louth:
1. Neil Gallagher
2. Darren Marks
3. Emmet Carolan
4. James Craven
5. Derek Maguire
6. Bevan Duffy
7. Anthony Williams
8. Andy McDonnell (c)
9. Tommy Durnin
10. Ciaran Downey
11. Declan Byrne
12. Gerard McSorley
13. William Woods
14. Conor Grimes
15. Ronan Holcroft
Subs:
23. R Burns for Holcroft (27th minute - black card);
26. N Conlon for McSorley (44th minute);
20. H Osborne for Marks (53rd minute);
18. J McEneaney for Byrne (63rd minute);
19. E Lafferty for Williams (70th minute).