Donegal 2-18 Fermanagh 0-12: Donegal power to Ulster title
By Ronan O'Neill
Last Updated: 25/06/18 10:01am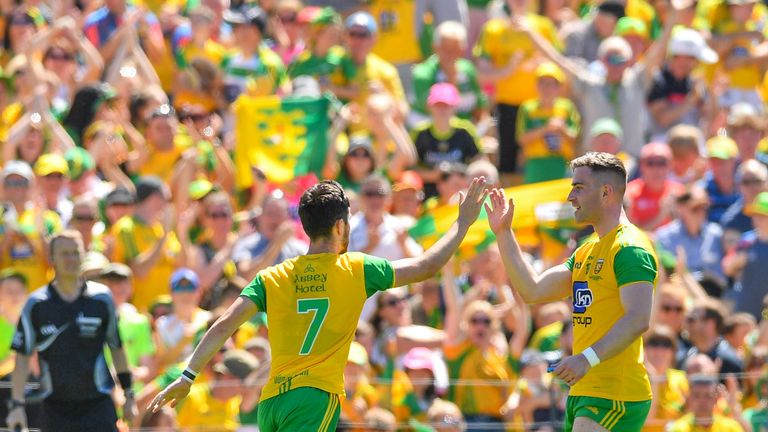 Donegal became the third county to reach the Super 8s as they claimed their ninth Ulster SFC with a massive 2-18 to 0-12 win over Fermanagh at St Tiarnach's Park in Clones. 
Fermanagh were looking for their first ever provincial crown but fell well short, and, with 13 different scorers, Declan Bonner's men move ominously into the next phase of the championship.
Donegal held a comfortable 2-07 to 0-05 lead at half-time, after strikes from Eoghan Ban Gallagher and Ryan McHugh put Donegal in charge in the sweltering heat.
And Fermanagh could not cope in the second half, with Ryan Jones sent off and the Donegal bench wreaking havoc.
Donegal were expected to dominate but they found it difficult to break down a sometimes 15-man Fermanagh defence early. Rory Kavanagh's side had restricted Armagh to 0-07 in the Ulster quarter-final, while Monaghan only scored 0-10 against them in the previous round.
Donegal, however, had a more potent attacking threat and it stemmed from the left wing of their defence. Sean Quigley actually opened the scoring, with a free for Fermanagh in the eighth minute, but they did not score again until the 27th minute.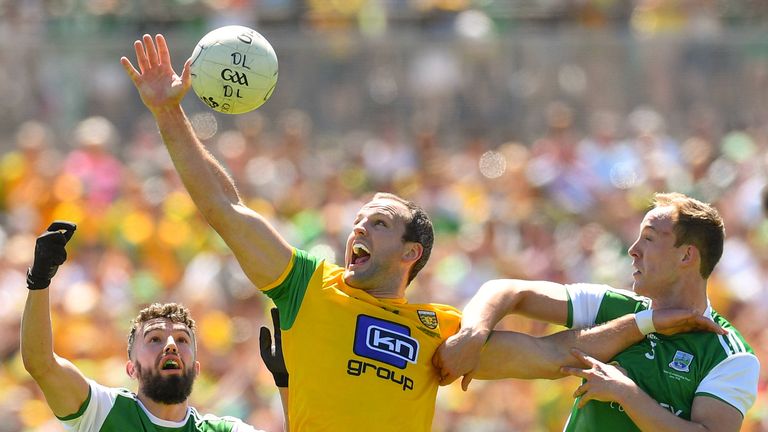 Donegal scored 1-04 in the intervening period with Odhran Mac Niallais, Michael Langan, Michael Murphy and Paul Brennan all on target. But the goals came from defence, and the first arrived courtesy of Gallagher.
He scored their first goal in the 16th minute and tagged on another point shortly after. Donegal were already 1-04 to 0-01 clear before Quigley scored his second free. But McHugh blasted another goal four minutes before half-time.
He raided in from the wing and out-paced Kane Connor to finish into the top-left corner of Patrick Cadden's net. Paddy McBrearty and Murphy scored the final points of the half as Donegal closed in on victory.
Fermanagh also lost Michael Jones to a black card late in the half, and they introduced Seamus Quigley at half-time in a bid to finally win some ball in the full-forward line.
He scored with his first touch after Paul Brennan put Donegal further in front on the resumption. And Paddy McGrath had a goal disallowed for Donegal in the 45th minute when he was inside the square.
Sean Quigley kicked his fourth point and Barry Mulrone added his first, but Ciaran Thompson did likewise for Donegal who kept Fermanagh at bay.
And Fermanagh faded after Ryan Jones got a second yellow card for a foul on McGrath with 16 minutes remaining.
_____
Referee: David Gough (Meath)
Attendance: 28,150 est.
Scorers for Donegal: Eoghan Ban Gallagher 1-01, Michael Murphy 0-04 (0-03f), Ryan McHugh 1-00, Ciaran Thompson 0-03 (0-02f), Paul Brennan 0-02, Michael Langan 0-01, Odhran Mac Niallais 0-01, Paddy McBrearty 0-01, Paddy McGrath 0-01, Cian Mulligan 0-01, Mark McHugh 0-01, Darrach O'Connor 0-01, Jamie Brennan 0-01.
Scorers for Fermanagh: Sean Quigley 0-04 (0-04f), Seamus Quigley 0-03 (0-01f), Eoin Donnolly 0-01, Ciaran Corrigan 0-01, Barry Mulrone 0-01, Conall Jones 0-01, Ruairi Corrigan 0-01.
Donegal:
1. Shaun Patton
2. Paddy McGrath
17. Steve McMenamin
4. Eoghan Ban Gallagher
5. Frank McGlynn
6. Paul Brennan
7. Ryan McHugh
8. Hugh McFadden
9. Leo McLoone
25. Odhran Mac Niallais
11. Michael Langan
12. Ciaran Thompson
13. Patrick McBrearty
14. Michael Murphy
15. Jamie Brennan.
Substitutes:
Daire O'Baoil for McBrearty (39th minute)
Caolan Ward for P Brennan (57th minute)
Anthony Thompson for Mac Niallais (61st minute)
Cian Mulligan for Langan (64th minute)
Mark McHugh for Thompson (65th minute)
Darrach O'Connor for J Brennan (68th minute).
Fermanagh:
1. Patrick Cadden
2. Kane Connor
3. Che Cullen
4. Michael Jones
5. Barry Mulrone
6. James McMahon
7. Lee Cullen
8. Eoin Donnolly
9. Ryan Jones
10. Paul McCusker
11. Declan McCusker
12. Aidan Breen
13. Sean Quigley
14. Conall Jones
18. Ciaran Corrigan.
Substitutes:
Eamonn McHugh for Connor (33rd minute)
Cian McManus for M Jones (half-time, black card)
Seamus Quigley for P McCusker (half-time)
Tom Clarke for Corrigan (45th minute)
Daniel Teague for D McCusker (67th minute).