Kilkenny 2-19 Offaly 1-13: Cats see off Faithful fightback
By Bill Kiely
Last Updated: 20/05/18 5:41pm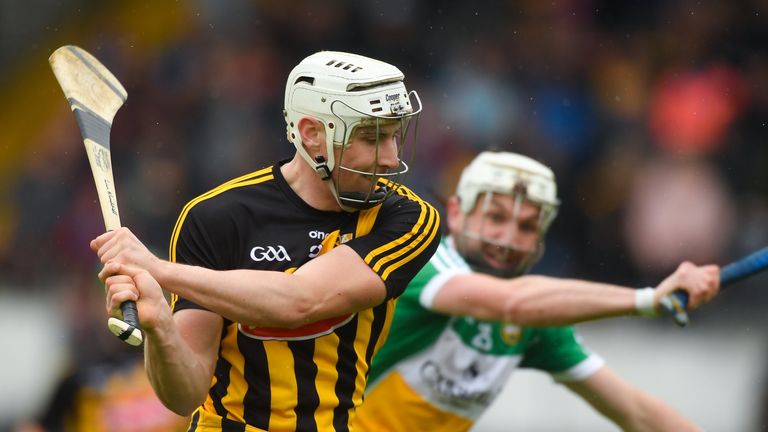 Liam Blanchfield scored another crucial goal as reigning NHL champions Kilkenny denied a resurgent Offaly to secure back-to-back wins in the Leinster SHC and prepare for Galway with a 2-19 to 1-13 victory.
Kilkenny make the trip to Pearse Stadium for a huge clash with the All-Ireland holders in Round 3 next Sunday, and this test was the perfect dress rehearsal.
TJ Reid scored the first-half goal for Kilkenny and his side held a 1-10 to 0-7 lead at half-time, even though they had played against the breeze.
But after a 0-24 to 1-19 victory over Offaly in the league, Kilkenny were tested again when Conor Mahon fired a second-half goal for the visitors. However, Blanchfield's goal changed the game in Kilkenny's favour again.
Offaly were desperate for a fast start and Shane Kinsella provided that when he scored a great point inside the opening minute. Kilkenny hit three straight wides after that before Blanchfield finally got their first with another brilliant effort on the angle after seven minutes.
Joe Bergin scored in reply for Offaly but he should have added a goal to that point straight away. And then Blanchfield also shot wide when Richie Leahy had put in the hard work for another goal chance.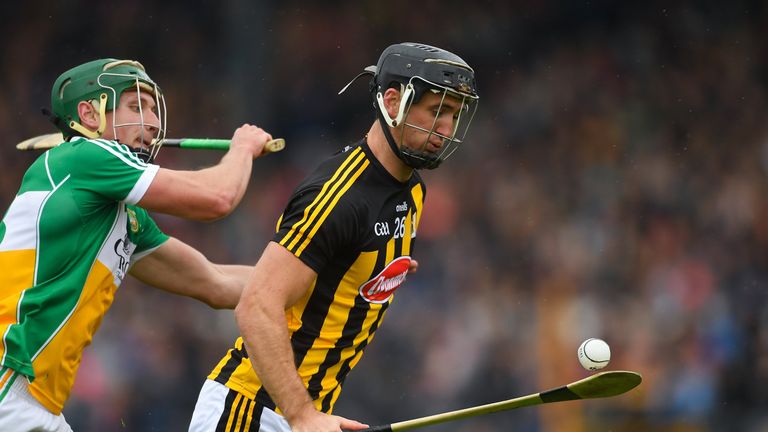 The teams traded points before Luke Scanlon, Eoin Murphy (free), John Donnelly and TJ Reid (free) scored unanswered points to give the hosts a 0-05 to 0-03 lead in the 18th minute.
Offaly centre-back Pat Camon reduced arrears with an inspirational point but Reid struck for the Kilkenny goal after a well-worked team move.
Eoin Murphy gave the quick puck out and the ball was cleared to Donnelly who won possession, before his pass was finished to the Offaly net in the 24th minute.
Scanlon tapped over his third point and Kilkenny were 1-07 to 0-05 in front in the 24th minute. Shane Dooley had not scored for Offaly before his two late frees before half-time.
But Reid also added a couple of points before the interval and Kilkenny were 1-10 to 1-07 in charge.
Reid and Leahy added quickfire points after half-time and when Reid finished his personal tally of 1-04 Kilkenny held a 1-14 to 0-08 lead. But Dooley's pass put substitute Mahon in for a stunning goal in the 55th minute.
Dooley added a free and Oisin Kelly also scored for Offaly but Donnelly set up Blanchfield in the 63rd minute for Kilkenny's second goal.
_____
Referee: James Owens (Wexford)
Attendance: 6,996.
Scorers:
Kilkenny: TJ Reid 1-05 (0-04f), Liam Blanchfield 1-03, Luke Scanlon 0-04, Martin Keoghan 0-02, John Donnelly 0-02, Colin Fennelly 0-1, Eoin Murphy 0-01 (0-01f), Richie Leahy 0-01,
Offaly: Shane Dooley 0-05 (0-03f), Conor Mahon 1-00, Joe Bergin 0-03, Shane Kinsella 0-02, Colin Egan 0-01, Pat Camon 0-01, Oisin Kelly 0-01
TEAMS:
Kilkenny:
1. Eoin Murphy
2. Joey Holden
3. Padraig Walsh
4. Paddy Deegan
5. Conor Delaney
6. Cillian Buckley
7. Paul Murphy
8. Conor Fogarty
21. Lester Ryan
10. Martin Keoghan
11. TJ Reid
12. Richie Leahy
13. John Donnelly
23. Liam Blanchfield
15. Luke Scanlon
Subs:
Colin Fennelly for Fogarty (41st minute)
Conor Browne for Ryan (52nd minute)
Ger Aylward for Scanlon (54th minute)
Conor O'Shea for Leahy (70th minute).
Offaly:
1. Eoghan Cahill
2. Tom Spain
3. Dermot Shortt
4. Ben Conneely
5. Damien Egan
6. Pat Camon
7. David O'Toole Greene
8. David King
9. Shane Kinsella
10. Joe Bergin
11. Paddy Murphy
12. Oisin Kelly
13. Dan Currams
14. Colin Egan
15. Shane Dooley
Subs:
Conor Mahon for Murphy (29th minute)
Ronan Hughes for Currams (35th minute)
Sean Ryan for Egan (58th minute).
Tommy Geraghty for Kinsella (68th minute).