Peter Canavan: Con O'Callaghan is central to Dublin drive
Last Updated: 23/07/19 11:57am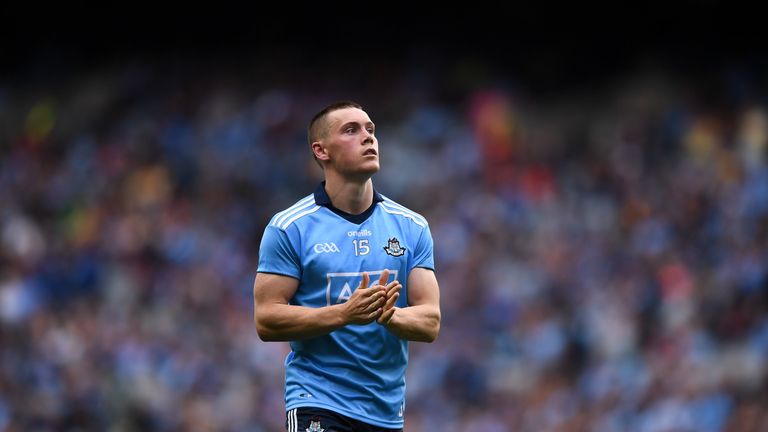 Sky Sports GAA analyst Peter Canavan reviews the weekend's Gaelic football action.
We learned very little about Dublin in their routine win over Roscommon on Saturday.
But we saw that the long-ball tactic is something that they're using more frequently.
The continued upward learning curve of Con O'Callaghan is interesting. He is now so central to this Dublin team in terms of his ball-winning capacity. He can win the ball whatever way, any way it comes in. We all know he's a goalscorer, but now he's setting up colleagues for scores as well.
He's developing into a real all-round footballer. We saw further evidence of that on Saturday, as he scored 0-2 and was named man of the match.
Dublin are going from strength to strength.
Jim Gavin's side don't play to entertain, they play to win. They're pragmatic.
They closed the game down in the second half. It was run of the mill, there was no showboating. They were prepared to get 14 bodies back when necessary. It took the sting out of the game. In terms of learning much about them, we learned very little. They showed no sign of complacency.
Dublin are very much on track on the drive for five.
Did Tyrone show their hand?
Tyrone lacked an edge in the first half against Cork. There was no intensity in the tackle, the Rebels dominated possession. Despite the Red Hands having a lot of bodies back, there wasn't enough pressure being put on the Cork players. So it was a very poor performance by Tyrone in the first half.
After the break, they were a different team. There was a major change in attitude of the players. It was good to have won it, but a big improvement is needed if they're going to think about taking Dublin out.
What swung the game was the tactical change. With two men up front, they were more aggressive on Cork's kick-outs in the second half.
In a way, I'm sure Mickey Harte in his head was hoping that it was something he would have up his sleeve for an All-Ireland final or against some of the top teams. In that regard, the cat is out of the bag. Teams playing Tyrone now will be ready for that move whenever it does happen.
Donegal and Kerry serve up thriller
Donegal vs Kerry was a fantastic exhibition of attacking football from both sides. Both sides felt they had the firepower to win it.
I was surprised that Donegal adapted that approach. Against Tyrone, it was 14 men behind the ball. In the games in Ulster, they were defensive, hitting teams on the counter-attack. But on Sunday, they left space in front of their own full-back line. They very nearly paid the price for it. Kerry were more wasteful in front of goal than Donegal were.
But it's a sign of where Donegal are, that they believe they have the firepower to take on and beat the likes of Kerry. So when you consider the injuries they had, it was a great result for Declan Bonner's side.
A big plus was also the performance of Oisin Gallen - 19 years of age, coming off the bench to kick two points, one off either foot, at crucial stages in the game.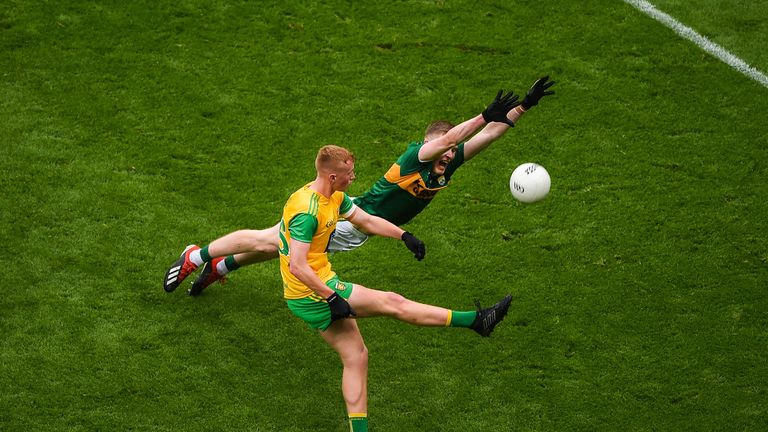 But despite playing so well against Kerry and a comfortable win over Meath, they're going into the third game with it all to do. Their biggest challenge of all is to go down to Castlebar and take the points off Mayo.
Whereas Kerry, sitting on three points, would be expected to get the better of Meath. Especially with the Royals having nothing to play for. It's very much advantage Kerry. It's a better result for Kerry than Donegal.
Super 8s: Group 1 table
| | P | W | D | L | +/- | Pts |
| --- | --- | --- | --- | --- | --- | --- |
| Kerry | 2 | 1 | 1 | 0 | 10 | 3 |
| Donegal | 2 | 1 | 1 | 0 | 9 | 3 |
| Mayo | 2 | 1 | 0 | 1 | -1 | 2 |
| Meath | 2 | 0 | 0 | 2 | -18 | 0 |
Mayo get the job done
Mayo got the victory on Sunday, but there was no major improvement from their loss in Killarney.
The game was there for the taking from a Meath point of view.
The one aspect that James Horan would have been concerned about was being on the road, five weeks in a row.
Would they fade on the home straight? But that was their strongest part of the game. In the last 16 minutes, they outscored Meath 2-6 to 0-2. So that's a good sign. They had to dig deep, they had to fight hard.
Sky Sports' live GAA coverage continues next weekend, with the All-Ireland Hurling Championship semi-finals down for decision.
You can also stay up to date with all the action by following us @SkySportsGAA and get all the latest news, previews and interviews at www.skysports.com/gaa.