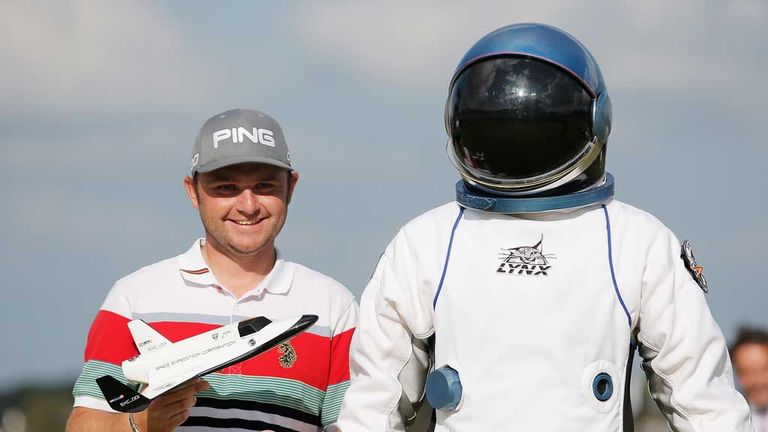 England's Andy Sullivan won a trip into space with a hole-in-one in the final round of the KLM Open at the Kennemer Golf & Country Club.
XCOR Space Expeditions announced the $100,000 prize for the first player to ace the par-three 15th during this year's tournament.
And Sullivan stepped up to claim the prize by holing with a nine iron on the 163-yard hole on his way to a closing 67.
The prize - should he choose to accept it - will be a trip in a Lynx Mark I aircraft next year.
According to the company's official website, passengers undertake "a half-hour suborbital flight to 100km (330,000 feet) and then return to a landing at the take-off runway."
Sullivan needed treatment for altitude sickness in the mountains of Switzerland during last week's European Masters, so it was no surprise that he gave out mixed messages about accepting the prize after completing his round.
"It was such a rollercoaster out there today and this week so to top it off by going to space is great," said the former Walker Cup star.
"I was on the comeback after a few bad holes and the caddie pulled out a nine iron and said try to cut it in there, luckily it came off and it went in.
"I'm not sure if I'll go, I'll check with the missus. I'm not great with heights or flying! I might have to pluck up some serious courage, but it is a once in a lifetime experience, so I'm going to have to do it."
The 28-year-old from Nuneaton finished the tournament in third place on 12-under 268, two shots behind winner Paul Casey.