Rory McIlroy targets first Abu Dhabi Championship win
"I'm excited to get back on the horse and give myself another chance tomorrow."
Last Updated: 21/01/18 7:13am
Rory McIlroy hopes to cap his comeback by winning the Abu Dhabi HSBC Championship for the first time on Sunday.
McIlroy put himself firmly in contention by moving just one shot behind joint-leaders Thomas Pieters and Ross Fisher with a seven-under 65 in the third round at Abu Dhabi Golf Club.
The four-time major winner has had a number of near-misses in his previous appearances in the tournament and is keen to finally lift the trophy in his first competitive start since October.
He said: "I've had a lot of close calls here, I think about six top threes or something like that. I've never won my first start back out. I was close last year in South Africa, Stormy (Graeme Storm) beat me in a play-off.
"It would mean a lot. It's felt like a while since I've won and just to give myself these chances; I gave myself a chance at the end of the year at Close House and wasn't able to do it. Paul Dunne played too well for me.
"I'm excited to get back on the horse and give myself another chance tomorrow."
McIlroy's only bogey so far this week came at the par-three 15th in the third round, but his eight birdies more than made up for that and he is content with his form.
"I feel like I played similar again," he added. "I probably scored a bit better. Short game was needed at times. But I putted really well. Hit the ball very well.
"So all in all, yeah, it was another great round and another really good confidence builder. Not just for this week but for the rest of the season, as well."
When asked what his game plan for Sunday would be, he replied: "Same as the last three days. Just go out and try and shoot the best score I possibly can.
"I felt really comfortable, really relaxed out there. I haven't been looking at leaderboards too much. Just been trying to play my game, and it's going pretty well so far, so I'll try and do the same thing."
Fisher and Pieters will both be aiming to spoil the party for McIlroy, though, and it could be a tough final day with windy conditions forecast.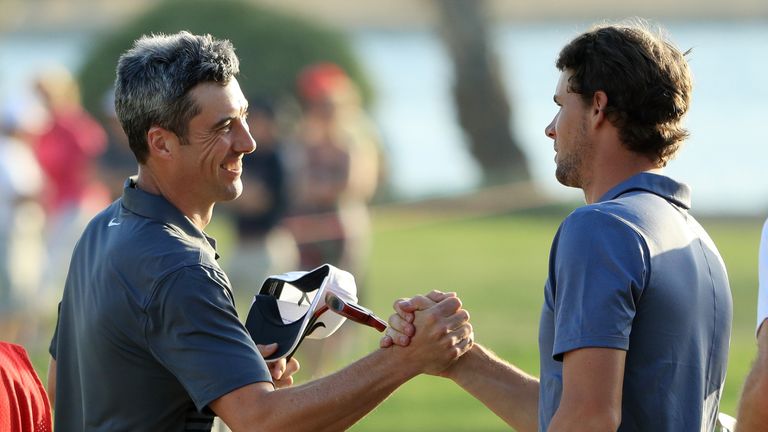 Englishman Fisher, who birdied the final hole to join Belgian Pieters on 17 under, said: "I'm hoping the Tour officials will see what the forecast is, set the course up tough, but fair. I'm looking forward to the challenge and we'll see what happens.
"[I'm] very excited, just having a chance to win the first event for me on the European Tour season, such a prestigious event here in Abu Dhabi, you only have to walk up 18 and see the list of past champions.
"So to have a chance to go out there tomorrow and have a chance of putting my name amongst that illustrious property of players would be great. I have to go out and play as well as I have done the first three days."
Overnight leader Pieters had to scramble a par on the 18th after a wayward tee shot left him near a small tree, but he was content with his performance overall.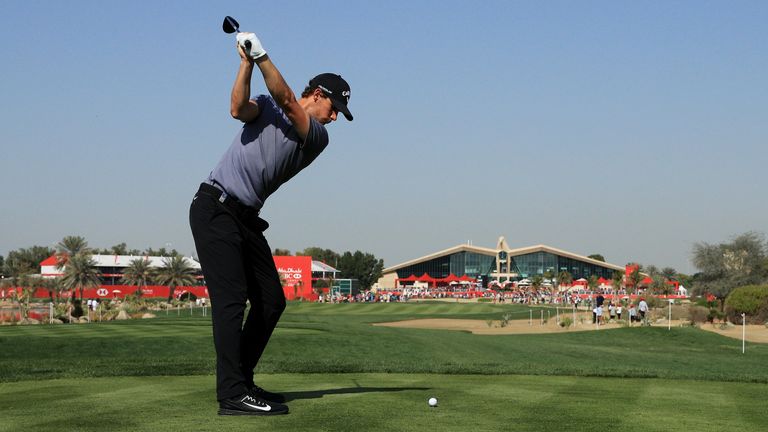 "I think I played pretty good today," he said. "I missed a lot of putts today. Made a couple birdies early, which settled me down. The back nine, I played very good. But yeah, I couldn't really make a putt.
"Hit one really close on 16 and 17, 18, pretty disappointing. I didn't hit many good shots there but it's still nice to make a par on the last after the mess I made.
"The first event out and that's where you want to be. You want to have a bit of nerves and feel like you're in contention, and I look forward to tomorrow."