Gallacher - Rory will dominate
Bernard Gallacher has backed Rory McIlroy to win multiple majors and establish himself as undisputed world number one.
Last Updated: 20/06/11 6:31pm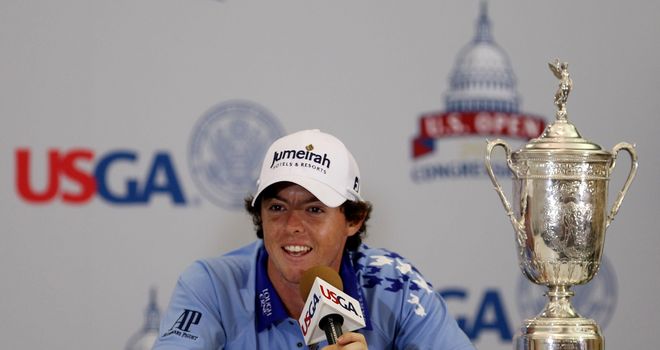 Bernard Gallacher has backed Rory McIlroy to win multiple majors and establish himself as undisputed world number one in the years to come.
McIlroy broke numerous records on his way to a first major triumph at Congressional Country Club on Sunday when he completed an eight-shot victory in the US Open.
Former Ryder Cup captain Gallacher believes the 22-year-old is in the same class as Tiger Woods and will go on to become the next dominant force in the game.
"When he (McIlroy) turned professional his aim was to win majors, yes to win tournaments on the way, but his goal was to win majors and in a way he and Tiger are similar in that respect," he told Sky Sports News.
"Tiger said when he turned professional that his ambition was to win majors and Rory came in with those very high expectations as well.
Matter of time
"But once we saw how good he was, people within the game said 'well, it's only really a matter of time'.
"He's done really well in majors so far. I thought he was really lucky in our Open Championship last year after a first round when he shot a fantastic 63 and the next day the weather was against him he was stood on the first tee with a 40mph wind against him, he couldn't do that.
"He gained valuable experience from losing The Masters, he didn't collapse and think 'I've not got it in me to win a major', he went away and learned some lessons and took these lessons into the US Open and was able to cope."
Comparisons with Woods
While comparisons with Woods are perhaps inevitable, Gallacher believes McIlroy should be allowed to develop at his own pace, but is certain further major successes will follow.
"I think it's unfair really to try and compare him to Tiger," he continued. "Tiger's won 14 majors. I think people would like to see, and I would like to see, Tiger come back and achieve the type of game he had before his off-course distractions.
"But when he does come back he'll find Rory McIlroy, Lee Westwood and Luke Donald around, guys who aren't scared of Tiger and will take him on.
"Whether he wins 14 majors or 18 majors I don't think it makes much difference, the important thing is he's won a major and he can build on this.
"We'll never be able to take that away from him, he's now won a major and that's absolutely fantastic and he's certainly heading towards being the world's number one player.
"I think he will remain number one for a few years probably the way he's playing and he'll win a few more majors that's for sure and it may be the Open Championship at Royal St George's in a few weeks' time - he's certainly a good enough player."