Belly putters in the spotlight
The R&A and the USGA are in discussions regarding long putters that could see them banned by 2016.
Last Updated: 23/07/12 12:21pm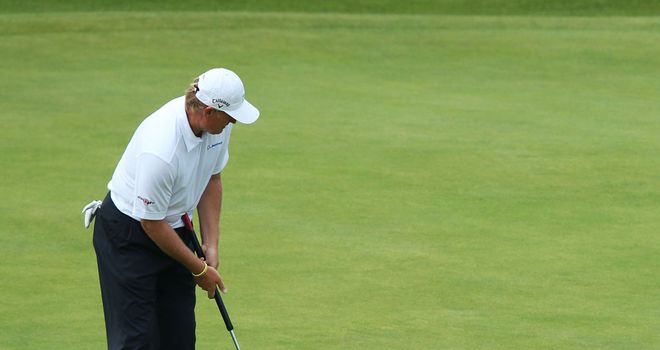 The R&A and the USGA are in discussions regarding long putters that could see them banned by 2016.
Ernie Els became the third winner of the last four majors to use the controversial belly putter, and authorities will continue to discuss the issue of 'anchoring' in the weeks ahead.
Peter Dawson, chief executive of the Royal and Ancient Club, said that while a decision could be made by the end of the year, the success of Els has no bearing on it.
"This decision has not been taken, but I think we are going to say something in a few months rather than years," Dawson said.
"There are further discussions to be had, but if the rule is changed it would come into effect on January 1 2016.
"Let me say that the Open Championship result does not have a direct bearing on the discussions about long and belly putters. They were going on well before what has happened.
"The situation is that the R&A and the USGA do have this subject firmly back on the radar.
"We appreciate that there is much speculation about this and that we need to clarify the position as soon as possible.
"The initial determination has been that we are examining the subject from a method of stroke standpoint rather than length of putter standpoint."
Argument
Dawson added that more and more players who have not 'failed' with a conventional putter are joining the ranks of players reaching for a longer club.
"The objections I find from those who object at professional level, at elite level, are all about 'If people have become failed putters in the conventional way, why should they have a crutch to come back and compete against me when I haven't failed in the conventional way'," he added.
"That's the general argument one hears, but we're also seeing now people who can putt perfectly well in the conventional way thinking that an anchored stroke gives them an advantage.
"I think that's the fundamental change that we've witnessed in the last couple of years.
"Anchoring is what we're looking at, method of stroke, and it's all about putting around a fixed pivot point, whether that fixed pivot point is in your belly or under your chin or on your chest. I don't distinguish."
Ian Poulter added his thoughts to the argument, telling Sky Sports he was against the use of an anchor.
"It's a interesting one - three of the last four majors have been won by people using belly putters," he said. "Should they be used? I dont think they should be, you shouldn't be able to anchor them with the butt end of the club, it certainly makes it easier.
"It's definitely an advantage on certain putts. If you're able to anchor the club you then have a way of stopping rotation, so theoretically the club should swing back through the impact position squarer if the butt-end is anchored.
"They're are definitely looking at that to see what it is they can do, if anything at all."