Scottish Open: Graeme McDowell says 'sorry' for Castle Stuart remarks
Graeme McDowell has apologised to the sponsors of the Scottish Open for criticising Castle Stuart as its venue.
Last Updated: 11/07/13 2:03pm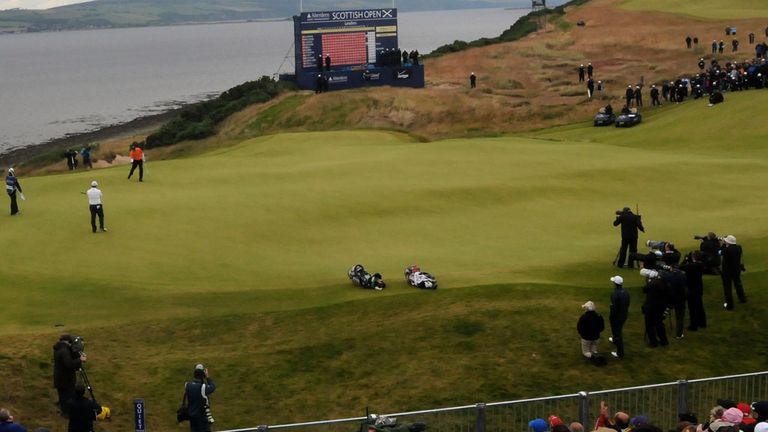 McDowell believes the event has lost much of its prestige since moving to the course close to Inverness in 2011 after 15 years at Loch Lomond.
Martin Gilbert, chief executive of Scottish Open sponsor Aberdeen Asset Management, announced that McDowell had spoken to him to apologise for his comments.
Gilbert said: "Graeme contacted me to apologise and he's not the first person to say something they regret, so we've got no problems whatsoever with him.
"My hope it that he will play Royal Aberdeen next year after saying what a great golf course it is.
"He took the time to get in touch and I really admire him for that. He said we should catch up at The Open for a chat and I was impressed with how he had handled the situation.
"In fairness, Graeme has a point to a certain extent in terms of old and new links courses.
"But I'm firmly of the view that the Scottish Open should be played on a links course and, for Scottish golf to be trying to sell itself as a global brand, if we don't play this event on links course it would be crazy.
"It's a pity the French and the Irish opens aren't the other way around as you could possibly have three events - the Irish, Scottish and The Open - all being played on links courses."
McDowell had said: "No disrespect to the Scottish Open as I love that event but it has lost its prestige.
"Castle Stuart probably hasn't been a strong enough course the past couple of years.
"Let's get the Scottish Open on a phenomenal links course with a great purse and a world-class field."