Rory McIlroy talks to Sky Sports and says patience is key lesson from 2013
Rory McIlroy told Sky Sports that being patient will be the big lesson he will take away from a testing 2013.
Last Updated: 03/12/13 4:53pm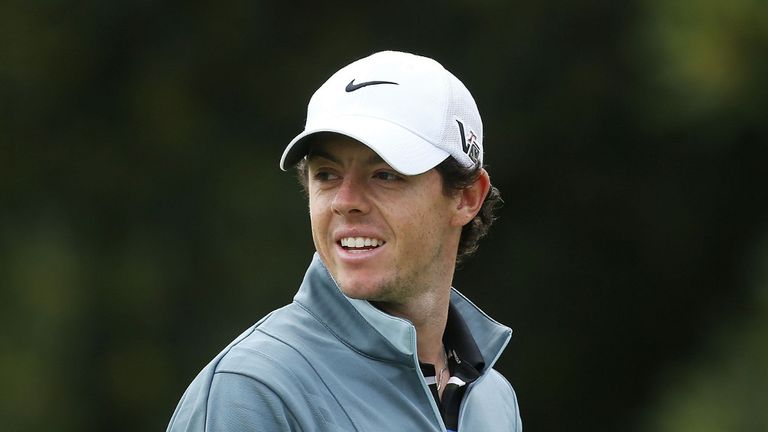 McIlroy has had his well-publicised problems on and off the course this year, but when he talked to Sky Sports at the launch of the new range of Nike clubs he was using he cut an upbeat figure.
The 24-year-old admitted to getting down on himself at times during the year, but was now taking a much more long-term view, as he put it: "If my career was an 18-hole golf course I'd say I'm only on the second or third hole right now, and I've not done too badly so far!"
A spring was certainly in McIlroy's step as he talked the world's media through the new array of golfing weapons he would have in his armoury - with a new driver and ball combination giving him the most confidence along with finally settling on a putter.
McIlroy admitted that he maybe should have played a few more times at the start of 2013 to get used to his new Nike clubs, the attention the big move and being World No 1 would bring and just to settle in the season, but that and his new-found patience has all been part of the learning curve.
Patience
"Just to stay patient is probably the biggest lesson I've learnt," McIlroy told Sky Sports. "Golf is always going to have its ups and downs and it's been a learning curve this year for sure.
"I feel like I probably should have played more at the start of the season just to play my way into the season a little bit more and get used to all this sort of stuff - it was a pretty busy start to the year for me.
"But just really patience has been a big thing because there's probably times when I've got a bit down on myself and a bit frustrated, but when I sit down and think about it there was always going to be periods like this when you're not going to play so well.
"So you just have to ride it out and if you work on the right things in practice then things will turn around for you."
Things did finally turn around for McIlroy - and he says having such an involvement in the new Nike equipment also gave him confidence going forward - and that certainly showed as he came out on top with the in-form Adam Scott during their final round duel in Australia.
Equipment
"I'm really lucky that I've been working really closely with the guys at Nike and they really take notice to the feedback I give them," he added.
"They obviously know a lot more about club design and things like that than I do, but they come back with prototypes and new things that have my thoughts in them so that's nice to see."
In a sign of what was to come, McIlroy also said he was close to being right back at the top of his game, as he looks to get back among the shake-up for the majors next year.
"It's very close, it's really close," he said of his game. "It's the best it's felt all year for sure and it's only getting better - after the Dubai tournament I spent a few more days there and practised with my coach there and I feel like my game's in real good shape.
"So I'm excited for the end of this season and excited for 2014."