Sergio Garcia cleared after ball-marking probe at Wells Fargo Championship
Sergio Garcia has been cleared of any wrongdoing after undergoing a trial by TV at the Wells Fargo Championship.
Last Updated: 04/05/13 5:46pm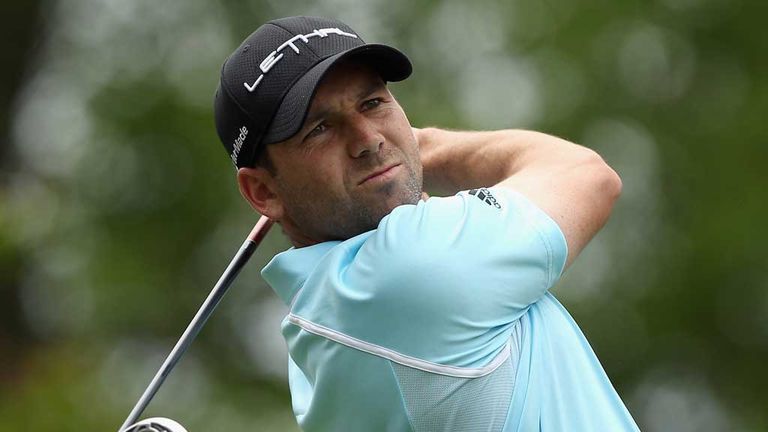 A television viewer alerted tournament officials to query if Garcia had replaced his ball closer to the hole on the 17th green at Quail Hollow.
But after studying video footage of the alleged infringement, rules officials decided that the Spaniard had no case to answer and his four-under 68 was confirmed.
The viewer had accused Garcia of marking his ball on the side and then replaced it in front, but Garcia insisted he had placed his coin behind the ball but from the side so that he would not step on Bill Haas' line.
"I put it straight up or straight down where I thought it was the same spot," said Garcia, who is five shots behind leader Phil Mickelson on four under.
"I thought I put it as close as I could, obviously, with the coin still behind the ball. It looked like it might have moved a tiny bit, but the rules officials felt that obviously I didn't gain anything by it.
"There are obviously a lot of times that you try to put it in exactly the same spot but it's difficult to do, not just for me, but for everyone. They thought that it was fine.
"I said if the guys feel like I gained something by moving it I don't know how much, like a centimetre or a couple of centimetres, whatever it is, I'm fine with the two-stroke penalty.
"I'd rather take the two-stroke penalty than come out here like I was a cheater."
Garcia had earlier provided an unusual highlight when he chipped in for par at the third hole despite being on the green and only four feet from the pin.
After noticing a spike mark on his line, he pulled out a wedge and casually chipped his ball over the obstruction and into the cup to walk off with a four.