Presidents Cup: Team USA players all looking to play with Jordan Spieth
The USA Presidents Cup team are queuing up to partner young gun Jordan Spieth after lavishing praise on the rookie.
Last Updated: 01/10/13 3:19pm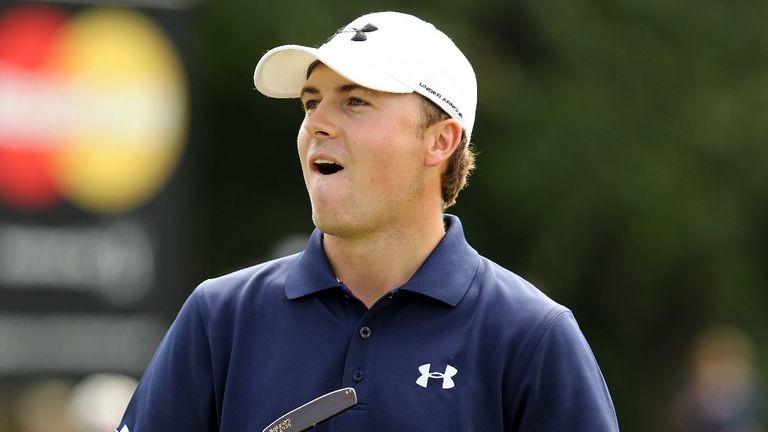 From out of nowhere this season, Spieth has gone from having no status on the PGA Tour one of the top young guns on the scene after making a remarkable rise to No 21 in the world rankings.
Spieth became the youngster winner on the Tour for 82 years when he won the John Deere Classic this year aged 19, before going on to make fourth other top 10 finishes in his last 10 events on Tour.
Spieth took it up a notch in the FedEx Cup play-offs, finishing seventh in the final standings, the best ever finish for a rookie, after coming tied second behind Henrik Stenson at the Tour Championship with a final round 64 lighting up the event.
"Who doesn't want to play with him?" said Steve Stricker as he summed up the mood of the rest of the USA team. "I think everybody on our team wants to play with him."
Couples had no hesitation in adding Spieth as a captain's pick, with his only problem being who to partner the exciting youngster with. The thinking is a seasoned veteran, with 46-year-old Stricker among the favourites.
Partnership
It would be a similar partnership to the Keegan Bradley-Phil Mickelson duo that did so well at the Ryder Cup, and Mickelson has a similar way of thinking.
"I would think there would be a good chance that they would spend some time together," Mickelson said. "Whoever plays with Jordan has got a real treat because he can make a lot of birdies. He's exciting to play with."
The other half of that partnership, Bradley, also thinks that an experienced player would be a good fit for the youngster.
"I can see him with an older guy maybe," Bradley added. "That helped me a lot in the Ryder Cup playing with Phil, having an experienced guy with me."
Couples himself says that pairing are normally easy as he listens a lot to the players, and that has worked well for him having won the last two Presidents Cups.
"The pairings fall into place pretty easy," said Couples. "They tell me who they want to play with, and I go with that."
Popular
However, that may prove difficult this time around with most of the team seemingly wanting to play with Spieth at Muirfield Village against the Internationals.
"I'd love to play with him," Jason Dufner added. "He's playing great right now."
Spieth is in great form, shooting an aggregate of 34-under-par in his last 12 rounds of the FedEx Cup, so he has plenty of potential partners lining up.
"You always want to gravitate, in my opinion, towards a young guy playing with a lot of confidence," Webb Simpson said. "There is just not much fear there. The rounds he's played lately, he's put up quite a number of birdies.
"It's pretty easy to say why we'd all want to play with him."