Europe took a 10-6 lead over the United States into the Solheim Cup singles but the event was shrouded in controversy on Sunday morning.
Charley Hull and Suzann Pettersen beat American duo Alison Lee and Brittany Lincicome 2 up in the final fourball but only after a highly controversial incident on the 17th hole when play resumed following the suspension for bad light on Saturday evening.
Lee missed a putt on the 17th and then picked up her ball under the assumption Europe had conceded - Hull was already walking towards the last hole - only for Pettersen to claim Europe had not conceded the short putt that remained. The match referee intervened and Europe were awarded the hole.
Lee and Lincicome had been 1 up after 15 holes before Hull made a birdie on the 16th to draw the Europeans level.
The incident at the 17th put Europe ahead and Hull's birdie on the 18th sealed their second win from the fourballs.
It left the USA at a huge disadvantage before their dramatic 14½-13½ comeback victory in the singles, even though Europe only needed four more points to retain the Solheim Cup.
Both 19-year-old Englishwoman Hull and 20-year-old Lee were reduced to tears as heated discussions took place around the green after the match.
US captain Juli Inkster was overheard to say: "If that's the way they want to play, let's go," with Stacy Lewis adding: "Let's use this to motivate ourselves," before leading several of her team-mates in a chant of: "Class, style, U-S-A."
Asked for her reaction on Sky Sports 4, 12-time Solheim Cup player Dame Laura Davies said: "Disgusted. We have got our best player, Charley Hull, who has just won a point and she is in floods of tears. That tells you the wrong thing was done.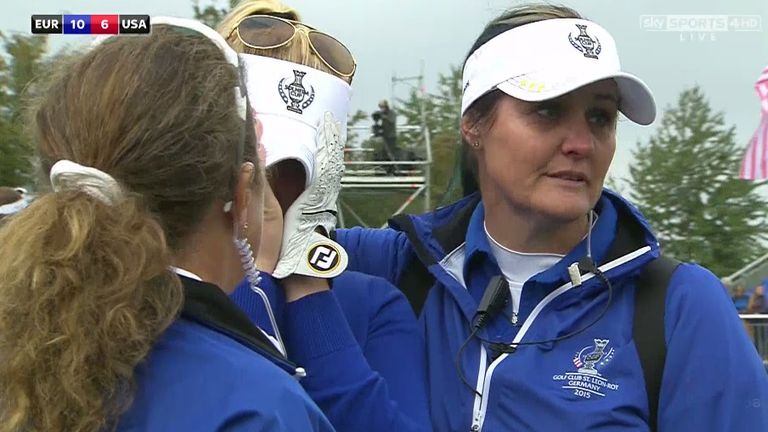 "How Suzann can justify that I will never, ever know. We are all fierce competitors but ultimately it's unfair. We have to play week in, week out together and you do not do something like that to a fellow pro.
"Poor old Alison Lee must think, 'I hope I never play a Solheim Cup again'. She has had food poisoning and now she has been wronged by one of the most senior players in golf and [who] used to be one of the most respected players.
"I know Pettersen is angry and justifying everything, but she has let herself down and she has certainly let her team down. I am so glad I am not on that team this time.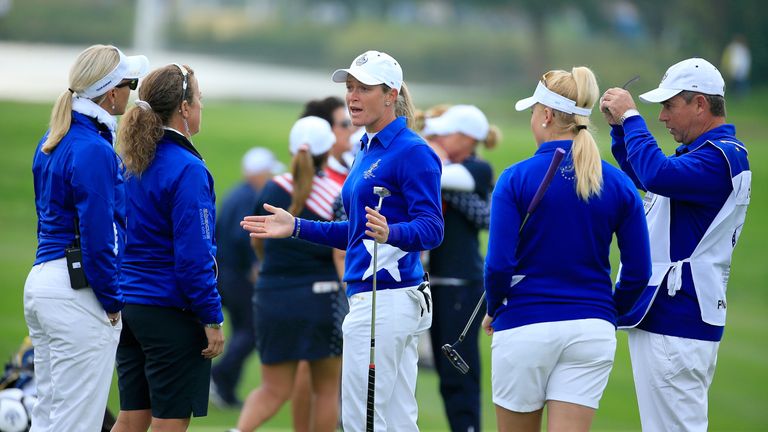 "If they win they are going to think, 'Why did we do that?' or, 'Why did Suzann do that?"'
Nicole Castrale, who was on the winning American side in 2007 and 2009, felt that European captain Carin Koch or one of her assistants should have intervened.
Castrale is commentating for Sky Sports this week, and she said: "Never mind what Suzann did, how about Carin Koch, Annika Sorenstam, Sophie Gustafson or Maria McBride. They all had the chance to make this right and none of them stepped up to the plate.
"This is the way they obviously felt like they had to win. If the Europeans win, it will forever be tarnished."
Earlier on Sunday morning in the suspended fourballs, Americans Stacey Lewis and Gerina Piller held onto their lead to defeat Caroline Masson and Caroline Hedwall 1 up, while Karine Icher of France and Catriona Matthew of Scotland finished with three consecutive birdies to beat Brittany Lang and Lizette Salas 2 and 1.