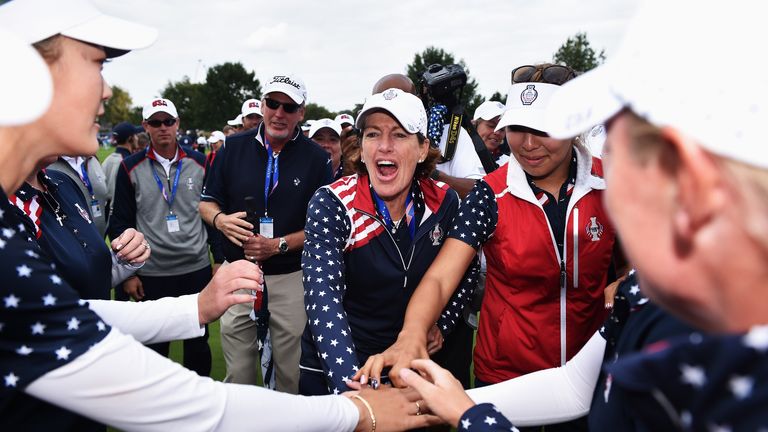 The United States produced a stirring fightback in Sunday's singles to win what had turned into a bitter contest for the Solheim Cup in Germany.
Juli Inkster's team won nine and halved one of the 12 singles match at St Leon-Rot, clearly taking to heart the words of veteran Stacy Lewis in the wake of Sunday morning's acrimonious fourballs finish and winning 14½-13½.
The USA trailed 10-6 going into the singles after huge controversy in one of the matches left over to finish from Saturday, where Europe's Suzann Pettersen was portrayed as the villain in a row over the concession of a putt.
America's Alison Lee missed a putt on 17 and picked her ball up under the assumption Europe had conceded it - Pettersen's partner Charley Hull was already walking to the last tee - but the Norwegian claimed she had not and Europe were awarded the hole, going on to win the match 2 up.
Hull and Lee were left in tears after the match finished, with Inkster clearly furious and Lewis saying: "Let's use this to motivate ourselves," before leading several team-mates in a chant of "Class, style, U-S-A."
And her rallying cry proved to be most prophetic as a number of US players produced their best rounds of the week, with Pettersen's match ironically proving to be the most pivotal of the afternoon.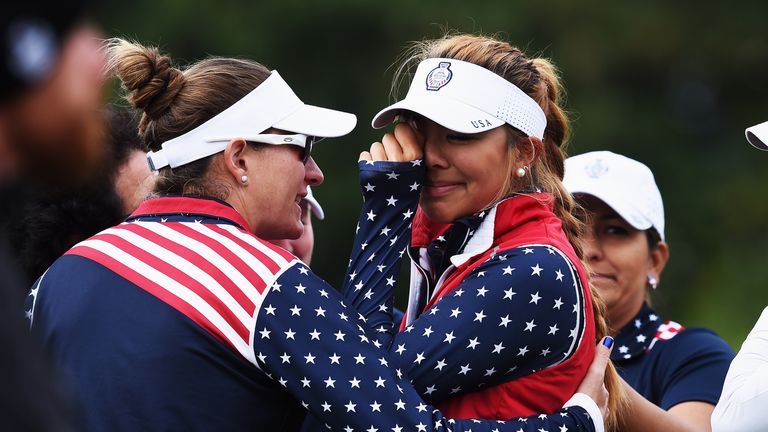 Europe's top order performed well, although Carlota Ciganda was left to rue a short missed putt on the final green that would have turned her half-point into a win over Lexi Thompson and possibly seen Europe home.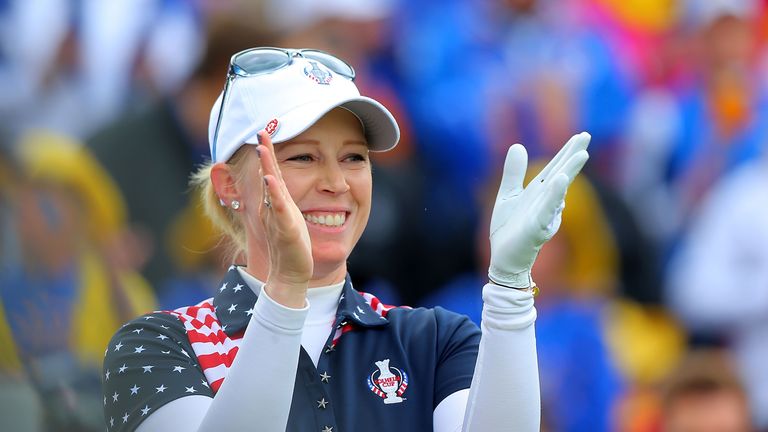 The next four games were shared, with wins for Karine Icher and Melissa Reid cancelled out by American victories for Morgan Pressel and Lee, who beat Gwladys Nocera 3&1 and celebrated her victory in style.
With the USA completely dominant in the final three games on course, it was down to Europe's middle order to claim the 1½ points they needed to at least retain the trophy they had won in Colorado in 2013.
Anna Nordqvist claimed one of those points with a two-hole win over Lewis, leaving the pressure firmly on Caroline Masson and Pettersen, who were both trailing as their matches came towards a conclusion.
Masson was two down after 16 holes but rallied to take her match with Gerina Piller to the last, the German player missing a 12-foot putt that would have given Europe their 14th point and retained the trophy.
But her miss, combined with a nerveless 10-footer for par from Piller, ensured the pressure was mainly on Pettersen, who had dropped from all-square after 14 to two down with two to play after back-to-back birdies from a nerveless Angela Stanford.
With Lizette Salas beating Azahara Munoz 3&1, and Michelle Wie thrashing Caroline Hedwall 6&4, Europe were left needing Pettersen, Charley Hull or Sandra Gal to come back from dormie down to retain the cup.
Hull's match came to a close on the 16th, Cristie Kerr rounding off a impressive 3&2 win after being behind early, and Stanford two-putted from off the green on the same hole to level the scores at 13½-13½.
That left Gal needing to win the last four holes to retain the trophy, and with the United States already celebrating wildly after Stanford's win, Paula Creamer safely rounded out a 4&3 win over the German to give the USA their ninth win in 14 editions of the tournament.
"I didn't have to say anything to them after this morning, they were all fired up and ready to go out and play," Inkster told Sky Sports.
"Last night I put my line-up together and it fell in perfectly the way I wanted it and the girls just played awesome today. They never gave up. Everybody did their job and I couldn't be prouder of those girls."