Ryan Moore revealed his delight at riding in the Kentucky Derby
Ryan Moore says riding in Saturday's Kentucky Derby far outshone the experience of competing in the Melbourne Cup.
Last Updated: 07/05/13 11:46am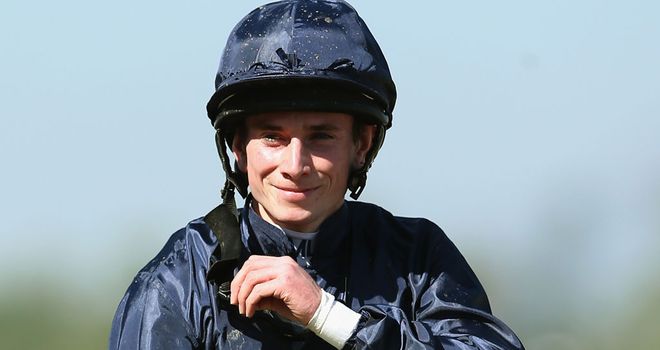 He headed over to Churchill Downs to partner Lines Of Battle for Aidan O'Brien who finished seventh behind Orb.
Writing in his exclusive Betfair column Moore said: "I can honestly say that the Kentucky Derby at the weekend was the best day's racing I have ever experienced; it was different class, on another level to what I have seen, or been involved in, anywhere else around the globe.
"They say that the Melbourne Cup is the race that stops a nation, and it's obviously a very big deal in Australia, but this was something else I can assure you. No comparison at all."
The race took place on a sloppy track after heavy rain in Louisville and Moore admitted it was a real challenge.
"Riding at the meeting - and it was the first time I have ridden in the race - was a real eye-opener, I can tell you. And I loved it.
"Talking of eye-openers, I must have broken my own personal record as I wore seven pairs of goggles in the Derby, with a couple of layers of clingfilm for extra protection thrown in on two pairs for good measure, and used them all.
"In truth, it probably wasn't as bad as I would feared it would be, but it was still fairly horrific out there. But all credit to Lines Of Battle, as he ran a very brave race to finish seventh.
"You obviously prepare horses for the kickback at home, but you just can't replicate those kind of conditions."