Joshua vs Whyte: Dillian Whyte says Anthony Joshua is worried about the fight going to the later rounds
By Isaac Robinson
Last Updated: 09/12/15 2:54pm
Dillian Whyte believes Anthony Joshua will struggle if their British and Commonwealth heavyweight title fight goes into the later rounds.
Whyte (16-0-KO13) meets bitter rival Joshua (14-0-KO14) at The O2 on Saturday - headlining a huge night of Sky Sports Box Office boxing - and was in confident mood at Tuesday's media workout in Brixton.
When asked about the Olympic champion predicting a stoppage inside three rounds, Whyte told Sky Sports News HQ: "He can say what he wants. That's up to him. We'll see.
"The good thing about boxing is we'll find out in a few days. He's said a lot but I've never been knocked out or knocked down before, in or outside the ring, so we'll see.
"He's not confident in himself and is worried about going past three or four rounds. I'm training for 12. I would love to stop him but I want to go a few rounds. Once you go to eight, nine and 10, you go there mentally. I'd like to experience going to the later rounds.
"He's a very nervy kind of guy. Sometimes nerves are good. Sometimes they are bad. I always fight very aggressively but for this fight I'm fighting calm and staying composed. I always want to entertain the fans. I don't want to be involved in fights where people say I stunk the place out or that I ran for 12 rounds."
Whyte looked in the shape of his life as he was put through his paces by trainer Johnathon Banks but admitted he has been going through a period of adjustment in terms of his fighting style.
The 27-year-old said: "I was trying to let bombs go off but my coach was saying to forget home runs and telling me just to touch base. It's frustrating but it's alright.
"I'm going to do what I need to do to win. It's a media day and nobody shows their real workout on media day. We just wanted to show some bits and pieces and that's what we've done.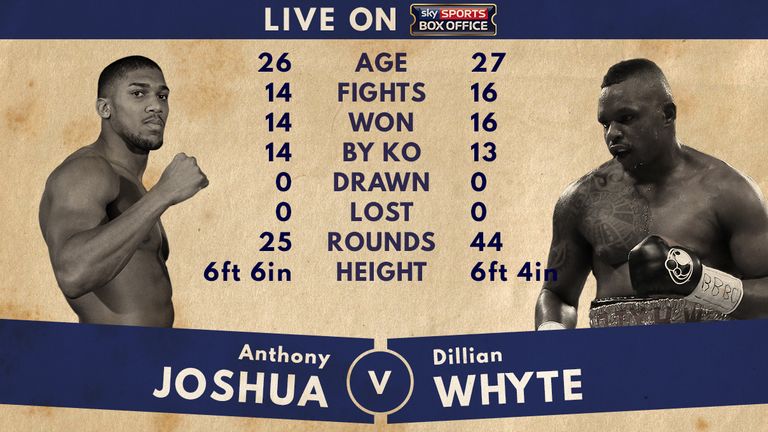 "Anything can happen on the night. It could be who lands first, who's less emotional. Who wants it more. Who boxes better. Who's more determined. Who's more willing to get hurt. It could be any of those things.
"It's a big step up for me as well as him. We've been taking care of opponents we've been fighting but we've not fought anybody really. We are two of the best prospects so it's a big step up and a big risk for both of us."
Joshua vs Whyte is exclusively live on Sky Sports Box Office, December 12, and is now available to order via your Sky remote or online.