Joshua vs Parker: Revealing the extraordinary diet that fuels Anthony Joshua
Cheat meals or incredible discipline?
By James Dielhenn
Last Updated: 17/03/18 12:23pm
Anthony Joshua is consuming twice the daily calories of a normal man – and creating a diet that fulfils his monstrous needs is a challenge to the elite team around him.
Joshua's enormous intake is building towards his world heavyweight title unification fight against Joseph Parker on March 31, live on Sky Sports Box Office from Cardiff.
Joshua's nutritionist, Mark Ellison, told Sky Sports about how to fuel the 6'6'', 18st heavyweight champion.
Breakfast
Fresh fruit which he either eats, or has blended into a smoothie with oats to give him more carbs. Yoghurt and milk. Then four or five eggs (he prefers them poached) with smoked salmon and a bagel or toast. Then a load of veg, like spinach, peppers and onions.
Why is it a challenge creating Joshua's diet?
It's more of a challenge to get energy in, because he's so big. Big Josh is unique because he has amazing physiology – he can train like a middleweight. The running and movement he can do – you just do not see other big guys do that. The load he puts through his body is phenomenal.
Morning snack
If he's flat we give him caffeine just to perk him up, before these big sparring rounds. In this camp we haven't needed to use caffeine. He has an electrolyte drink. After this session he has a recovery shake, with protein and carbohydrates. Then a sandwich, or a salad box, or a pasta pot to squeeze in some extra calories.
Lunch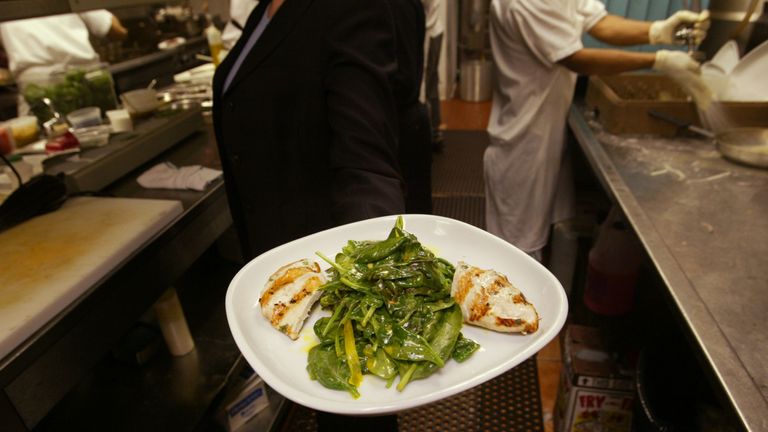 A typical meal is a couple of chicken breasts with sweet potatoes and a load of veg. Maybe some yoghurt and honey for dessert. Sometimes we sneak in meringues because they're a light, calorific snack.
How many calories does Joshua need?
We try to hide calories in his food, so a lot of it will be liquid-based. We liquidise a big bowl of fresh food with oats and honey. If he drinks it, it's not too heavy. When you're trying to hit 5,000 calories it becomes difficult to fit in around training. His basic needs are 2,500 or 3,000 calories but he can lose 2,000 through training. On a rest day, he still has 3,000 calories.
Dinner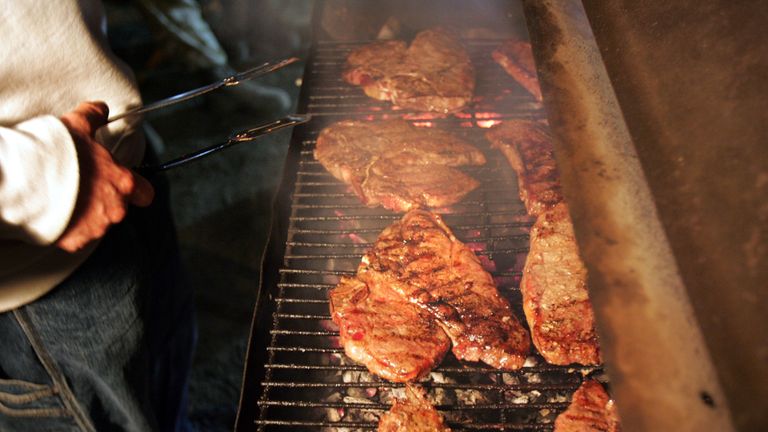 Because he doesn't have to train again we give him red meat - a nice fillet steak, but double the amount that you or I might eat. A large portion [of steak] with pasta, wholegrain rice or quinoa. Then a load of veg again. Depending upon what day of the week it is, he might have a dessert - fruit mousse or yoghurt.
Bedtime snack
He has a shake. The chef leaves little treats for him - homemade protein bars, packed with fruit and nuts. We have a slow-release protein shake that helps him sleep.
Does Joshua sneak a cheat meal?
It can be important from a psychological point of view. We call them 'planned rewards'. If you have a breakdown and cheat, you might give up on the diet. But if you plan it, you haven't let yourself down. But with Josh, it isn't an issue. Between fights he loves apple pie. But he's brilliant during camp.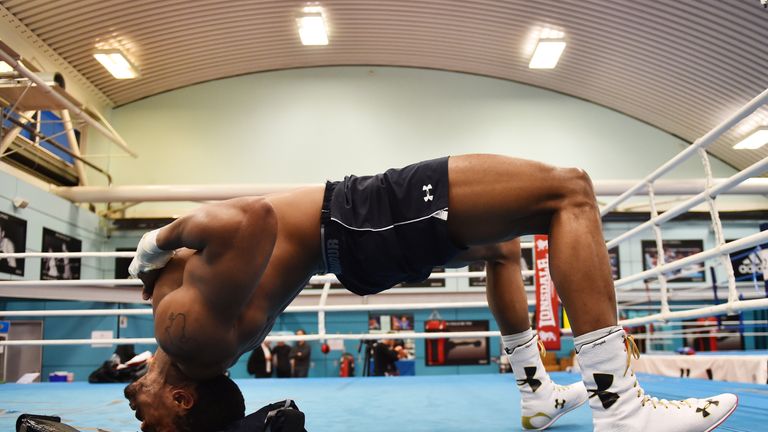 Watch Anthony Joshua vs Joseph Parker at the Principality Stadium, Cardiff, March 31, live on Sky Sports Box Office.
Anything stand out for you? Comment below to get involved in the debate, but please adhere to our House Rules. If you wish to report any comment, simply click on the down arrow next to the offending comment and click 'Report'.