Klitschko vs Fury: Tyson Fury just one pound heavier than Wladimir Klitschko at weigh-in
Last Updated: 28/11/15 7:30am
Tyson Fury weighed in just one pound heavier than world champion Wladimir Klitschko ahead of Saturday's showdown in Dusseldorf - live on Sky Sports Box Office.
Despite claiming just before the weigh-in he was going to be around 18st 3lb, Fury tipped the scales at 112kg - 17st 8lbs - and has weighed-in that light just twice before in his 24-0-KO18 career as a professional.
Reports suggested Klitschko was looking leaner than in previous fights, but the WBA Super, WBO and IBF king was 111.5kg - 17st 7lbs - ahead of this one; more than four pounds heavier than he was at the weigh-in for his April's points victory over Bryant Jennings.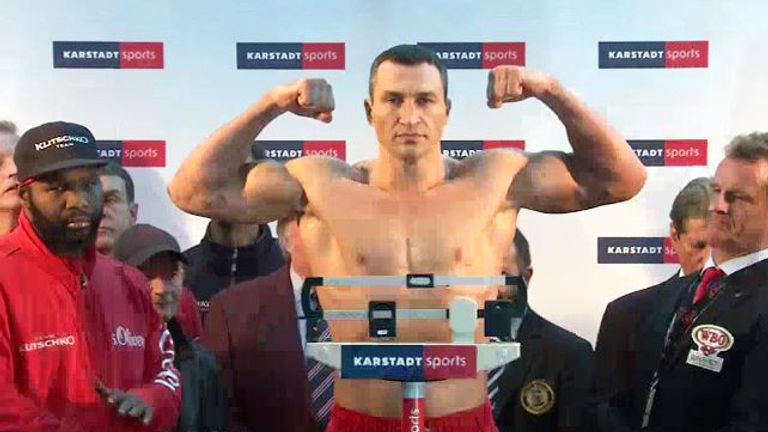 The pair were introduced by the sport's most famous emcee Michael Buffer and Fury entered the event, which was held in the head office of a sports company and was closed off to the public, to 'Just A Little Talk With Jesus.'
Fury then removed his shirt prematurely and promptly put it back on for Klitschko's entrance, made to his customary theme tune of 'Can't Stop' by the Red Hot Chili Peppers. The champion shook several hands but was refused Fury's, as the challenger shook his head before playfully shadow-boxing.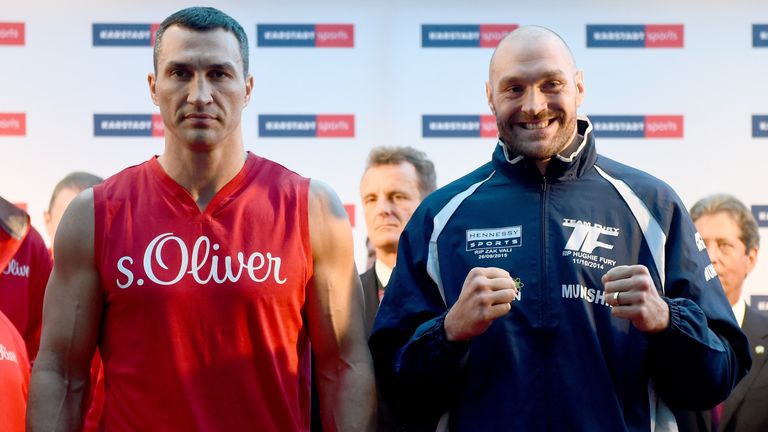 After the weights were read out, the pair stood face to face for the final time before they meet in the ring at the Esprit arena and they were in no hurry to take their eyes off each other. The stare, with Klitschko particularly vacant in expression, went on for a full minute before an organiser stepped in.
Having gazed menacingly at the Ukrainian throughout, Fury finally agreed to a parting hand-shake accompanied by some final words: "Let the games begin."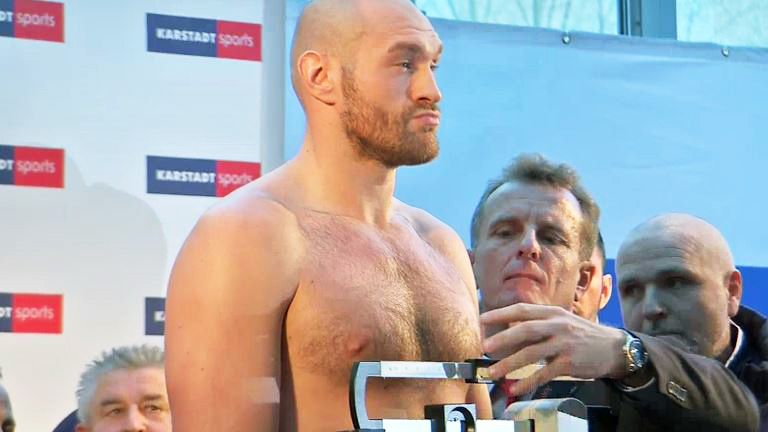 Wladimir Klitschko vs Tyson Fury, exclusively live on Sky Sports Box Office on Saturday, is now available to order via your Sky remote and online.