Tyson Fury has Croke Park on venue list for Wladimir Klitschko rematch
Last Updated: 01/12/15 1:05pm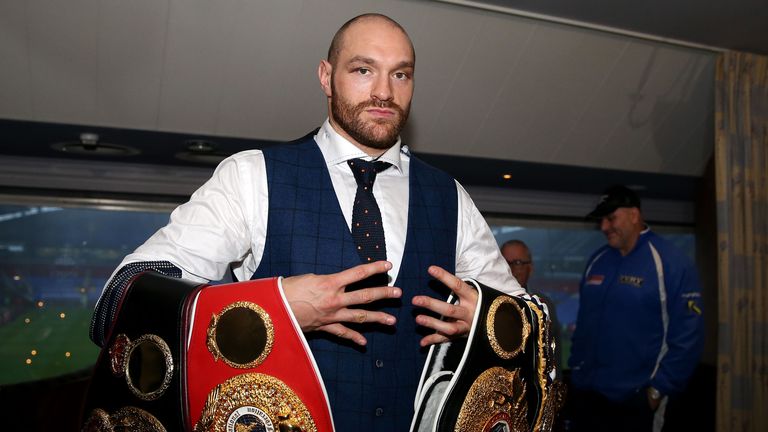 Tyson Fury would love to defend his world heavyweight titles at Dublin's Croke Park, with Old Trafford also on his wishlist.
Fury pulled off a sensational shock to take the WBA, WBO and IBF titles from Wladimir Klitschko in Dusseldorf on Saturday and a clause in their fight contract entitles the 39-year-old to a rematch.
Talk of a possible venue for a second meeting with the Ukrainian great has been rife since the end of Saturday's bout, with Fury saying he has earned the right to host it away from Klitschko's German stronghold.
And, in an interview with RTE Radio he revealed Croke Park, home of the GAA, would not be far off the top of his list.
"I don't know if he [Klitschko] is going to take the rematch," Fury said. "There is a contract to say he is entitled to a rematch.
"I've always said I'd like to fight in Croke Park. Maybe that can be a reality one day.
"I've always said there's a couple of venues that I want to box in in the world. One of them is Madison Square Garden, I've done that one. One of them is Old Trafford, I haven't done that one. The other one is Croke Park.
"That's the three venues I want to box in."
Fury went on to reveal his upset at not being allowed to represent Ireland at the 2008 Olympic Games in Beijing, a decision he feels cost the country another boxing gold medal.
"It was heart-breaking, it was heart-breaking for my family and my dad. They tried to deny his Irish heritage and it was a very upsetting time for the family," Fury added.
"You can take the man out of Ireland, but you can't take the Irishness out of the man.
"Growing up, I was always brought up around Irish music and traditions, even though I'm not Irish. I'm born and bred in Manchester with Irish heritage and roots. It was very hard for my dad to see that.
"I was eligible to qualify through my father being born in Ireland but there was a lot of politics going on. Ireland was denied an Olympic gold medal."