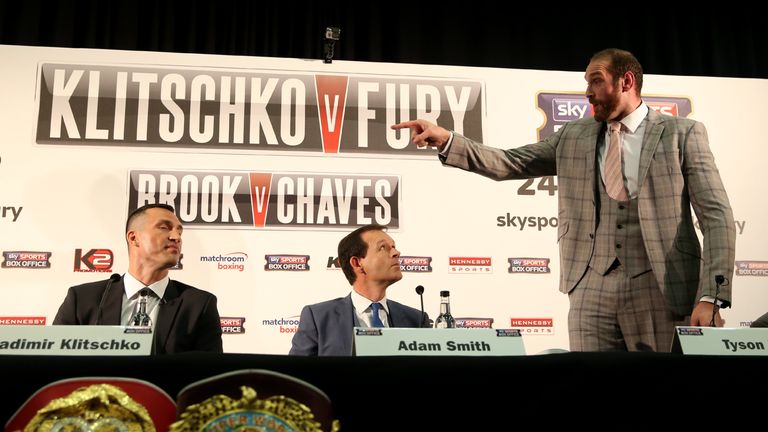 Wladimir Klitschko and Tyson Fury's sharp-tongued build-up to their heavyweight collision has been defined by the appearance of a caped crusader.
When Batman stole the show at their first press conference, bravely ridding us of the threat posed by The Joker, it signalled the moment that Klitschko and Fury's rivalry stepped up a gear.
We chart the story so far...
"Don't do your usual jab, punch and run. Let's make it a fight. I want to feel pain. I want you to hurt me. I want broken noses and blood and bright lights behind the eyes."
As we waited patiently for FURY to arrive at the original press conference, despite having seen him loitering beforehand, he tested Klitschko's grizzly resolve by appearing as Batman. The infamous moment may not have riled the icy champion but, in the war of words, was a strike in Fury's favour.
"His insecurity inside is covered with all the statements and a lot of nonsense that was said. I can make him a better person, the way of treatment is going to be the fight. It's already started and it's going to continue. My therapy has already started. He just was at the doctor's office and got his first session."
KLITSCHKO came to Sky Sports News HQ after the Batman press conference and claimed that Fury's behaviour was indicative of insecurity. The Ukrainian, in an ominous repeat of his threat to David Haye, promised to dish out "therapy".
"I do think I've rattled him - properly. If anything's going to rattle him that would be it, because that was a hell of a show, I tell you. I just want to beat the man who's 'The Man' at the moment. Wladimir is 'The Man' and I'm glad I've got my chance."
FURY pats himself on the back immediately after the Batman press conference, insisting his bizarre antics did have Klitschko concerned.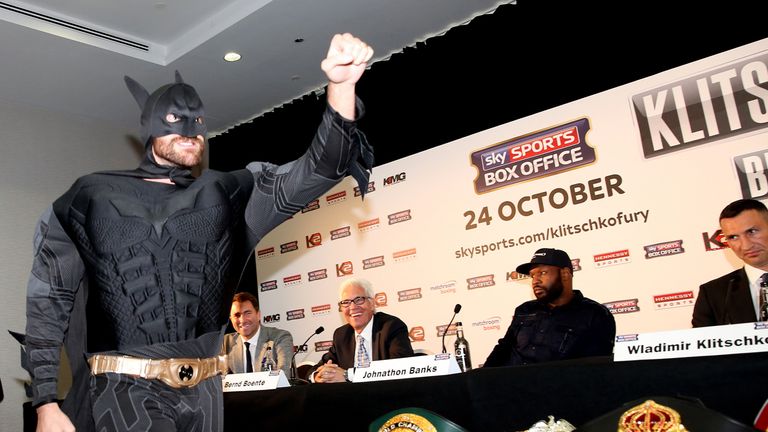 "I am so sorry that I am not able to fight on October 24. I also apologise to my opponent, who has spent many weeks preparing for this fight. I will do my very best to recover as fast as possible."
Excitement quickly turned to disappointment when the fight was postponed on September 26 due to the champion sustaining a calf injury. KLITSCHKO apologised, interestingly, to Fury himself.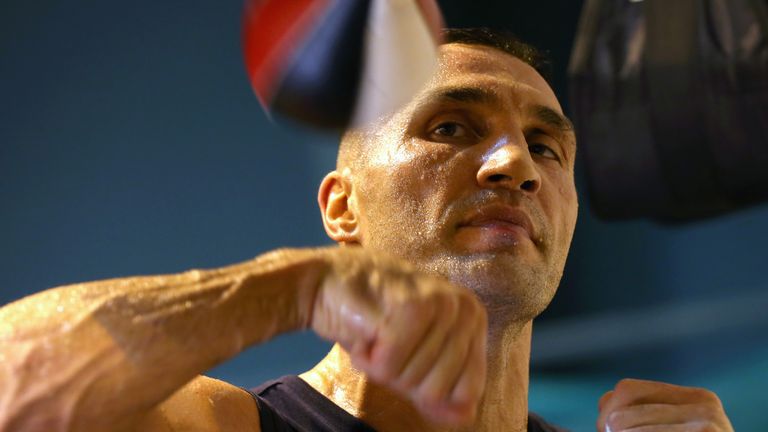 "It was only the day before that I was face to face with him and I knew he was not going to fight. I knew that he would pull out. I  don't know what I saw in him, but I saw the same thing in him that I did with David Haye and I knew he was not going to fight. Some of my fans cannot really afford to go, but they've pushed the boat out for this once-in-a-lifetime occasion. I am wounded for all these people."
FURY says he predicted Klitschko's withdrawal, comparing it to his two previously cancelled fights with Haye. But it's the fans, he claims, who are the real victims.
"I think in this individual sport, you have to live with injuries. It will not affect the preparation. We're already prepared to a certain degree and they will live with it, train with it and be 100 per cent ready, I'm sure."
BERND BOENTE, Klitschko's manager, reveals that his charge will be fighting fit after the world heavyweight title bout was rescheduled for November 28.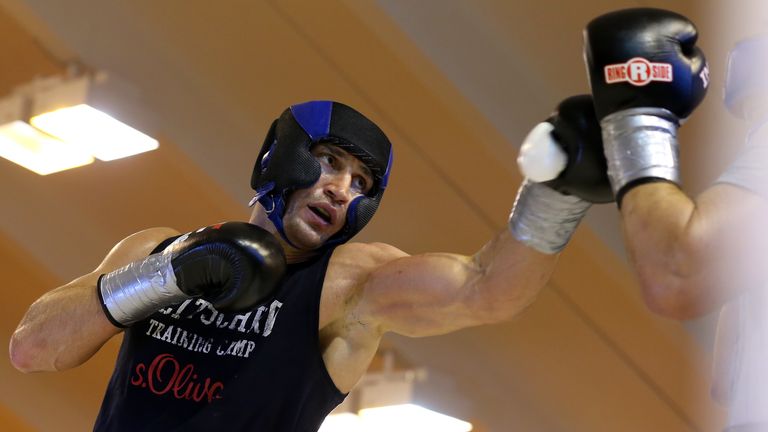 "I think this will be one of the hardest fights of my career. This time the opponent will be taller, heavier, with very long arms, and he is also younger and has great ambitions. This guy really wants to prove himself in the ring and confirm what he keeps telling everyone, that he's the best in the world. He will be a difficult opponent to adjust to, because of his style of fighting and physical condition. Fans will certainly not be bored."
​KLITSCHKO reveals that he will not be taking Fury lightly, and sees the Englishman as a legitimate threat to his championships.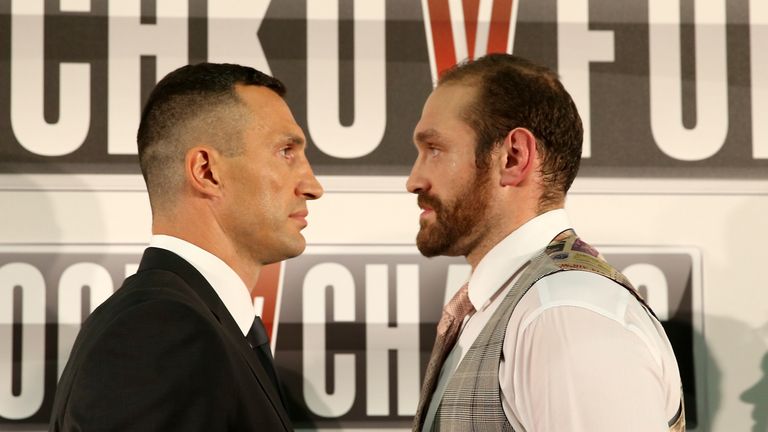 "I've been in a training camp now for four or five months - I've got fit, I've got the weight off, I'm in fantastic shape - I'm on the rise. I'll come up a couple of pounds over the next few weeks and then you'll see the best Tyson Fury ever. I'm in the most fantastic shape of my career - I'm mentally and physically prepared for this fight. We're heading for a new year, a new era and a new heavyweight champion."
FURY visited Sky Sports and got in the ring with our very own Johnny Nelson to demonstrate how he would defeat Klitschko.
"He was offered a substantial amount of money to step in when David Haye pulled out a few years ago - and he didn't take the offer. We made that offer 10 times and now he's signed with Al Haymon I don't think the fight's going to happen. And it's because he [Wilder] is afraid. Why else would someone say that?"
FURY might be training for the biggest fight of his life but still had time to tear into Deontay Wilder, claiming the WBC heavyweight champion has already rejected the chance to box him.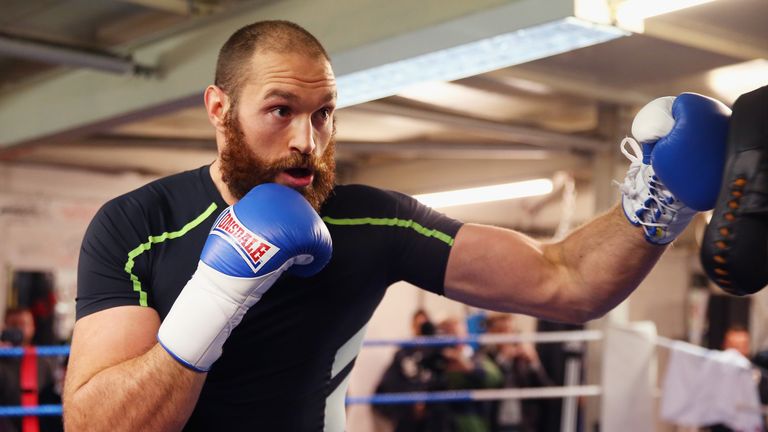 "It's always challenging to find sparring partners simulating your opponents size-wise, weight-wise and style-wise. It's very difficult to find somebody who's 6ft 9in, who can fight in a southpaw and regular stance with the same capability of movement."
KLITSCHKO admits difficulty in preparing for Fury's unique threat.
"David Haye would have knocked out Tyson Fury if that fight had happened. I fought David Haye and I've sparred Anthony Joshua and can tell you David Haye would have knocked Tyson Fury out if he had taken that fight. Anthony Joshua is still raw but improved a lot so I think he would [beat Fury]."
KLITSCHKO says Fury isn't even England's top heavyweight, claiming that the retired Haye and the improving Joshua would KO him.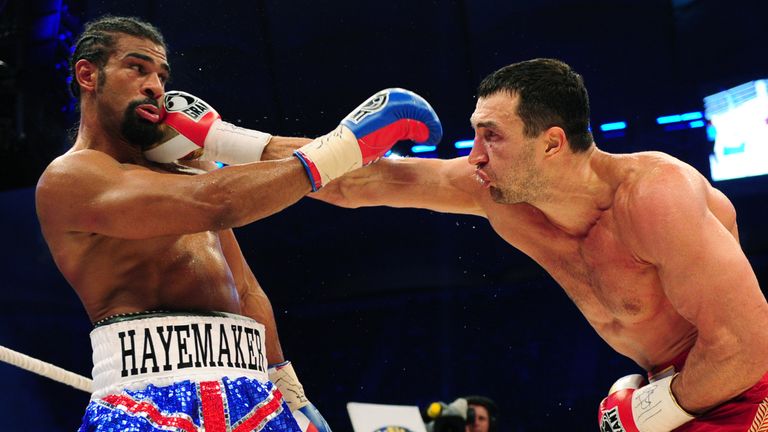 "I definitely don't see this fight being one-sided and I can definitely see Fury winning. I can see a new champion arriving, but again it's all going to depend on what mentality and what dog they bring with them to that fight, that night. That's what it's going to boil down to."
WILDER, who holds the only heavyweight belt out of Klitschko's clutches, predicts that Fury could spring a surprise.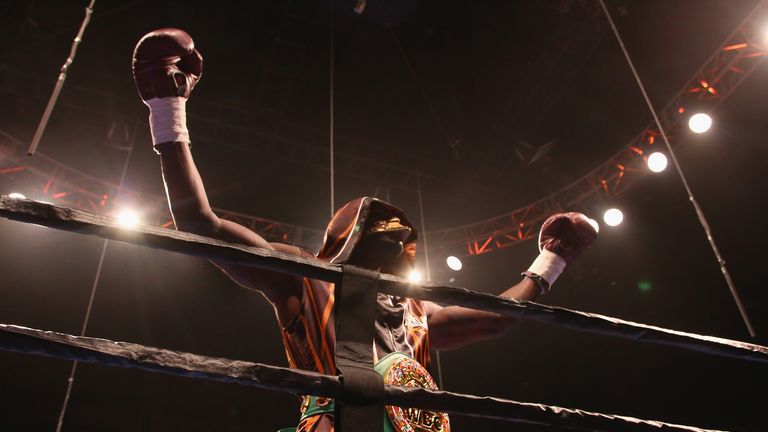 "First of all, I need to conquer Tyson Fury and Anthony Joshua needs to take care of his business. Next year, we'll see how the cookie crumbles."
KLITSCHKO on the possibility of boxing Joshua in 2016 in a Facebook Q&A with Sky Sports.
"I'd beat both of them. Give me a couple of weeks, I'd prepare for both of you, no problem. I am sure that once I've flattened you, your brother might come out of retirement and fight me as well."
FURY isn't happy with beating one Klitschko, he wants two. He told The Gloves Are Off that after Wladimir, he wants to fight Vitali.
Wladimir Klitschko vs Tyson Fury, exclusively live on Sky Sports Box Office on November 28, is now available to order via the phone and online.