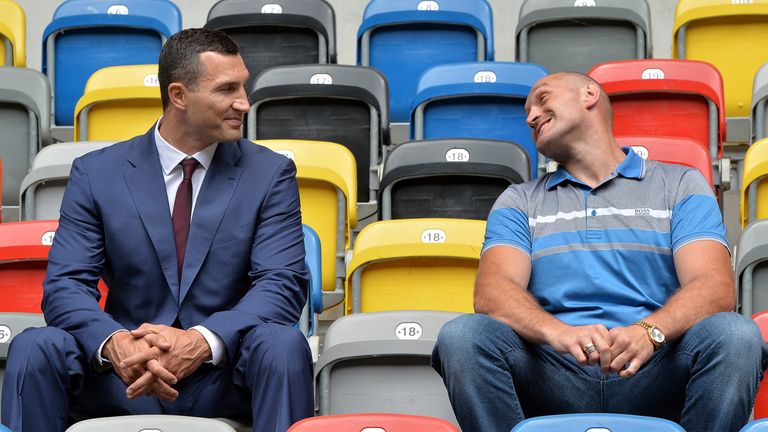 We have compiled the vital numbers behind Wladimir Klitschko vs Tyson Fury including a worrying '24' for the challenger...
24 - Not only Tyson Fury's victims since turning pro but also the same amount of wins before Wladimir Klitschko lost for the first time. Ross Puritty had the same amount of wins but a less impressive record (24-13-1) when he became the first man to stop Klitschko back in December 1998.
346 - The number of rounds Wladimir Klitschko has boxed in his 19-year professional career. Two more 12-rounders and he will have boxed more rounds than there are days in a year! But the 346th day of the year is December 12 - with a certain Anthony Joshua in action, also on Sky Sports Box Office.
12 - The age gap between these two in years. Klitschko turned pro in November 1996, when Fury was still weeks away from making it into double figures. When Fury became a pro, he did so a week before Klitschko's 55th fight.
9 - The combined November fights they've had and won. Two of Klitschko's seven were his first two fights (in the space of a fortnight) but both champion and challenger boxed last November - Fury beat Dereck Chisora for a second time and Klitschko knocked out Kubrat Pulev in five.
8 - The times that Klitschko has been taken the full 12 rounds. He's been scheduled to go the championship distance 38 times but has never done it back-to-back. His last fight saw Bryant Jennings make the final bell, which suggests this one will not go the whole hog.
19 - In pounds, how much heavier Fury weighed in than Klitschko last time out. Fury's 260lbs is not his heaviest though; back in February 2014 he clocked in against Joey Abell at a massive 270lbs. Klitschko's heaviest? He's hit 249lbs twice - and both saw him win by KO.
4 - This will be Fury's fourth foreign trip to fight and his first stop off on mainland Europe. Klitschko has been around a few blocks, and been in eight different countries - but has lost in Germany before, against Corrie Sanders.
27 - The number of world title fights Klitschko has had - three more than Fury's entire career. He has been in eight unification fights for a start - but two of his three losses came in WBO showdowns. Yes, it was vacant against Chris Byrd, but he lost it when Corrie Sanders was the challenger.
30,000 - Fury's social media advantage. The Gypsy King has 268,000 Twitter followers compared to Klitschko's 238.000. And you will not be surprised to know that while Klitschko has posted 1,432 tweets so far, Fury has topped that with 13,700... almost 10 times more!
13 - Will be the number of unbeaten opponents Klitschko has faced once that first bell sounds. Four out of his last five opponents came in undefeated and left without the '0': Francesco Pianeta (28-0-1), Alexander Povetkin (26-0), Kubrat Pulev (20-0) and Bryant Jennings (19-0).
2 - The previous fight nights at the ESPRIT arena. Klitschko topped the bill against Eddie Chambers in March 2012 and Jean Marck Mormeck in March 2010. Current trainer Johnathon Banks was chief support in the first one and Brits Michael Sprott and Ola Afolabi have both won as support acts in Dusseldorf.
Wladimir Klitschko vs Tyson Fury, exclusively live on Sky Sports Box Office on November 28, is now available to order via the phone and online.