Christine Ohuruogu says she is not ready to hang up her spikes just yet
By Sky Sports News HQ
Last Updated: 31/10/19 2:28pm
Christine Ohuruogu has said she is not ready to hang up her spikes just yet - as she plots a tilt at next year's World Championships in London instead.
The former Olympic, World and Commonwealth champion had said she was going to retire after the Rio Olympics but she has elected to carry on - albeit with a less hectic training regime, for the sake of "her sanity". 
She told Sky Sports News HQ: "Once I got home after Rio, it took a while to settle down, but once you're out of the bubble and you're back to reality, you can really look at the situation properly.
"I thought 'I know why it went wrong and if I can just tweak a couple of things, it could work'."
Ohuruogu won the bronze medal at the 4x400m relay in the 2016 Rio Olympics, running the final leg, and she has yet to decide whether she will run the individual 400m in 2017. 
"It might not work, but I'd rather go when I'm happy to go and I don't think I was happy to walk away just yet," she said.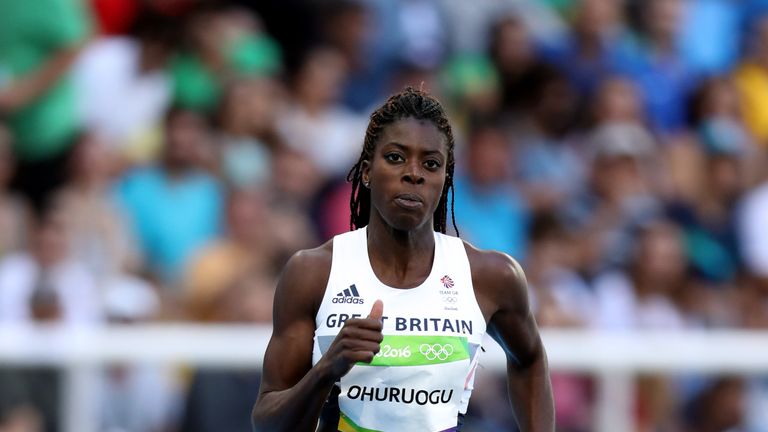 "At first I thought I could just hang around and just train, but I thought 'If I'm going to train, I'm not going to put myself through all that pain just for a giggle, so let me give it another try'.
"I've changed a couple of things. One of the problems I had last season was over-training, so I've slashed my training week in half! 
"Hopefully it will work, I don't know if it will but I spent a lot of time putting my sport first and now I'd like to put myself and my sanity first."
Ohuruogo was speaking at the launch of the Sporting Equals Leaderboard Academy which aim to aid sporting organisations to engage with - and recruit - a diverse range of ethnic talent onto their boards.
Recent figures suggest less than three per cent of such positions are taken up by people from Black, Asian and Minority Ethnic (BAME) communities.
Paralympic legend Baroness Tanni Grey-Thompson, who also spoke at the event, said: "How much longer do we need to be sitting around talking about this and not giving people opportunities?
"If you don't see people who look like you sitting around the boardroom table you think that you don't have the option of doing it. I know in the past I have sat on boards to tick boxes of being a woman, being Welsh or being disabled, or whatever it is, but actually that is not good enough anymore."