Andrew Pozzi prepares for World Indoor Athletics Championships with camps in Tenerife
By Mark Ashenden
Last Updated: 02/03/18 12:17pm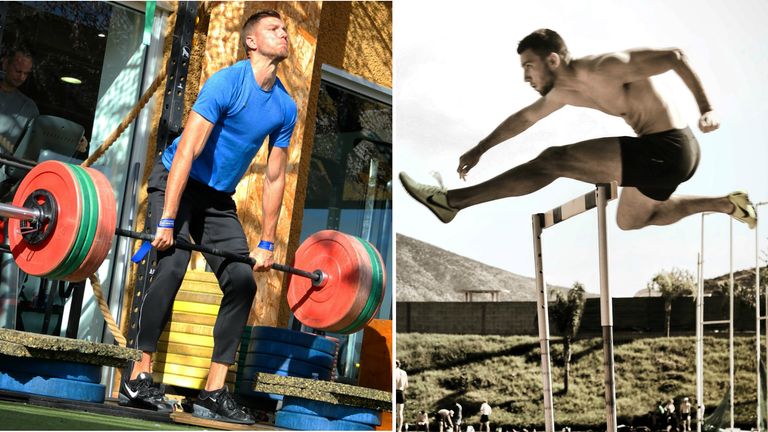 Chilling ahead of this weekend's World Indoor Athletics Championships has taken a whole new meaning for hurdler Andrew Pozzi.
The 'Beast from the East' may have Birmingham shivering over the next few days but at least the 25-year-old Sky Sports Scholar can boast some work trips to Tenerife as part of his preparation.....
---
"As the snow beat down around the UK, athletics tracks around the country were being shut, training programmes downgraded and valuable training was being lost.
Warm weather training was needed and in December, as this athletes' nightmare unfolded, my team and I headed to Tenerife.
These camps are a regular fixture for European athletes, footballers and all kinds of sportspeople looking to escape the winter chills for nicer climates to optimise their training plans.
This training cycle I spent three weeks in December and January with my team pushing our bodies to the limit on the Canary Islands.
October to December for me are similar to 'pre-season' training for team sportspeople, with higher training volumes. It's widely considered 'grunt work'!
For athletes that compete indoors, January is important. The pre-season work and higher intensity race preparation usually operates at top speed. Warm weather helps training for many reasons.
In December, most training days are outside on the track or grass pitches running high-volume reps with low recoveries. Sessions can go on for several hours and are tough physically and mentally.
Running in the cold increases injury risk and lowers the quality of output because of the cooling effect on the body. This isn't good for athletes wanting to prolong their careers and looking to win medals decided by hundredths of a second!
The margins for success are tiny and so every performance decision is geared towards optimising performance. That means doing large training blocks in the best environments. The camps also help us to focus entirely on training, rather than the usual everyday stresses and commitments that don't boost performance.
Being away on camp, the training specifics change very little but it's the quality that sees a real improvement. Target times on reps come down and it's much easier to achieve a high quality of work while also reducing body stress.
Throughout December I trained three days a week on the track working on my speed endurance and 'base', three days in the gym with one rest day.
The lifting is heavy and the running sessions are long but it's more enjoyable when you don't have to spend recovery time between reps trying to defrost!
We came home for Christmas and although this was a short break from camp it was only used to build energy and let our bodies recover for our return when we got stuck into higher intensity for the indoor race preparations.
Training continued, with the exception of Christmas Day, and we went back to Tenerife in January. The sun was still beaming and the track full of Europe's top athletes honing skills for competition.
This second camp was focused far less on volume and more on intensity.
It's definitely all about quality and not quantity. That involved more hurdling and competitive absolute sprints with really tough target times where speeds closely resemble competition standards.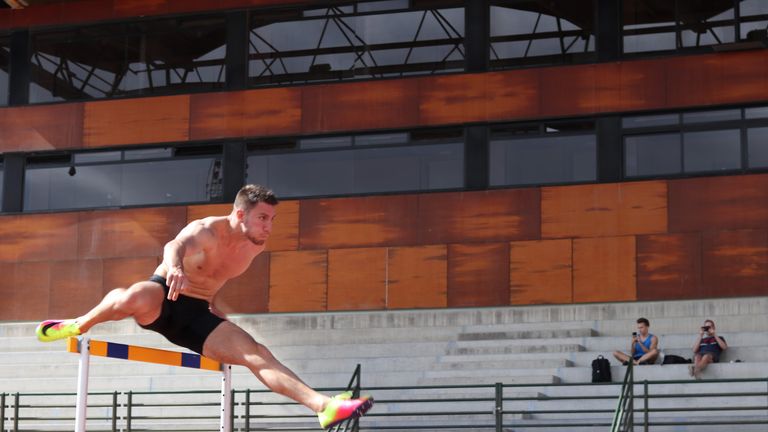 My week consisted of three track days, with one or two of these featuring hurdles work, two gym sessions, one day for circuits, and one rest day.
Less time in the gym takes some strain off the body and allows a higher level of recovery, which means I am more able to operate at higher intensities.
Work in the gym also moves from heavy 'slower' lifting and focuses more on velocity, where I will lift lighter weights at a higher speed to mimic the demands of competition.
With the camps over, I was off to Berlin to start my indoor season at the prestigious ISTAF competition against some of the world's best hurdlers to see if we were on the right track.
There was some race rust because I hadn't competed since August but I was delighted to win in an opening time of 7.58 seconds, marking one of the fastest times in the world.
It was a great sign that our training camp had set us up well for the season!