Sir Mo Farah considering track return ahead of 2020 Olympics
Four-time Olympic champion confident sub-two-hour marathon is possible
By Sky Sports News
Last Updated: 01/11/18 7:59pm
Sir Mo Farah says he is considering returning to the track ahead of the 2020 Tokyo Olympics, just a year after he quit to concentrate on competing in marathons.
The 35-year-old won four Olympic and six World Championship golds during an illustrious track career.
His marathon career received a boost last month when he recorded his first win, in Chicago, setting a new European record in the process.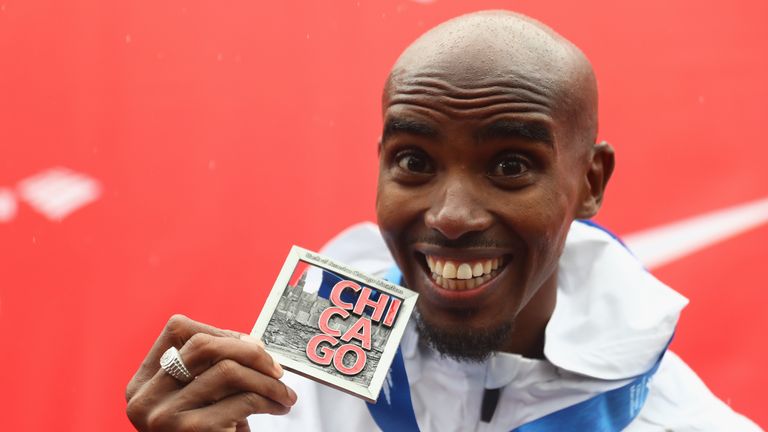 However, when asked by radio station Dubai Eye 103.8 about returning to the track, Farah replied: "2020 is definitely on my mind. I am just taking it one race at a time.
"The best thing now is I have a lot of options open. I was talking to Gary (Lough, his coach), the people I am close with and some of the fans and I have been honest with them.
"They asked 'what goes through your mind' and there's lots. Am I still good enough to compete with these guys; can I beat them?
"Part of me does miss it because that is all I have known for the last 10 years, hanging around with these guys and competing against them."
Farah remains focused on marathon running for the time being however, and says he believes it is only a matter of time before somebody runs a sub-two-hour race for the first time in history.
The current record is 2:01:39 and was set by Eliud Kipchoge in Berlin in September, and Farah said: "Sub-two-hours is possible. I think as a human being you can do it.
"Eli [Eliud Kipchoge] can run 2.01. It has been nudging down. The million dollar question is can any human body run sub two hours for a marathon and yes I think it is possible.
"But will we see it in our life? I don't know."