Marathon Man Rob Young aims for record breaking summer
By Allan Valente
Last Updated: 13/06/15 1:01pm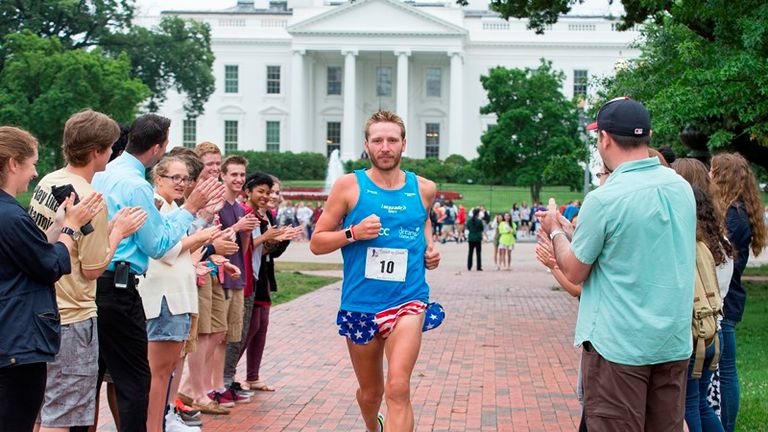 Marathon Man Rob Young's extraordinary feats of physical endurance and record breaking achievements continue after he became the first European to win the Race Across USA by a whopping 30 hours – triumphing before race directors even had a chance to set up the finishing line.
The 32-year-old was just too quick for the event organisers, running so fast on the last day of the competition that he had to wait for them to arrive so he could officially cross the line and finish.
It capped an extraordinary year of running for Rob and, fresh off the back of crossing the hastily assembled finishing line and cruising to victory Stateside, he has now set himself new challenges which he hopes can help him break more world records.
In April the Londoner broke the world record for running the most marathons in a year by completing 370 in 365 days, beating the old record by four.
To help him finish off that particular challenge he joined Race Across USA, running from LA through Arizona, New Mexico, Texas, Louisiana, Mississippi, Alabama, Georgia, South Carolina, North Carolina and Virginia before finishing in Washington DC as part of his record-breaking jaunt.
Earlier this month he ran up to the White House with a 30-hour lead over his competitors to win the RAUSA in style after completing 117 back-to-back marathons in 140 days as part of the race.
It means Rob ran 417 marathons in 417 days, totalling 11,428 miles, which is the equivalent of running from England to New Zealand.
Now he has laid out his next challenges which include running another 16 marathons in 11 days, an attempt at the world record for the longest run without stopping (350+ miles), an attempt at the world record for the furthest distance run in a 48-hour period (on a treadmill) and an attempt at the world record for the fastest run from John O'Groats to Lands' End in history.
He began his astonishing journey in April 2014 after being moved by the fundraising stories he heard while watching that year's London Marathon with his partner Joanna. The very next day Rob ran his first ever marathon and he hasn't been able to stop since, running to raise funds for children's charities Dreams Come True and NSPCC.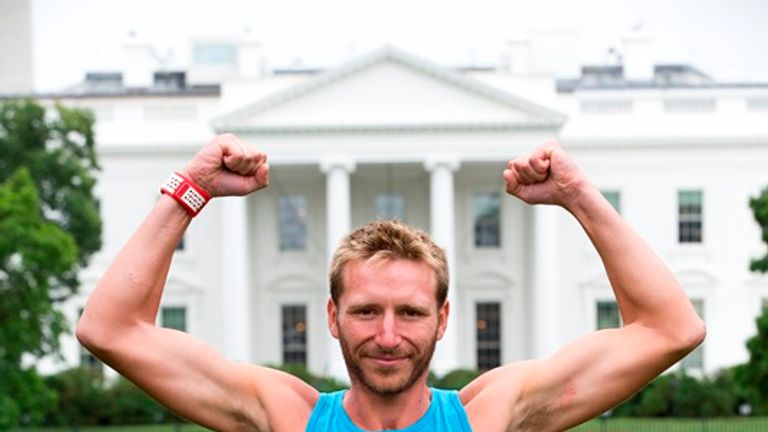 Rob was keen to run for these causes after suffering at the hands of an abusive father during his own childhood, and as part of this unbelievable adventure he has raised a remarkable £80,000.
Having already completed 267 marathons, which had included 28 ultramarathons, in 251 days of running around the UK, he joined the RAUSA on January 16 this year. However, he still found time to fly back to the UK to take part in this year's London Marathon in April.
Instead of seeking time to relax with his family and put his much-travelled feet up, Rob says there was no great feeling of elation upon finishing the race in America, but is instead keen to get back out and carry on fundraising.
He said: "It was just like the feeling I got with finishing any other race – it was about getting on to the next one. As runners we loved it, we interacted with each other. I'm not boastful but once it was won it was a handshake, and a well done and moving on to the next race.
"When I got to the White House I didn't know I'd finished because I had run so fast on the last day that I beat the race directors to the finish line and nothing was set up for me so I didn't know until a reporter said congratulations.
"I had to wait five or 10 minutes for them to turn up and then the time stopped, so my time would have been five or 10 minutes better but it doesn't really matter.
"It has been an experience, with dogs chasing me trying to bite me, getting off course and crawling under trains to get back on course. It was an adventure but one because I feel as though I made it an adventure.
"There was great banter between myself and the other runners but it just wasn't enough running for me. I felt I could have run two marathons a day and I might have done more had I not done the Race Across USA."
Rob said he is keen to push his body to the limit in the name of fundraising and is eager to find an adventure worthy of his efforts.
Even if he does find it strange to be back in the UK and not being out running constantly while he gets himself and his family set up again, Rob will have plenty to keep him busy over the summer.
Having previously visited schools along the RAUSA route with fellow competitors to promote childhood fitness and nutrition, Rob is now keen to visit British schools and wants to start a 100-mile club, challenging pupils to run 100 miles in a school year.
Rob is also set to take part in Inspire 50, after being named as one of the 50 most inspirational people in London, which will see him complete challenges with youngsters around the capital to encourage them to get out and do something active.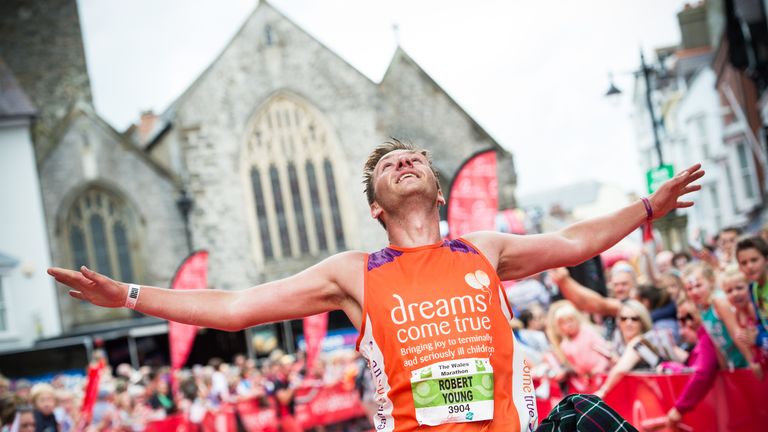 As of June 25 he will also be running another 16 marathons in 11 days with two days of rest before attempting his 350-mile record in July which will include conquering the Race to the Stones – a 100km ultramarathon – as part of that challenge with Rob maybe looking to go even further, saying: "I don't see why 500 miles is not possible. I'll have to give everything to it."
As part of Epic 48, he will then try to beat the world record for the furthest distance run in a 48-hour period on a treadmill before attempting another world record breaking jaunt for the fastest run from John O'Groats to Lands' End.
On being home, he said: "It is strange - I feel agitated. I'm happy, but itching to get up and go running. Up until September I have got marathons all over the place. There are world records there, and if I can break them, it is a very serious thing.
"The records are from some great ultra-runners. Maybe some might say I'm being naïve but I don't see the figures as big figures. I see 350 miles as do-able. I know 500 miles is a big figure.
"I feel great, physically fit and eager. I want someone to give me a challenge worthy to do. I believe a lot of people can do what I've done – it is just about allowing yourself to get into position and getting two feet on the start line which is a big part of it.
"You need to remember that the mind is strong."
Unbelievably, Rob says this extraordinary year of running has left him unfulfilled to an extent and believes he can do even more.
And he is determined to ensure that he puts himself in a position to achieve just that in the future.
He added: "I believe my body is capable of things people can't comprehend. I want to push my body to the ultimate limit; maybe one day I'll push it too far, but if I don't try how can we ever tell what we're capable of?
"I just want to do everything I can possibly do. I want to find the ultimate challenge and defy the laws of what the body can go through.
"This year hasn't done that for me. It has been tough but I just want something more."
For more information and to donate to Rob's chosen charities, visit www.marathonmanuk.com.