Cubs or Dodgers lie in wait as Indians bid to end Series drought
By AFP Sport
Last Updated: 24/10/16 12:14pm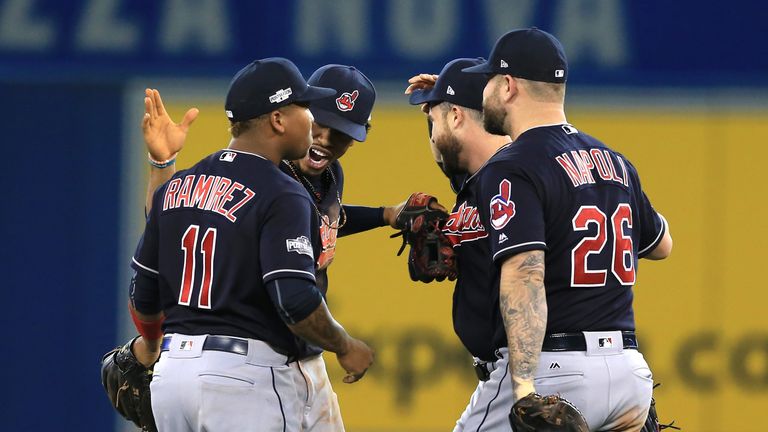 The Cleveland Indians head to the World Series for the first time since 1997 after a 3-0 victory over the Blue Jays in Toronto.
The Indians, who won their best-of-seven American League series 4-1, will host game one of the World Series next Tuesday against either the Chicago Cubs or Los Angeles Dodgers who are tied 2-2 in the National League following Cubs' 10-2 victory in Los Angeles.
Carlos Santana and Coco Crisp belted solo home runs for the Indians, who are seeking their first World Series title since 1948 and third overall. They lost the World Series in 1954, 1995 and 1997.
Rookie pitcher Ryan Merritt, making his post-season debut and his second start in five major-league appearances, allowed just two hits in 4 1/3 innings. The left-hander surrendered no walks and no runs, striking out three. He needed only 31 pitches in retiring nine straight hitters over the first three innings.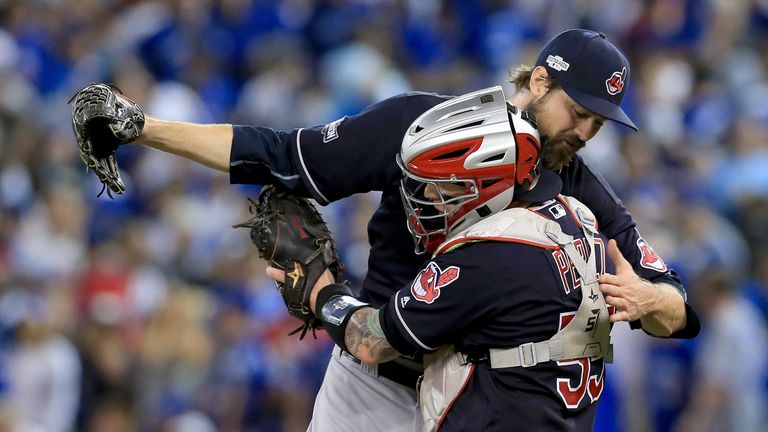 "The emotions out there were kind of crazy at first," Merritt admitted. "But it settled down, just trusted myself, stayed within myself, tried not to let the crowd get to me too much, trusted my defence and just be myself out there."
Cleveland jumped to a 1-0 lead in the first inning on a two-out single from Francisco Lindor and a double by Mike Napoli. Toronto left-fielder Ezequiel Carrera mishandled the ball coming off the wall as the run was scored as unearned.
Santana's second homer of the play-offs came on a 1-0 pitch with one out in the third, and Crisp hit his second homer of the post-season on a drive to right with two out in the fourth.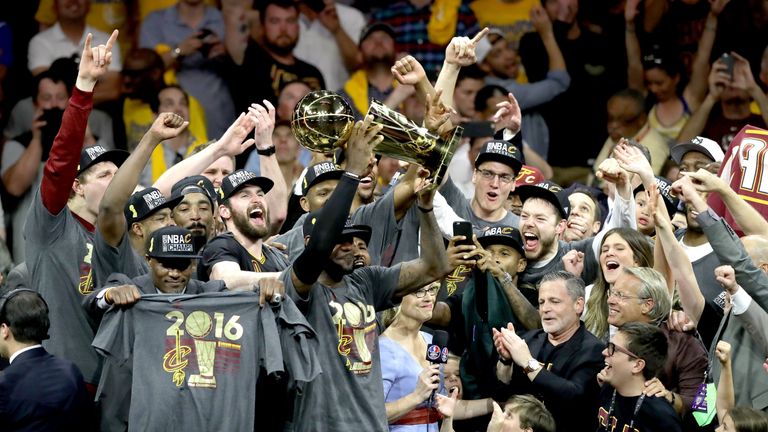 This year will mark the first time in Indians club history that they will serve as hosts in the opening game of the World Series.
On the same night, Tuesday, October 25, the Cleveland Cavaliers will raise their championship banner on the opening night of the new NBA season - the first crown for any Cleveland sports team in 50 years.
"I can't wait to see what it's like in Cleveland, honestly," said Indians relief pitcher Andrew Miller, who was named Most Valuable Player of the series after producing 14 strikeouts in 7 2/3 innings while allowing two hits, no walks and no runs.
"Obviously they got a taste of the basketball championship. The crowds for the play-off games at home have been special. It's going to be a lot of fun."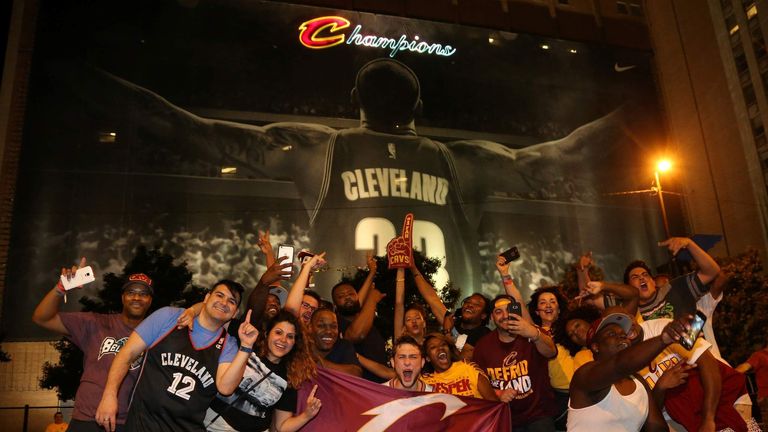 While the Indians' dry spell is the longest in the American League, the Cubs have endured a drought of mythical proportions since last winning the World Series in 1908.
The Cubs looked to be in trouble after two straight shutout losses to the Dodgers put them in a 2-1 hole.
"I can't get over the top and take a trip to negative town now just because we've had two bad days," Cubs manager Joe Maddon said before the game, and his players backed up his confidence.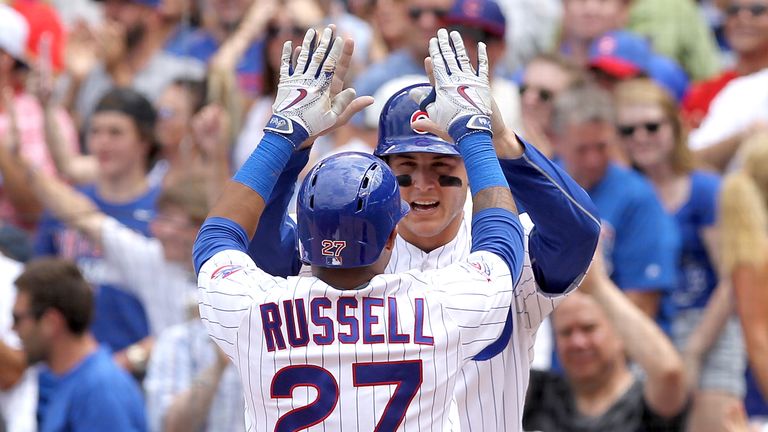 After 21 scoreless innings, they exploded for four runs in the fourth inning that included a two-run homer by Addison Russell.
The Dodgers' 20-year-old rookie Julio Urias, who became the youngest pitcher to start a post-season game, had held the Cubs without a hit through three innings.
But Ben Zobrist led off the fourth with a bunt single, and moved to second on a base hit from Javier Baez. Zobrist scored on a single by Willson Contreras as the throw from left-fielder Andrew Toles was off target.
Baez scored on Jason Heyward's ground out and then 22-year-old shortstop Russell, who was 1-for-24 this post-season, homered to right-center. Urias would depart before the end of the fourth, charged with four runs on four hits with four strikeout.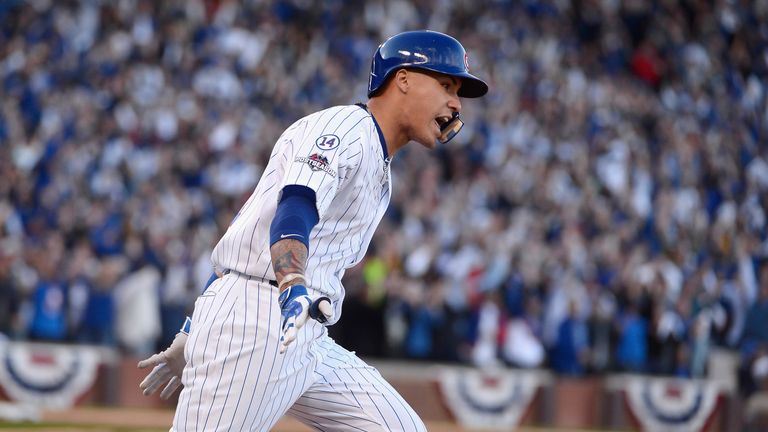 Pedro Baez replaced him and gave up a lead-off homer to Cubs first baseman Anthony Rizzo in the fifth. The Dodgers pulled back two runs in the bottom of the fifth, but the Cubs continued to pour it on with five runs in the sixth, aided by some sloppy Dodgers defence.
"We've just got to keep fighting, and we know that," Rizzo said. "We know what we're capable of doing in any inning. ... We put up a five-spot there. We know we can do that at any given time and we believe in that."
You can watch Chelsea v Man Utd, plus England's tour of Bangladesh and the US Grand Prix on Sky Sports. Upgrade now and enjoy six months at half price!