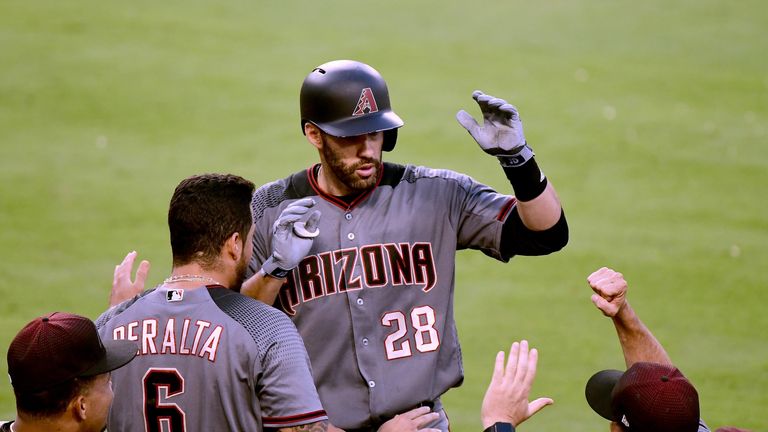 J.D. Martinez of the Arizona Diamondbacks has become just the 18th player in MLB history to hit four home runs in a game.
Martinez played the starring role as the in-form Diamondbacks thrashed the Los Angeles Dodgers 13-0 to win their 11th game in a row.
And the 30-year-old became the second player this season to accomplish the rare feat, Scooter Gennett having smashed four home runs for Cincinnati Reds on 6 June.
Martinez was four-for-five with six RBIs in front of a crowd of 47,200 at Dodger Stadium. He hit his 34th home run of the year in the ninth off pitcher Wilmer Font, after also going long in the fourth, seventh and eighth innings.
Martinez hit his four home runs off four different pitchers - Rich Hill, Pedro Baez, Josh Fields and Font.
He had flirted with the magic number four once before in 2015, when he hit three home runs in a game.
Martinez said: "I got to my last at-bat (in 2015) and I started thinking about it and that's when it didn't happen.
"In this at-bat, I came up and said, 'You know what? Just go up here and try to have a good at-bat. Keep doing what you've been doing all day. If it's meant to be, it's meant to be.'
"There's no point in forcing it. 'Have a good at-bat.' That's what I was telling myself."
Martinez's homer surge was just part of an all-around strong game for Arizona.
Pitcher Robbie Ray had a career-high 14 strikeouts and the Diamondbacks hit six home runs in the rout, handing the Dodgers their ninth loss in 10 games.
The Diamondbacks have scored five or more runs in eight consecutive games.