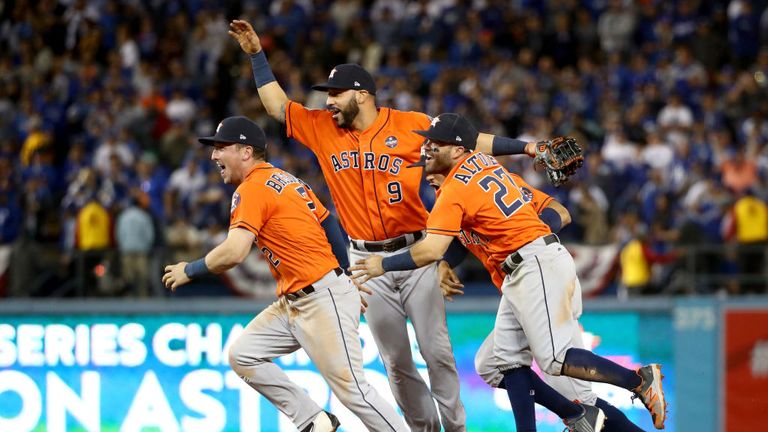 The Houston Astros have won baseball's World Series for the first time after thrillingly beating the Los Angeles Dodgers 5-1.
The champions, who had previously reached just one Fall Classic, losing in four games to the Chicago White Sox in 2005, dismissed the Dodgers in LA in the deciding game seven.
Houston built up a five-run lead early in the game, leaving Los Angeles trailing, their solitary run coming in the sixth inning.
The Astros had arrived in California leading the series 3-2 after a 10-inning thriller in game five, before the Dodgers levelled up on Tuesday, leaving it all to play for.
But the Astros leapt out to a five run lead early in Wednesday's finale that saw Most Valuable Player George Springer open the scoring for the visitors.
His first-inning double off Dodgers pitcher Yu Darvish was followed by a homer in the second - Springer's fifth of the series equalling a record set by Reggie Jackson (Yankees) in 1977 and matched by Chase Utley (Phillies) in 2009.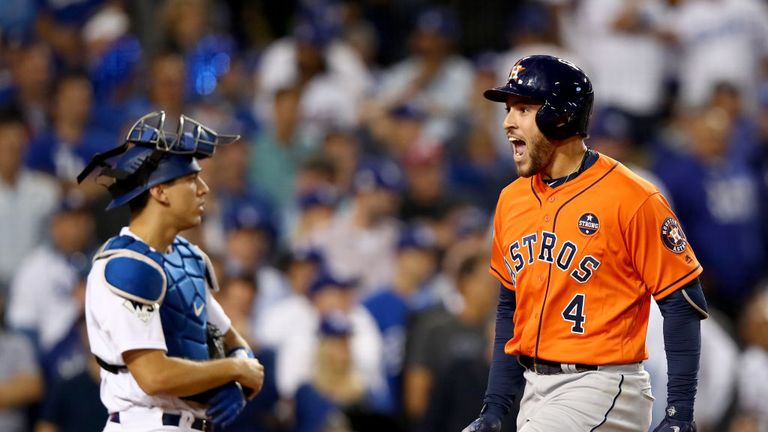 Five-up after the second inning thanks to further efforts from Jose Altuve and Alex Bregman, the Astros left LA scoreless until the sixth inning when Andre Ethier delivered an RBI single.
In front of increasingly excitable Astros supporters and ever more despondent home fans, the game trudged through two more innings without any runs at Dodger Stadium.
LA were finally put out of their misery in the ninth when Altuve, who won plaudits for his incredible batting performance this season, snagged a ground ball off the bat of Corey Seager for the final out.
Tearful Altuve said it was the "happiest moment in my life in baseball".
"I always believed that we could make it and I thank God we are here," he said.
There were further tears of joy when Astros shortstop Carlos Correa bent on one knee to propose to his girlfriend, Daniella Rodriguez, following the historic win.
The Astros joined the MLB National League 55 years ago as the Colt .45s, adopting their Astros name three years later in homage to the city's role in the US space programme.
The team joined the American League in 2013, playing in the West Division.
During the latter stages of the 2017 season, the team wore jerseys emblazoned with the logo "H Strong" in tribute to the city's residents affected by Hurricane Harvey in August.
The Astros also had to play some 'home' games at Tropicana Field in Florida due to flooding in Houston following the hurricane.